Learn More About Hendrick Cares and Get In Touch
As a corporate program to empower and mobilize our employees to care for others, Hendrick Cares is not a 501(c)(3) or a foundation. Since we are not a nonprofit organization, we do not accept donations or grant financial or in-kind gifts. Supported by the company's Corporate Social Responsibility team, the program helps every part of the company unite, engage and make a difference, as well as celebrate the resulting efforts.
Frequently Asked Questions
1. Hendrick Cares Overview
What is Hendrick Cares?

Hendrick Cares is a corporate social responsibility program putting into action the company's legacy of caring for others and commitment to teamwork. Supported by the company's Corporate Social Responsibility team, the program helps the company unite, engage and make a difference in the community and celebrates the resulting efforts.
What programs make up Hendrick Cares?
Employees 
Hendrick employees bring their best each day to assure our customers experience a high level of service, and we love to show them our appreciation. Each month our dealerships host an employee appreciation luncheon to recognize hard work and say thank you. Managers also create special outings to thank teams when they surpass goals. Employees with college-bound children can explore the Ricky Hendrick Scholarship Employee Program on the Hendrick Automotive Group intranet. Additionally, Hendrick Automotive Group helps employees after a crisis or natural disaster, when possible.  
Customers
While the ways we care for our customers is as varied as each of our sales team members, we are united in our passion to go above and beyond to create the best experience possible. Many stores hold customer appreciation events and others have identified unique ways to serve and thank customers. Mercedes Northlake once received a call from a stranded motorist, picked them up and repaired their car for them. At Hendrick Lexus Northlake, the team added a concierge host to keep customers apprised of the status of their car - and provides shuttle service to take customers to the movies when service requirements are longer. And of course, they also receive a complimentary ticket, drink and popcorn. 
Community
In addition to initiatives championed by individual dealerships to help strengthen local communities, Hendrick Automotive Group organizes company-wide initiatives supporting food banks and local schools.    
2. Involvement
How can community organizations partner with Hendrick Cares? 
We love to learn how we can work together with other organizations to benefit our communities. If you represent a local organization and would like to get in touch with a Hendrick Automotive Group representative near you,
click here
to see a complete list of our dealerships. If you represent a national organization aligned with our corporate initiatives, please
contact us here
.
As an employee, where can I go to learn more and get involved? 
Hendrick Cares is a combination of corporate and dealership initiatives. Please check with your General Manager, Hendrick Cares lead or department lead to learn more about your dealership's or department's plans and local events.
Hendrick Cares publishes a bi-monthly newsletter for employees that highlights recent events and initiatives across the company. Find previous issues here: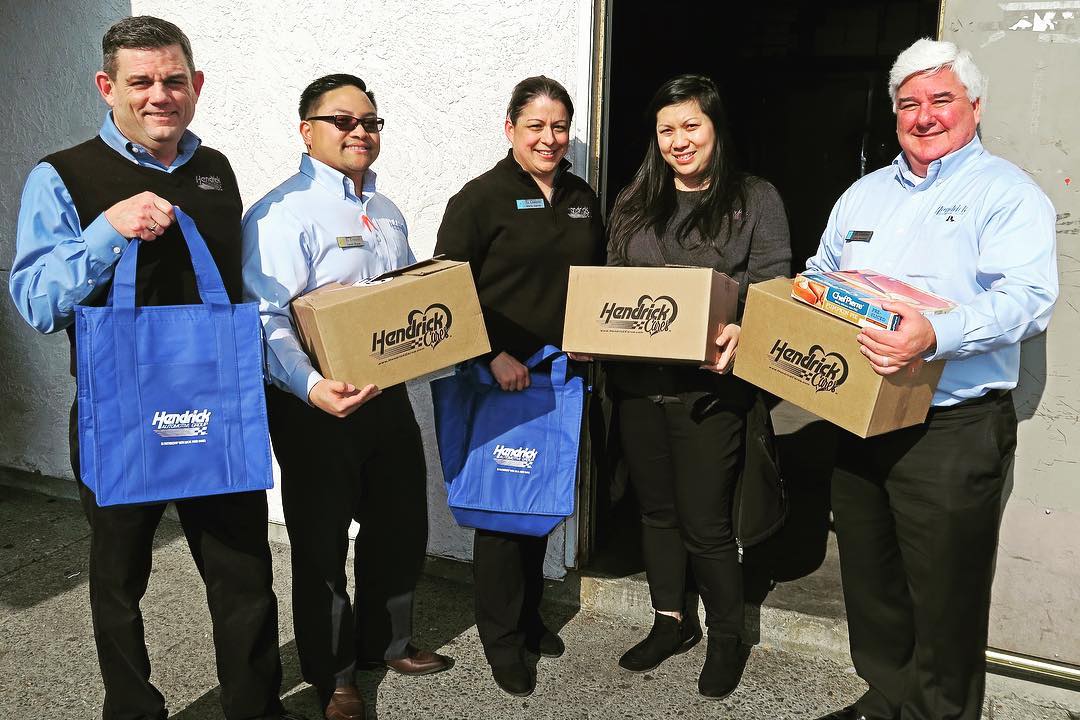 Can't find what you're looking for on the website or our FAQ page? We're here to help. Please fill out the form below so we can provide a quick response to your inquiry. 
Make an Inquiry
* Indicates a required field