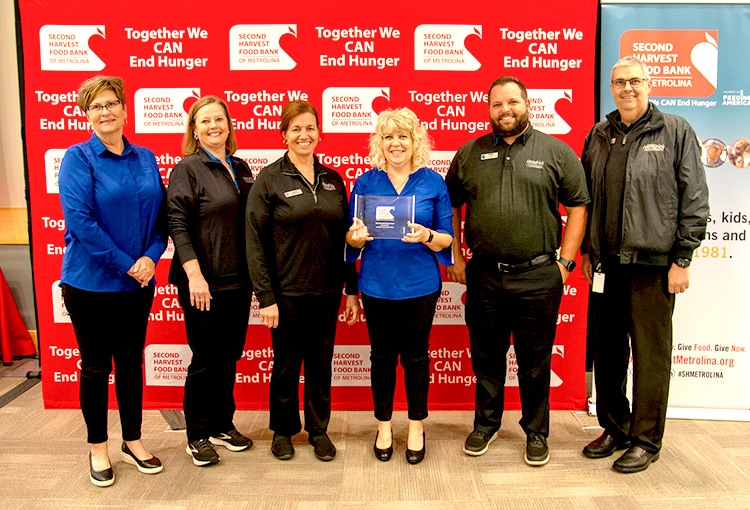 Each year, Second Harvest Food bank recognizes individuals, corporations, foundations and others who worked tirelessly throughout the year to help feed more children, families, seniors, veterans, and pets in their 24 county service region.
This year, Hendrick Automotive Group was awarded the Community Partner Award and Financial Partner Award at the food bank's annual luncheon for its initiatives in 2021. Teammates were on hand April 27 and Nov. 18 to pack and distribute boxes containing turkeys and fixings, which were donated by the organization. Additionally, Hendrick Automotive Group and No. 5 HendrickCars.com driver Kyle Larson presented Second Harvest Food Bank of Metrolina a check for $150,000 on Oct. 27 as part of the Hendrick Hunger Heroes initiative.
Since 2014, Hendrick Automotive Group has been supporting Second Harvest in three key ways: the mobile pantry feeding program, the weekend food backpack program, and now the bi-annual Hendrick Hunger Heroes Drive. Aside from the Hendrick Hunger Heroes Drive, the organization commits to sponsoring almost $500,000 in regular food insecurity programs each year.
Hendrick Automotive Group first partnered with the Charlotte, North Carolina-based food bank more than nine years ago to help feed those facing food insecurity within the community. What started as a mission to feed kids over the summer evolved into a complete mobile pantry program, and the organization still sponsors half a dozen of those events every single week.
Our donations from the Hendrick Hunger Heroes Drive expand programs like mobile pantries, summer feeding initiatives and help Second Harvest overcome increased needs – especially those greatly impacted by the pandemic.
Since 1981, Second Harvest Food Bank of Metrolina has strived through education, advocacy and partnerships to eliminate hunger by the solicitation and distribution of food.