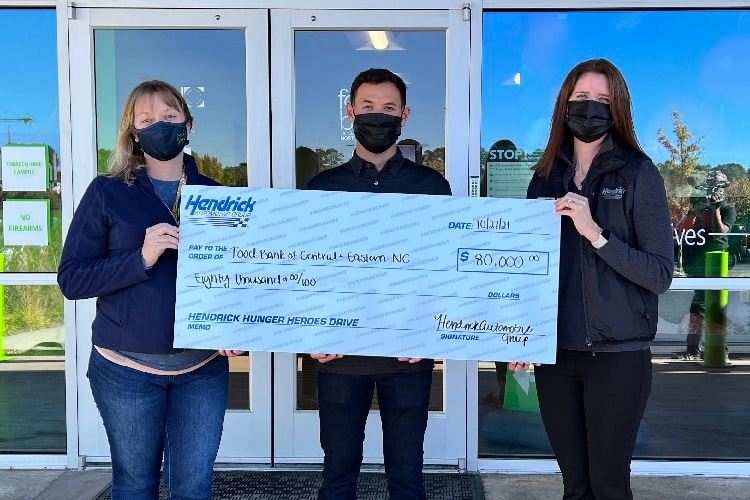 Thanksgiving 2021 marks the 20th year Hendrick Automotive Group has been involved in hunger initiatives. Since the COVID-19 pandemic changed the way we were normally able to volunteer and collect food for our holiday meal drives, our company has pivoted to virtual fundraising campaigns to raise money for our local food banks.
Since 2020, these Hendrick Hunger Hero campaigns have raised more than $1.5 million to fight hunger in our communities. Thanks to the generosity of our teammates and corporate match, this year's program was a huge success and generated $500,000 to help our neighbors in need.
We celebrated the success of this year's campaign by inviting Kyle Larson, driver of our No. 5 HendrickCars.com Chevy, to help us surprise a few of our partner food banks with some big checks.
Stop one of the day was at Second Harvest Food Bank of Metrolina, where we were joined by company leadership including Greg Gach, president of Hendrick Automotive Group. SHFB Metrolina has been our partner for twenty years and helped us launch many of our signature hunger programs. We started the day off with a $150,000 donation in front of the art piece designed by Mr. Hendrick's granddaughter in the children's hunger center.
Next, our Hendrick Hunger Hero media tour stopped by the Lowcountry Food Bank in Charleston, South Carolina. Every dollar our SC teammates donated was matched, resulting in a $50,000 check that will be invested right there in the local Lowcountry community. Many of our media partners attended the day to share in the excitement, as well as the general managers and teammates from our many Charleston dealerships. Kyle and the group even went behind the scenes to tour the new Hendrick Automotive Group Food Reclamation Room, named in honor of long relationship our SC teammates have built with the food bank.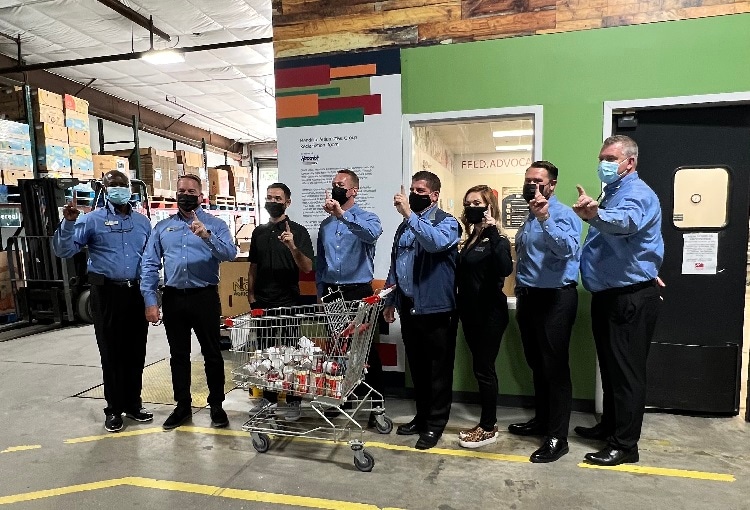 An $80,000 donation for Feeding America's 2020 Food Bank of the Year, the Food Bank of Central and Eastern North Carolina in Raleigh, rounded out our day of giving back.
We're celebrating the finale our Hendrick Hunger Heroes program with @KyleLarsonRacin! Our teammates helped us raise $500,000 for food banks across the country, and today we'll be dropping off some big checks. Stay tuned for a full day of giving back! pic.twitter.com/tQwyKvaGNi

— Hendrick Automotive Group (@HendrickAuto) October 27, 2021
Our Hendrick Cares hunger initiatives support 27 different food banks across our corporate footprint though, and each one will receive a donation in time for Thanksgiving. Thank you to all our teammates who donated to this year's program, and to Kyle Larson for bringing even more excitement to the day!