The latest Hendrick, Get Set. Go! grant celebration was hosted on Monday, July 12th as the final event of Atlanta race weekend for Kyle Larson and Hendrick Automotive Group, sponsor of the No. 5 HendrickCars.com Chevy. Students, teachers and staff from Buford High School attended to accept a $10,000 donation to support the school's new computer science lab.
Normally, the Hendrick, Get Set. Go! program is brought to markets with a race track and a Hendrick Automotive Group dealership, and local schools can apply by submitting a project that will bring more students from all backgrounds to the starting line of science, technology, engineering or math (STEM). Selected schools are awarded $10,000 to say "Go!" to their education initiative that will expand access to STEM fields and future careers.
But in Atlanta, many of the nine area dealerships already had a strong relationship with
Buford High School
. Several of the stores work together to sponsor the school's football team and a college scholarship program. And the school already had a suitable project underway: its new computer science technology lab.
Hendrick Automotive Group and Kyle Larson agreed that strengthening the existing partnership was the best use of the program in Atlanta. The learning center was near completion, and the $10,000 grant was the final funding needed to secure the grand opening in time for the new school year.
"For many years, Rick Hendrick Chevrolet of Buford, Hendrick CDJR Duluth, and Mall of Georgia Mazda have partnered together to support the students and staff of Buford High School. From athletics sponsorships to $2,500 annual college scholarships, our dealerships have rallied around Buford's students to assure they have the tools they need to succeed," said Mark Christian, director of service operations for
Rick Hendrick Chevrolet of Buford
.
The new computer lab will help give students early access to technology and project-based learning standards that will soon be required by the state in 2024. The majority of high school students in Georgia do not have access to a formal computer science program that can teach advanced skills, even though there is a growing need for tech-savvy students for high paying technology careers. But thanks to Hendrick Automotive Group, Buford is ahead of the curve.
"We have to motivate students to embrace computer science and to not be intimidated by it, and this Hendrick, Get Set. Go! grant is going to help us do just that," said Autumn Sutton, a computer science teacher at Buford High School who spoke at the check presentation event.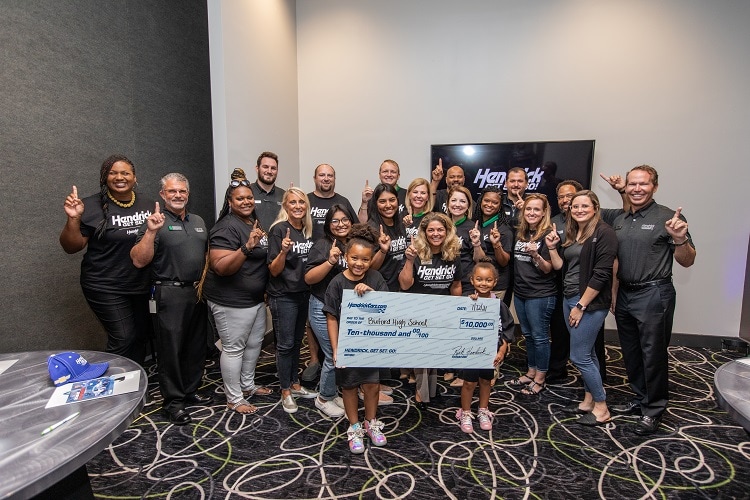 The July 12th event welcomed attendees from the school and the local Hendrick dealerships to Andretti Indoor Karting, where they were also joined virtually by Kyle Larson for a digital meet and greet session. Larson, driver of the No. 5 HendrickCars.com Chevy, fielded questions from the group and shared the importance of following your passions when making a career choice, and how technology is necessary for success in any field – even racing.
"When Kyle Larson was in school, computer science was one of his favorite classes. And the reason for that it is because he realized he could incorporate racing into that curriculum. He made his own websites, his own projects about things he cared about. If we can help make similar connections for our students based on their passions, it can be life changing. And if they take advantage of these opportunities, they can change the world," said Sutton.
After the Q&A session with Kyle, students, teachers and Hendrick teammates got to see if they shared his passion for racing on the go kart track. It was a competitive day for all, and even the school leadership got involved in the karting fun.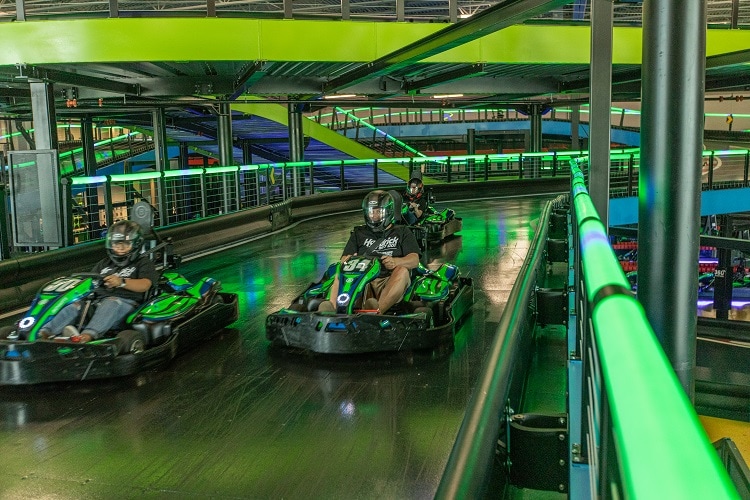 "We greatly appreciate the support from Hendrick Automotive Group, and we are thankful for what the Hendrick, Get Set. Go! program will mean for our students and Computer Science Department," said Keith Johnson, associate principal of the school.
The Atlanta event was the fifth Hendrick, Get Set. Go! award of the season. You can learn more about the program
here
.