Program video introduces students to Kyle Larson and announces the winner of the first award.
Hendrick Automotive Group is expanding our longtime support of local schools with the launch of our nationwide Hendrick, Get Set. GO! initiative in partnership with Hendrick Motorsports and Kyle Larson, NASCAR Cup Series driver of the No. 5 HendrickCars.com Chevrolet. The new competition funds education projects in science, technology, engineering and math (STEM) in multiple key markets selected by economic need, proximity to NASCAR tracks and Hendrick Automotive Group dealerships. We want to say "Go!" to great ideas that bring students from all backgrounds to the starting line of the STEM track.
The competition allows for schools to submit an idea for a brand new program, or an existing one that could use a Hendrick turbocharge. One winning school in each area is awarded $10,000 to say "Go!" and start their project to bring their STEM dreams to life.
Whether it happens to be an automotive program, a technical training experience to highlight the variety of accessible STEM careers, or a traditional science lab, we are looking forward to hearing what schools need and saying "Go!" to a diverse range of projects.
Winning schools also enjoy an exclusive experience with Hendrick Motorsports and its newest driver, Kyle Larson. Each experience will be custom tailored to the race schedule and winning program, but will use the excitement of racing and the advanced STEM principles of the sport to fuel students' interest and curiosity. Students, teachers and faculty will get a once in a lifetime experience to meet NASCAR driver Kyle Larson, ask questions and hear about his passion for the sport and technology of racing.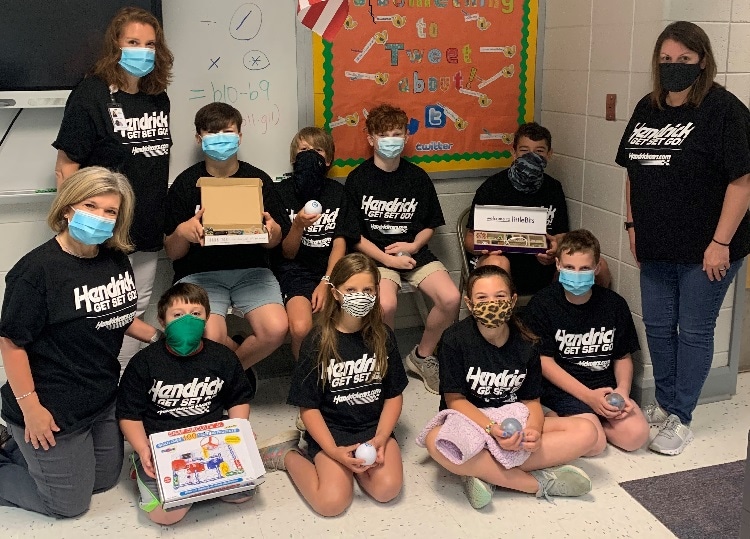 Students at Helena Intermediate School gather for their virtual awards ceremony and Zoom meeting with Kyle Larson.
Hendrick, Get Set. Go! started the 2021 race season with a soft launch that included virtual, COVID-safe check presentations and meet and greet events with the winners in three markets: Miami, Florida; Richmond, Virginia; and Hoover, Alabama.
The first round of applications was opened around the Homestead-Miami race in February. The Foundation for New Education Initiatives in Miami-Dade County Public Schools was the first Hendrick, Get Set. Go! winner and received funding for robotics kits that will allow students to participate in the next season of the VEX Robotics TEC Tournament.
The second winning application came from Richmond Technical Center, a part of Richmond City Public Schools that offers more than 30 pre-career tracks including welding, automotive technology, motorsports technology and a STEM academy. Students from multiple different programs will be able to come together and gain hands on experience building a competition go-kart, thanks to their grant from Hendrick Automotive Group.
The winning elementary school in Hoover, Alabama received funding for STEM upgrades to their computer lab ahead of the Talladega 500 in April. Each of their 970 students use the lab, which will now be furnished with specialty STEM equipment and software. Teachers also have access to the resources so they can plan coding projects and more advance lesson plans to utilize the new tools.
More markets are being added to the 2021 Hendrick, Get Set. Go! schedule, and as health and safety protocols evolve, we look forward to facilitating hands-on experiences soon!