Our Hendrick Automotive Group teammates always work hard to make sure we end the year on a great note. So when Keri Newsom envisioned her December, she was focused on making sure her team at Honda of Concord was set to have a successful month. Little did she know her team at Honda of Concord was also preparing to make this month one she would never forget. Since this was such a special story, we figured who would be better to tell it than Keri Newsom and Brian McDaniel, the General Manager at Honda of Concord in Concord, NC.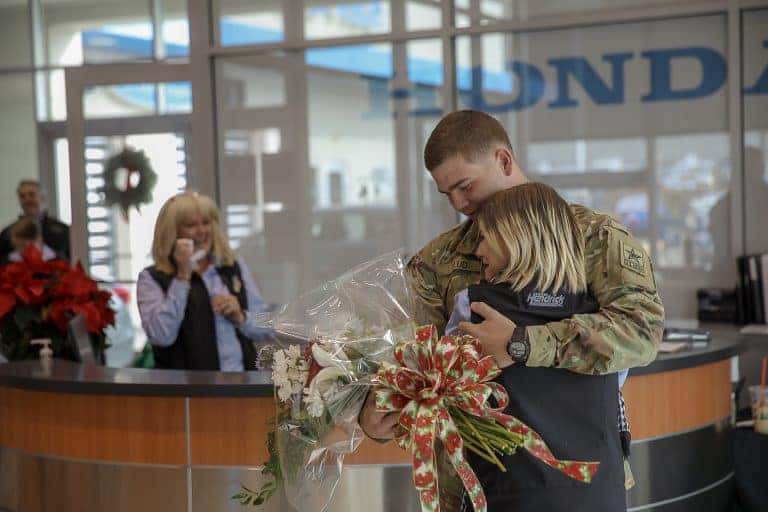 Hendrick Cares (HC):
Keri, what did this reunion with your brother mean to you?
Keri:
My brother is my best friend, and when he told me that I would not see him for 3 more years on top of the 9 months he had already been gone, I was crushed. The reunion between my brother and I holds a very special place in my heart. The joy that I felt that day will forever be remembered. HC: What did you first think when you saw him walk into the dealership? Keri: The first thought that went through my head was, "What is that blurry brown thing walking over here?" I didn't have my contacts in, so I can't see all that well from further away. It wasn't until he walked up closer that I realized it was my brother. The first thought that went through my head after I recognized who it was, was, "This can't be happening. He's not supposed to be here." I was in pure shock.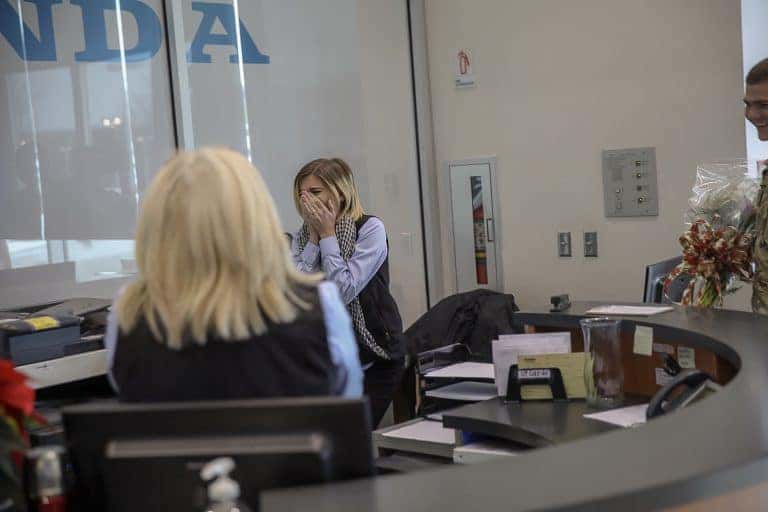 HC:
How does it feel to know that your team at Honda of Concord partnered together with your mom to make this reunion possible?
Keri:
Knowing that Honda of Concord partnered with my mom to make this happen just reassures me that I made the right decision choosing to work here. I always felt like Honda was my family from day one, and this just confirms it. It makes me proud to know that I work for a company that not only cares about their customers, but they care about their employees as well.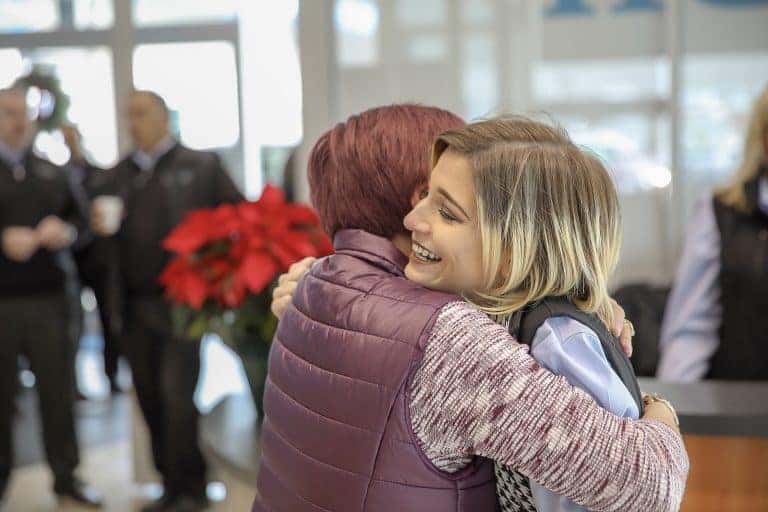 HC:
Brian, what did this event mean to you and why was it so meaningful to make this happen for one of your teammates?
Brian:
Everyone in the building that day was touched by the love this sister had for her brother. There were customers from service and sales that had tears in their eyes and smiles on their faces while they clapped and cheered. We share that warmth with one another every day.
HC:
What is your favorite part about getting to see rewarding things like this happen at your dealership?
Brian:
The best part was that no one had to commentate or moderate that surprise. We saw a room glow with emotion that filled everyone's heart. The timing of the Christmas season and the reunion reminded us all of how fortunate we are.
HC:
Honda of Concord has always been focused on giving back to its surrounding community, but (like the family reunion) what are some ways in which you also invest in your own teammates and staff?
Brian:
Countless numbers of times co-workers have come forward to share that one among us has been challenged financially, personally, physically, or spiritually. With the information, support comes from the most unexpected places. The teammates with the least contribute the most. Most of the time it is not monetary. More times than not it is personal interaction and direct support. It has been helping someone find a place to stay, sitting quietly and listening to what's going on at home, or praying for strength when we are at a loss for what to do. We are a family and with that comes a lot of good.
?Thank you to Brian McDaniel, Jennifer Gomez, and the Honda of Concord team for making this unforgettable experience possible for one of our teammates.