Runner-up finish for Larson, No. 5 team in Las Vegas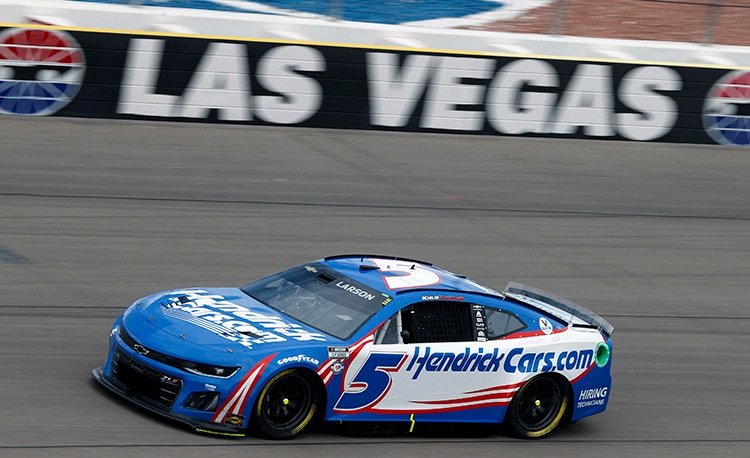 TRACK: Las Vegas Motor Speedway
LENGTH: 1.5-mile oval
DATE: Feb. 26, 2023
STARTED: 6th
FINISHED: 2nd
STANDINGS: 14th (-44 points)

After leading Saturday's practice session, Kyle Larson began Sunday's 400 miler from the sixth position and jumped right to fourth in the early going. Driving low in turns one and two, he was able to take third away from Ryan Blaney on lap six. The start of Larson's race illustrated that he was going to be a major factor early in runs. On lap 11, he took second away from pole sitter Joey Logano with crew chief Cliff Daniels telling his driver that the "pace is good." After pitting on lap 37, Larson cycled back to second and made some gains on teammate William Byron for the lead. Ultimately, he couldn't quite get there and as the run stayed green, Byron was able to pull away. Larson finished stage one in second.

Following a stage break pit stop to service the HendrickCars.com Chevy, Larson restarted stage two in second and in the outside lane. He temporarily lost second to Denny Hamlin and had a close call with him battling for position as he took second back. Much like the opening stage, Larson was in pursuit of Byron for the point position and after a pit stop at lap 125, Larson was able to chip away at Byron's lead, minimizing the distance to .35 seconds with 13 laps left in the stage. However, the 2021 Cup Series champion was unable to get to Byron and finished the stage in second.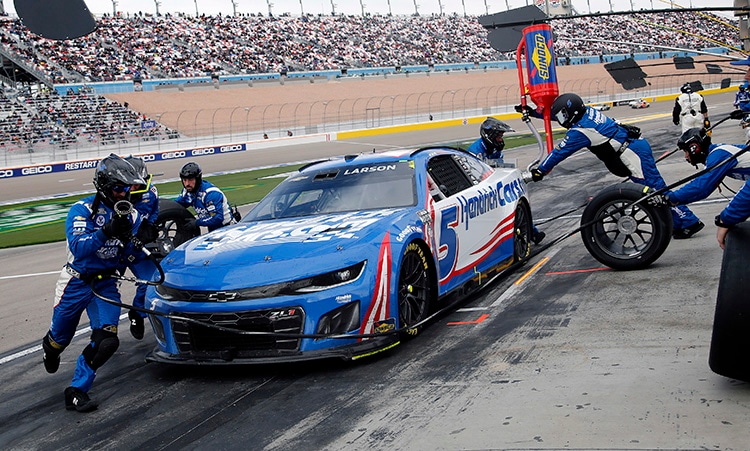 RELATED: HOW WHEEL MAINTENANCE PROTECTS YOUR VEHICLE'S WHEELS AND TIRES

Under the yellow for the stage break, Larson pitted for service and restarted the final stage in second. A caution on lap 184 saw the Elk Grove, California, native pit from second place and restarted third on lap 190. Battling teammate Alex Bowman for position, the No. 48 lost momentum off of turn two and Larson was able to capitalize with a pass on the inside to take second place. He set his sights on race leader Hamlin and nearly made contact with him before getting the lead on lap 196. The driver of the No. 5 HendrickCars.com Chevrolet radioed that he was really loose prior to his pit stop on lap 221. He pitted from the lead and cycled out with the lead, building about a four-second lead by lap 240 with a possible victory in sight. However, a caution on lap 265 changed things. Larson pitted from the lead for two right-side tires and fuel but narrowly lost the race off pit road to teammate Byron. Restarting third in overtime behind Martin Truex Jr. (who had stayed out), the inside line didn't have as much momentum right away. Larson and Bowman worked to split Truex Jr. for position and Larson finished the race second.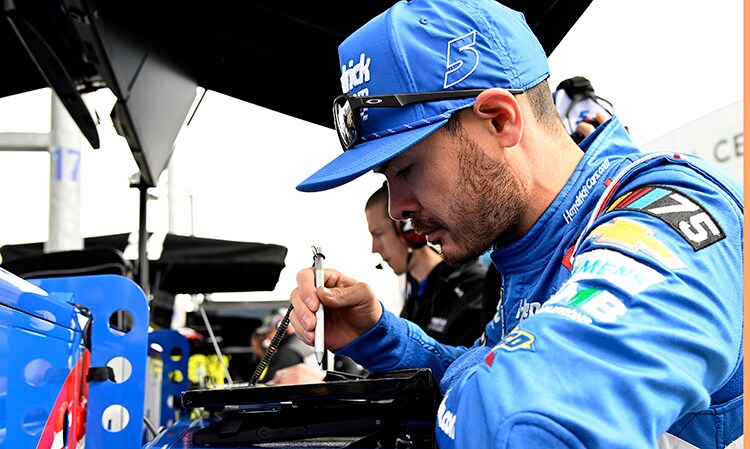 QUOTING KYLE LARSON:
"It's just part of Cup racing. It seems like you count the laps down lap by lap, and then sure enough the yellow lights come on. You just have to get over that and try to execute a good pit stop. I thought I did a really good job getting to my sign and getting to the commitment line. I had a gap to William (Byron) behind me, so their pit crew must have done a really good job and got him out in front of us. So that gave up the front row for us. I knew I was in trouble with the (No.) 19 staying out. I felt like William was going to get by him. It's a bummer that we didn't end up the winner, but all-in-all William probably had a little better car than I had today and their pit crew executed when they needed to at the end."

NEXT RACE:
Larson and the No. 5 HendrickCars.com Chevrolet team will compete in the desert when NASCAR's premiere series competes at Phoenix Raceway on March 12. The 312-lap race will be broadcast live at 3:30 p.m. ET on FOX.