Charleston stores help jump start automotive careers with inaugural Hendrick Future Tech Event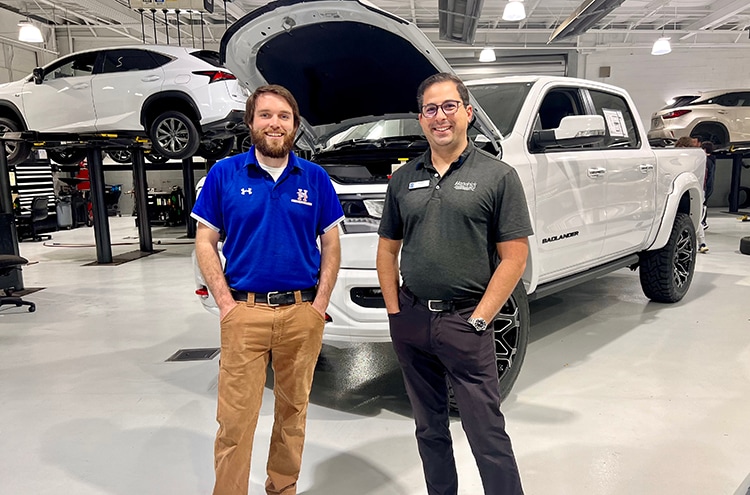 There is a supportive bond existing among teammates within Hendrick Automotive Group
dealerships
in Charleston,
South Carolina
, as they often come together to serve on unique community oriented projects.
Recently, the
dealerships
combined forces at
Hendrick Lexus Charleston
to host the inaugural Hendrick Future Tech Night, inviting students and parents from seven different Lowcountry schools to an evening of relationship building and
career
education. Representatives from each of the area's nine
locations
discussed in detail what opportunities were currently
available
within their stores and the industry as a whole.
"The automotive business is a great career choice, but often gets overlooked," said Eric Jeffers,
Hendrick Lexus Charleston
shop supervisor, who thought it was a real 'eye-opener' for many who attended. "I spoke with many parents that could not believe how much potential was available as a technician.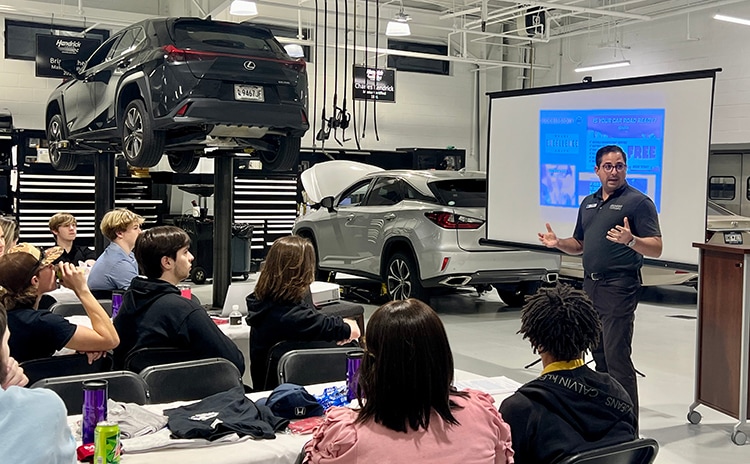 "The Future Tech Night was a great event, I was happy to be a part of it," Jeffers continued. "It's a huge advantage for Hendrick to have the parents be a part of the discussion about all the benefits we offer. As was said, culture is our No. 1 priority; it is something I keep in the back of my mind every day."

RELATED: Charleston, South Carolina dealerships

Culture Counts

Culture was a big theme throughout the evening, and a significant reason why many Charleston team members wanted to talk with attendees, "My favorite thing a about working for Hendrick is that I'm not just a number to this company," said Hendrick Volvo Cars of Charleston service technician Bryce Flowers. "They care about me and what's going on in my life, and they are very understanding."

Opportunities within Charleston abound. While the evening focused on careers for service and collision technicians, every department attended -- accounting, sales, parts, etc. Each of them having career stories to share. It was important to our team members that families have the entire picture, taking a more current approach to career exploration within a changing industry.

RELATED: Join our winning team by search and applying for a position at HendrickCareers.com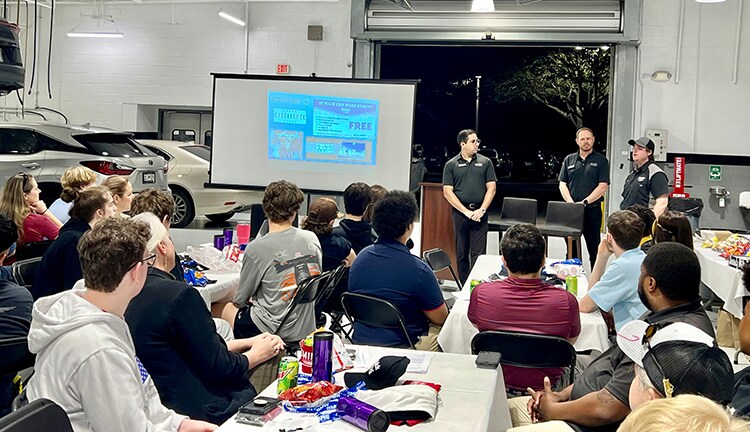 "Parents play a major role in their children's lives," said Dan Zarrillo, Hendrick Volvo Cars of Charleston general manager. "They always look to their parents for affirmation. If parents are not educated on the career or employer their child is looking at, holding these meetings helps give them the proper information needed to assist in making the right decisions (for) their career."

"It was great to be a part of an event where we (were able) to highlight how important it is to (have both) parents and students (participate)," Jeffers added. "That's very rare."

New Technologies Have Changed Automotive Service

Automotive service technician requirements have broadened throughout the years. The proliferation of electric vehicles and new technologies have established the need for a wider range of skills. Vehicle manufacturer's partner with dealerships in offering direction and background on current and future innovation, while stores continue to bolster the mentorship and educational initiatives that are key to successful career outcomes. Once fully trained, team members have the option to become Hendrick Certified Master Technicians and earn salaries well into six figures.

"If you aren't working in the right, positive environment where the focus is on people -- it is likely they will (be working for) multiple employers," Zarrillo said. "At Hendrick, we are looking to grow our people and build longstanding careers."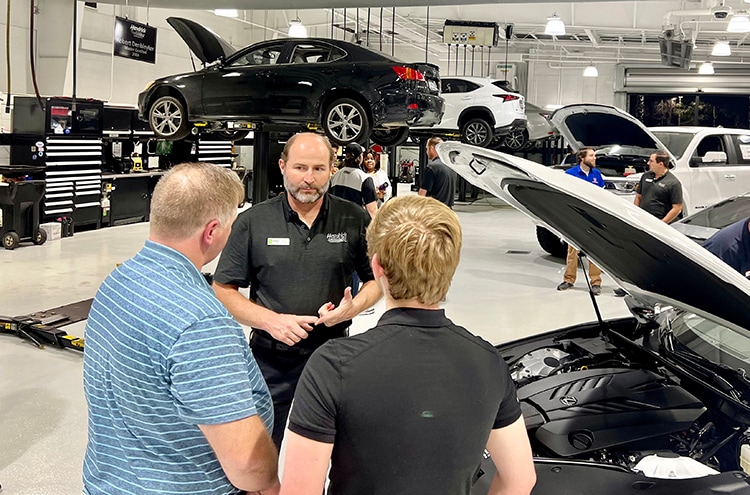 The stores have fostered meaningful relationships with local Charleston schools, including Trident Tech, a manufacturer-credited community college with success in educating students towards careers in automotive technology. The school's apprenticeship program has already placed 40 students into Hendrick Automotive Group dealerships, with more on the way. Current Hendrick Lexus Charleston service technician and former graduate Jack Ulrich relayed thoughts about his educational journey.

"It's important to go to a trade school because it sets you for the industry," Ulrich said. "(The school) gets you ready for it."

Along with Trident Tech, automotive technology attendees included students and parents from East Cooper for Advanced Studies, Cooper River Center for Advanced Studies, Hanahan High School, Stratford High School, West Ashley Center for Advanced Studies and the Dorchester County Career and Technology Center.

RELATED: Kyle Larson, Charleston teammates present $25,000 STEM grant to Hanahan High School

Reception to the event has been very positive, as 11 students have already returned for individual visits with the dealerships.

"The response has been tremendous," said Cali Young, Loyalty and Brand Director for Hendrick Automotive Group. "Our goal is to continue to build upon this event, giving more students throughout Charleston the opportunity to experience our company and culture on a quarterly basis."