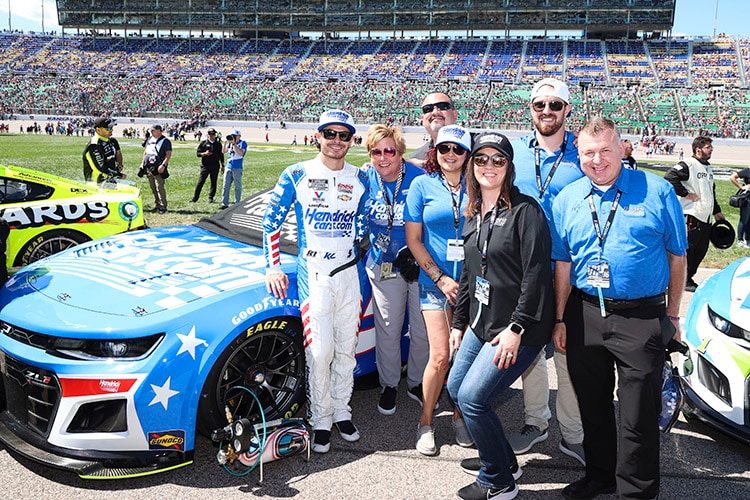 At a race track close to five of our dealerships and in front of teammates from Hendrick Chevrolet Shawnee Mission, Kyle Larson started Sunday's 400-mile race at Kansas Speedway in seventh, but lost one position before a caution waved at lap 25. After stopping for new tires and fuel, the Elk Grove, California, native restarted his HendrickCars.com Chevy in that position but lost several spots once the green flag waved. By lap 39, Larson had fallen to 15th before he began picking off positions. When a caution waved at lap 65, he was again up to eighth. After stopping for tires and fuel, Larson again had trouble on the restart – falling to 13th before stage one ended at lap 80.
Quick work by the No. 5 pit crew during a four-tire stop gained Larson three positions in the race off pit road, and he restarted in the top 10 on lap 86. However, Larson lost momentum while racing three-wide on the restart and fell to 15th. Again, he worked his way back inside the top 10 and was scored eighth on lap 123. After stopping for new tires and fuel at lap 138 during a caution period, the driver of the No. 5 HendrickCars.com Chevrolet Camaro ZL1 maneuvered up to seventh by lap 165 at the end of stage two.
Crew chief Cliff Daniels called Larson to pit road during the stage break for a four-tire stop with the 2021 NASCAR Cup Series champion taking the green flag to begin the final stage in seventh. Larson quickly moved up the scoring pylon, racing up to third by lap 175. But, while battling for second position, the No. 5 entry became "extremely loose" and Larson fell to sixth before green-flag pit stops began at lap 213. Daniels called Larson to pit road for his final scheduled stop two laps later. Once green-flag stops were completed at lap 226, Larson was running seventh. When the checkered flag waved at lap 267, the reigning series champion crossed the line eighth.
The HendrickCars.com driver sits eighth in the point standings and is 31 markers behind leader the points leader and 27 ahead of the cutoff position with one race remaining in the Round of 16.
QUOTING KYLE LARSON:
"For the restarts, I just didn't have a good balance but I also didn't do a good job on them. I think I only had two good ones. I gave up a lot of stage points early on because of that. Even when I thought I was in the right line, I was tight. There at the end, I finally got a good restart and was able to get to third. It was really loose; I tried to go for second and I got really sideways.
"After the green flag stop, I felt good but I was just a little bit on the tight side and couldn't make enough ground in traffic to make a move and had to settle for eighth. Disappointed with that. I thought we had an opportunity to finish a lot better, but we'll move onto Bristol."
NEXT RACE:
Larson and the No. 5 HendrickCars.com Chevrolet head to Bristol, Tennessee for the final race in the Round of 16. The 500-lap race at Bristol Motor Speedway takes place Saturday, Sept. 17 at 7:30 p.m. ET and will be broadcast live on USA.