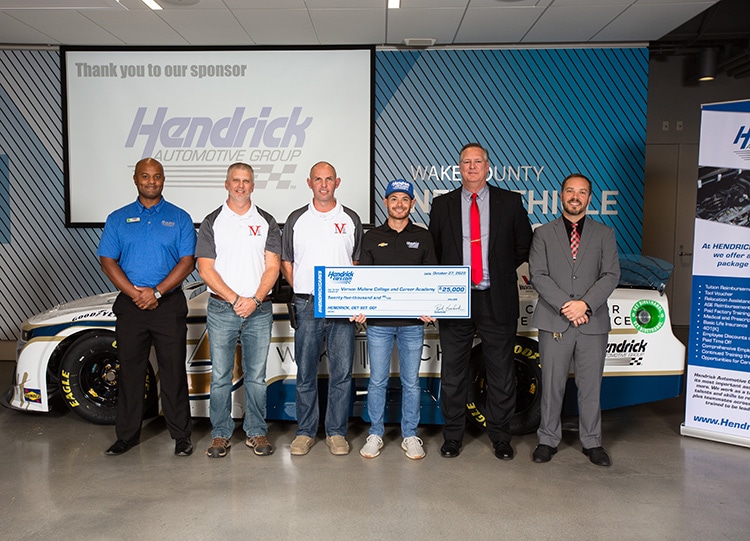 The Hendrick Center of Automotive Excellence in Raleigh, North Carolina made a perfect backdrop for this year's final Hendrick, Get Set. Go! grant presentation.
En route to Martinsville Speedway in Martinsville, Virginia for the penultimate race of the NASCAR Cup Series season, HendrickCars.com driver Kyle Larson made a pit stop at the automotive training facility located on Wake Tech Community College's campus to award Vernon Malone College and Career Academy a $25,000 grant to grow and broaden access to their new motorsports-inspired STEM project for its students.
Select schools in areas close to a race track and Hendrick Automotive Group dealerships are awarded $25,000 to say "Go!" to an education project that expands access and interest in the fields of science, technology, engineering and math, and future careers to students from all backgrounds. HGSG events use the excitement of racing to engage students, and introduce them to the high-tech side of the sport and even the automotive industry.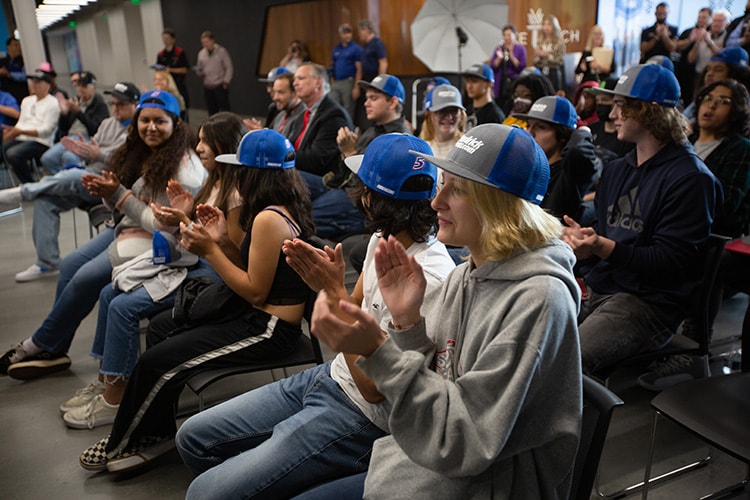 The green flag waved on the day's event with approximately 50 students and faculty from Vernom Malone Academy receiving a tour of the 100,000-plus square foot state-of-the-art building, which is fully equipped to teach the advanced skills needed to meet current requirements and future innovations. The journey through the Hendrick Center was led by current Wake Tech students who graduated from Vernom Malone so that the college students could connect with the high school students and show them auto tech opportunities in their own backyard at Wake Tech.
After the student-led tour, Larson took to the stage and answered questions from the inquisitive Vernom Malone students before presenting them and the faculty at the Raleigh, North Carolina-based high school the $25,000 Hendrick, Get Set. Go! grant.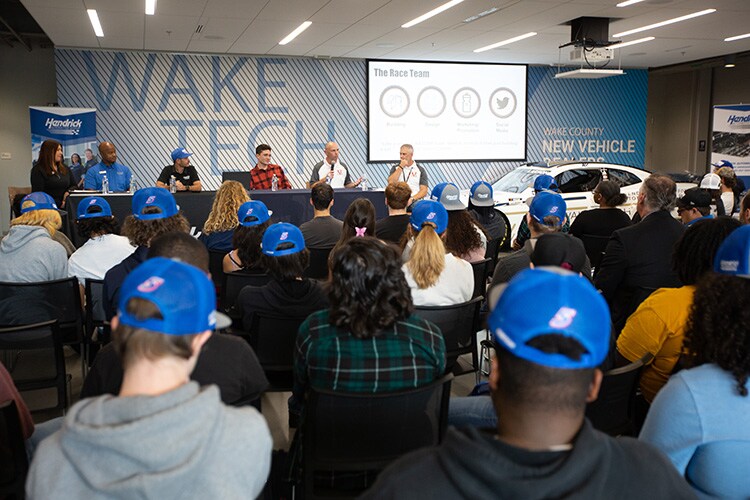 "It's going to help immensely. A good portion of it will be used for tools within our auto collision center because there are things we need, especially with a race car build," said Vernon Malone's race car club advisor Jason Schlafer. "We're going to be building an actual race car from the ground up. Having a frame for students to be able to work on and build our own roll cage, applying the angles in our drafting classes and developing the math, the geometry and doing it as a team in our content areas will show the kids that this does matter and that I am learning in school. The hands-on leadership and application is so exciting for our students and now we are excited to get back to our school and really get going with this project."
After the presentation commenced, Larson accompanied a group of students who were handpicked to participate in an engine build led by lead Hendrick Motorsports engine builder Kevin Webber and watched as students assembled a 358-cubic-inch Chevrolet engine similar to the fuel-injected versions that run in Larson's No. 5 HendrickCars.com Chevrolet every NASCAR Cup Series race weekend. In total, students worked with 243 parts in total to complete the engine from start to finish.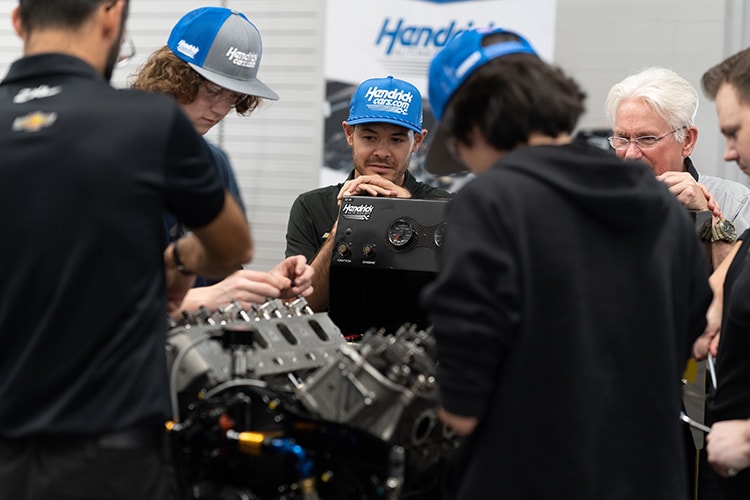 "It was exciting to hear the teachers from Vernon Malone describe their passion for motorsports and how they are going to spend the money that was donated to them," said Larson. "It's going to be neat to follow them along as they build a race car from the group up and understand the technical side of the sport. To be in a room full of kids sharing the same passion that I do is pretty cool."
Wake Tech is home to the Hendrick Center for Automotive Excellence, which opened fall 2021. The year-old educational facility hosts auto systems/collision repair labs, classrooms, computer labs, student support, events and faculty. The school works closely with automotive manufacturers to insure the education works alongside the industry's latest advancements, which includes electric vehicle technology, alternative fuels and self-driving platforms.
Hendrick Automotive Group invests in people and is committed to rewarding excellence and growing the next generation of technicians, starting with high school-based STEM programs to its elite Hendrick Certified Master Technician training and recognition programs.
The grant initiative – Hendrick, Get Set. Go! – wrapped up its second year of investing in STEM-based educational projects and Thursday's presentation was the fourth and final stop on the 2022 tour.
In 2022, Hendrick, Get Set. Go! awarded $100,000 in total grant money. Harmony Elementary School in Buford, Georgia was the first school in 2022 to receive a $25,000 grant followed by Hanahan High School in Charleston, South Carolina and Harding University High School in Charlotte, North Carolina.
With 13 dealerships in the Raleigh-Durham metro area, it was fitting to select Vernon Malone as the fourth and final recipient of this year's Hendrick, Get Set. Go! grant in advance of Sunday's NASCAR Cup Series race at Martinsville Speedway, which sits just over 100 miles from our dealerships.
Larson and the No. 5 team enter this weekend's race as one of four contenders in the quest for the 2022 owner's championship title.
For more information on Wake Tech's Automotive Systems program, visit waketech.edu/automotive and waketech.edu/collisionrepair.
To learn why Hendrick Automotive Group invests in the next generation of business leaders and automotive technicians or to jump start your career, visit hendrickcars.com/Hendrick-careers.