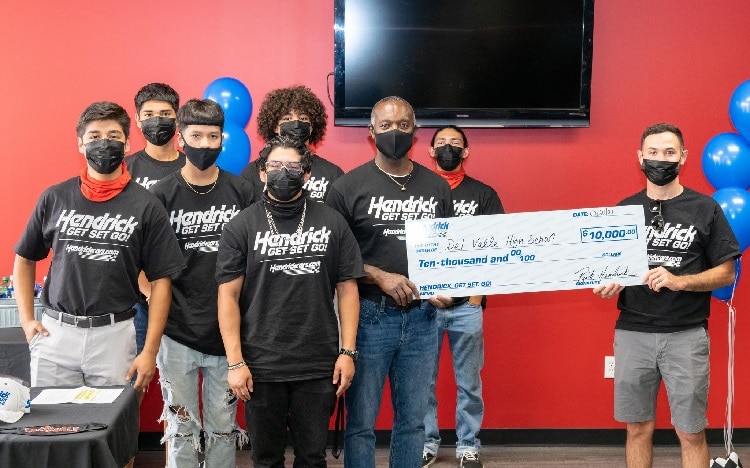 On Friday, May 21, a group of students from Del Valle High School visited the K1 Speed Go Kart track in Austin, Texas. It wouldn't be considered an unusual outing for the group of young motor enthusiasts, who are all part of the automotive technology program at their school, except for the fact that they wouldn't just be racing each other that day. Their visit was part of an official Hendrick, Get Set. Go! event and they would get the chance to race against NASCAR Cup Series driver Kyle Larson and celebrate their school receiving a $10,000 STEM award.
Hendrick, Get Set. Go! is a new initiative hosted by Hendrick Automotive Group and Hendrick Motorsports to expand its support of schools nationwide and get more students from all backgrounds to the starting line of tracks in science, technology, engineering and math (STEM). Selected schools are awarded $10,000 to say "Go!" to an education project that will expand access and interest in STEM fields and future careers.
Whether the projects be in the automotive field or software engineering, the program aims to fund schools' ideas and use the excitement of racing and Hendrick Motorsports' newest driver Kyle Larson to ignite student passion for STEM.
"It's really cool to be able to be here with this group, who are all really interested in cars already and they're definitely excited for the go-kart racing. So yeah, we have that in common," joked Larson, before the event's activities kicked off. "It's going to be a great day to have some fun, and show the kids that you can turn your hobbies and interests into a real career, even if it's not a professional race car driver."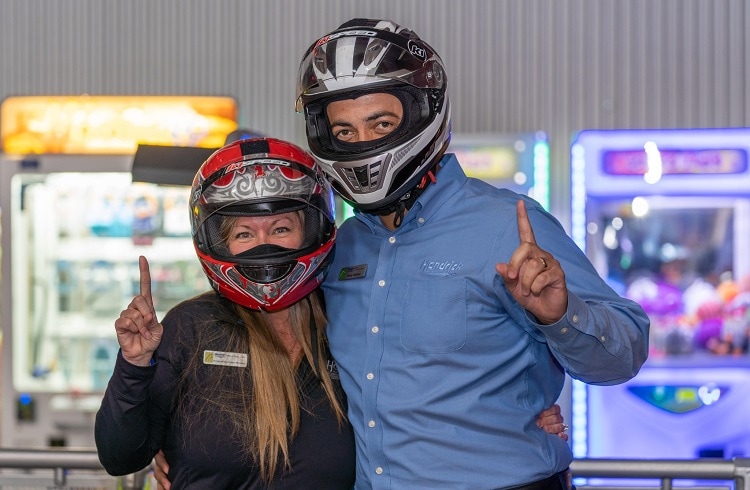 The general managers of our two dealerships in Austin, TX: Amanda Schrider-Rhodes and Riley Walker.
The group of students who participated in this event were chosen based on their commitment to the auto tech program at their school, their interest in advanced technical training and pursuing careers in the automotive industry.
"The Hendrick dealerships here in Austin have been supporters of Del Valle High School, so it means a lot that we're able to bring a Hendrick, Get Set. Go! program to them. Especially to this group from the auto tech program. It's so important that we show students that these technical careers matter, and are exciting, and can be really highly advanced. This is such a fun way to show young people who have an interest in STEM, or the auto industry, or both, that there are great careers out there for them, and that they can make it happen," said Amanda Schrider-Rhodes, a Hendrick Automotive Group general manager in Austin.
Teachers from the auto tech program and district faculty were also invited to partake in the fun as a way to show thanks for their dedication to education, and to accept the $10,000 award from Hendrick Automotive Group for a future STEM project at Del Valle High School.
"We are a Title I school, with most of our students coming from households that fall below the federal poverty line. But we don't let them fall behind. We take care of each other, and our community takes care of each other. We pour into our CTE and training programs, and our students. Thanks to community business partners like Hendrick Automotive Group, our school can equip students with the resources they need," said Del Valle High School Principal Dr. Joseph Welch.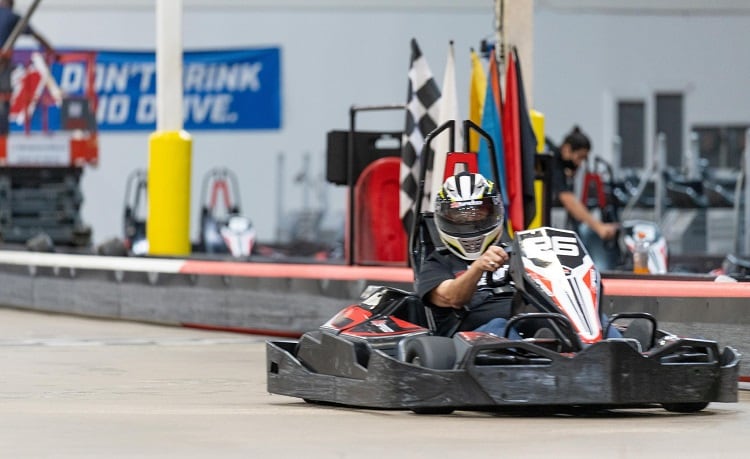 Principal Welch also enjoyed the opportunity to race his students and Kyle Larson.
Attendees celebrated the gift from Team Hendrick with lunch; a few rounds of go-kart racing against Kyle Larson, driver of the NASCAR Cup Series HendrickCars.com No. 5 Chevrolet; and a question and answer session with Larson and the general managers of the two Hendrick Automotive Group dealerships located in Austin.
Many of the students couldn't wait until the official question portion of the day to try and steal some driving tips from Larson though, as they tried to gain any advantages in the go-kart races. And he is the person to ask.
More than just a NASCAR Cup Series driver, Kyle Larson has already secured a spot in the 2021 playoffs with a win at Las Vegas Motor Speedway and six top-5 finishes this season alone. He also got his racing start in go karts, moving his way up through the ranks of different styles of kart, sprint and dirt track racing. His passion for these unique motorsports extends to introducing newcomers to them, including his own son, who already has a go kart of his own.
"Sharing your experience with your kids, and young people in general, is one of the best things we can give back to the sport, I think. Today's event was a great example of that. Of how you can share even just your time and energy to help other people, and show that you believe in them to take it to the next level. Whether it's in class or racing or even in their job someday. These teachers do that all the time," said Larson.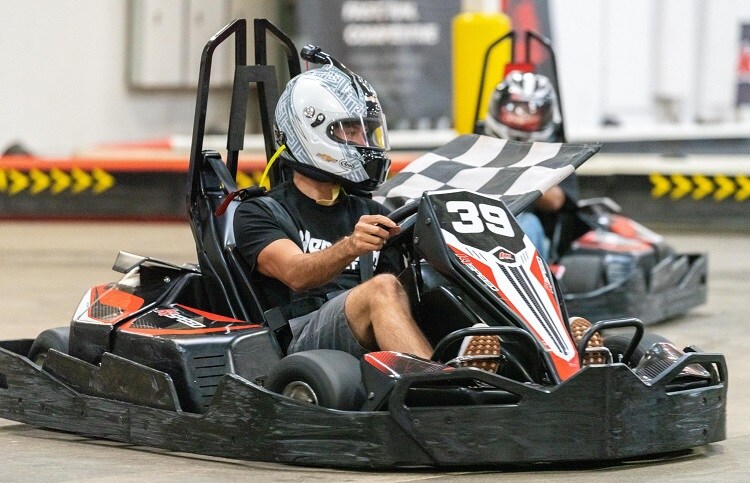 Kyle Larson came in first place in the races against both the students and the adult attendees of the event.
Hendrick, Get Set. Go! was brought to Austin, Texas ahead of the first NASCAR Cup Series race to ever be held at Circuit of the Americas, the Texas Grand Prix on Sunday, May 23, part of the inaugural NASCAR at COTA Weekend. Friday's program was the fourth Hendrick, Get Set. Go! award made this season, and the first in-person event due to COVID safety protocols. Students also received tickets to Sunday's NASCAR race to cheer on their new friend from Hendrick Motorsports in person.