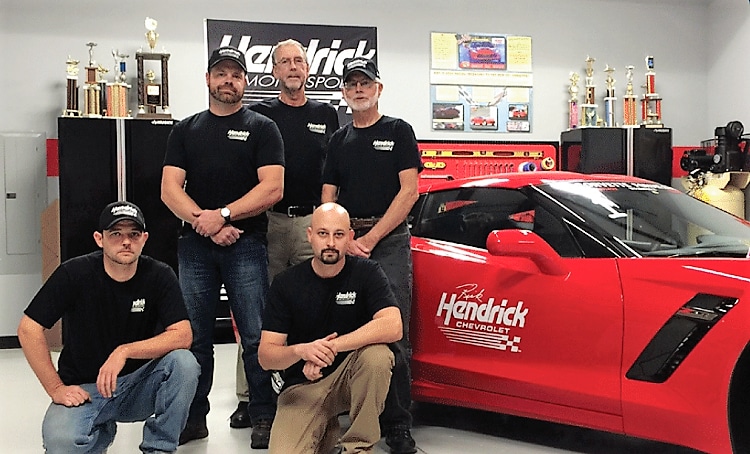 Will Farmer, center back row, and the Farmer Machine Co Racing Team.
Will Farmer has been racing on and off since the late 1960s, but one thing has remained constant – his love for Chevrolets. Now in his 70s, Mr. Farmer is faster than ever, and more committed to showing what the classic American sports cars can do. And he holds the world records to prove it.
Hailing from Mechanicsville, Virginia, Mr. Farmer and his Farmer Machine Co Racing team are regulars at Richmond Dragway and Maryland International Raceway, where he takes pride in showing what strictly stock Corvettes are capable of with the right driver and right conditions. He competes on the Corvette Forum Fast List with his Z51, Z06 and ZR1, and is at the top of said list. Farmer has held the stock speed record for the C7 and C8, and in December 2020 he set the world record for fastest quarter-mile time in the C8 Corvette on stock tires, completing the pass in 10.96 seconds at 123 mph. See a video of the drag record being set,
here
.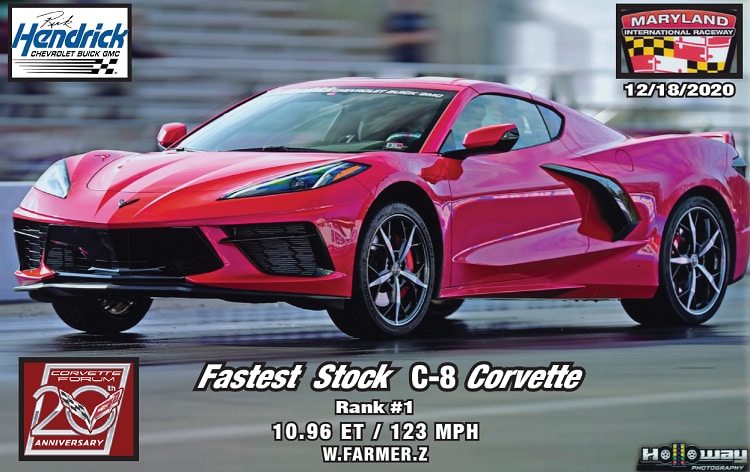 His cars show off Chevy's performance engineering, but they also showcase
Rick Hendrick Chevrolet Buick GMC
right on the windshields. Farmer has trusted the Richmond, Virginia dealership for all his vehicle purchases from race cars to work trucks, and the relationship has grown into something beyond what could be categorized as a sponsorship or typical customer experience.
"I've been buying new Chevrolets since 1968. David Nolan and everyone at Rick Hendrick Chevrolet Buick GMC go the extra mile to take care of their customers. I am proud to represent Hendrick," says Mr. Farmer.
And represent Hendrick he does. Since there is no formal sponsorship agreement, Farmer puts the dealership name on his cars and decks out his garage with Team Hendrick gear because he is truly part of the family.
When not setting records on the race track or running his own business, Farmer finds time to offer his expertise to the dealership and other customers. He helps demo and promote new equipment like the Chevrolet Performance cold air intake, which helped him complete a quarter-mile pass in 9.64 seconds at 147.15 mph in the ZR1. He is the go-to resource to help new Corvette customers decide on what packages and accessories they need, and to welcome new racers interested in the sport.
"Will really is a part of the team. He sends so much business our way and brings so much passion to our dealership and everyone he comes in contact with. He knows everyone who works here and their kids and their birthdays, and his dog probably does too because he comes along for visits," said David Nolan, general manager of Rick Hendrick Chevrolet Buick GMC.
Mr. Farmer's infectious passion for the sport isn't limited to the local dealership and dragways, either. Videos of his races have garnered millions of views online and countless features in automotive magazines and publications.
As a testament to how much Mr. Farmer is considered part of our team, it should be noted that one of the most popular stories was made possible with a little help from Mr. Hendrick himself.
In 2017, Dodge was advertising their new Demon as the "world's fastest street legal drag car." In the spirit of competition, Will Farmer wanted to find that out for himself. And find out if he could beat one with Chevrolet's new Corvette ZR1 road race car.
Farmer decided he was going "demon hunting" and declared such to Mr. Hendrick, who helped him get an early ZR1.
"I wasn't sure how to find a Demon, much less outrun one," said Farmer. "Then we had a lucky night in April 2018. A Dodge Demon came to Richmond Dragway. Somehow, I won by eight car lengths. The
video
went viral the next day. New York Daily News wrote 'Chevrolet Corvette Exorcises Dodge Demon at Richmond Dragway' and online magazines followed. We were surprised, but it was fun to watch! With all Mr. Hendrick has on his plate, I was honored that he noticed us."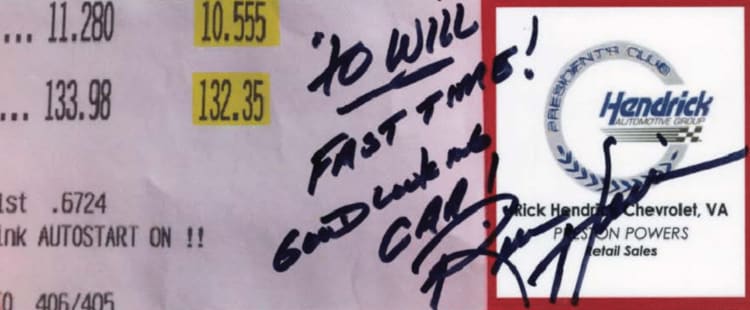 Mr. Hendrick signed a poster of Mr. Farmer's race time slip to congratulate him.
It may have been a lucky night, but Farmer was just doing what he always does: using his skills and experience to push a stock Chevrolet to its absolute best, and building excitement around the sport.
As an automotive company, we are lucky to be able to connect with enthusiasts in every neighborhood our dealerships call home. When we share our passion, skills and experience with each other, no record is unbreakable.