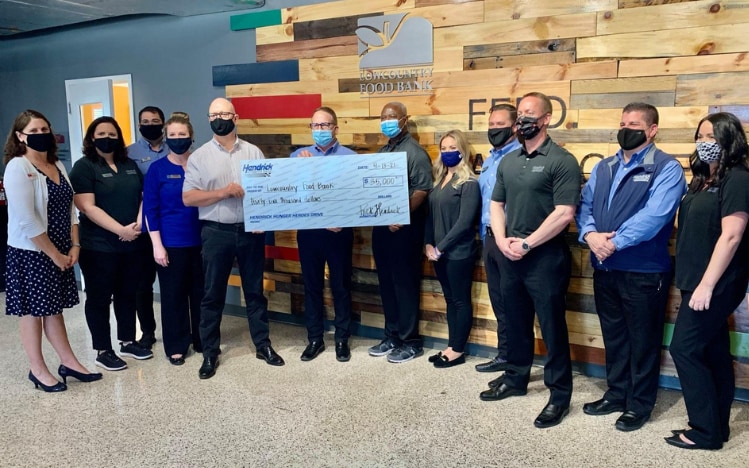 In response to the global pandemic last year, we transitioned our longstanding holiday meal drives to online fundraisers, and the results have been inspiring. Hendrick Automotive Group's second virtual fund drive raised a total of $400,000 for our 27 food bank partners across the country.
Our traditional food drives of the past 20 years have fostered real relationships with the community, so our teammates were dedicated to continuing their support despite the challenges of COVID-19. The Hendrick Hunger Heroes Drive was created as a safe, virtual alternative where employees can donate online and every dollar is matched by Hendrick Automotive Group.
The online campaigns have allowed us to still give back without being hands on. They've also created sizeable financial gifts for our community partners at a time when they were overwhelmed with need. The first campaign was so successful, raising $600,000, that we were inspired to keep the new tradition going.
When you combine the contributions and matches from just the past six months, our teammates have come together to donate $1 million, the equivalent of four million meals for our neighbors in need. As we look forward to being able to volunteer with our food bank partners again soon, we are excited to see how the Hendrick Hunger Heroes Drive will continue to grow. Together, we can use our time and financial support to make our greatest impact yet.
"Our focus on people extends beyond the walls of our dealerships," said Steve Strickland, a general manager in South Carolina. "Our food bank is an incredible partner that offers our teammates many different ways to participate. We are committed to serving our neighbors in need, as we are truly thankful for the opportunities the people of Charleston and North Charleston have afforded us throughout the years."
Hendrick Automotive Group will be hosting small check presentations, both virtually and in person, with our partners over the coming weeks to celebrate the gifts. Teammates in Charleston, South Carolina celebrated their successful area fundraiser with the Lowcountry Food Bank on April 13th, 2021. They presented a check for $35,000 in front of the existing Hendrick Automotive Group Reclamation Room, a special workspace that was unveiled earlier this year to celebrate 20 years of partnership.
"Hendrick Automotive Group understands that the increased need for healthy food during the pandemic is still an issue in 2021, and they always want to help make an impact," said Nick Osborne, Lowcountry Food Bank President & CEO. "Their generosity speaks to their ability to step in and take action during this challenging time."
We are so thankful for our teammates' commitment to giving back, especially when so many organizations have seen a decrease in financial support. Thank you to everyone who donated to the Hendrick Hunger Heroes Drive. We look forward to being able to volunteer together soon!