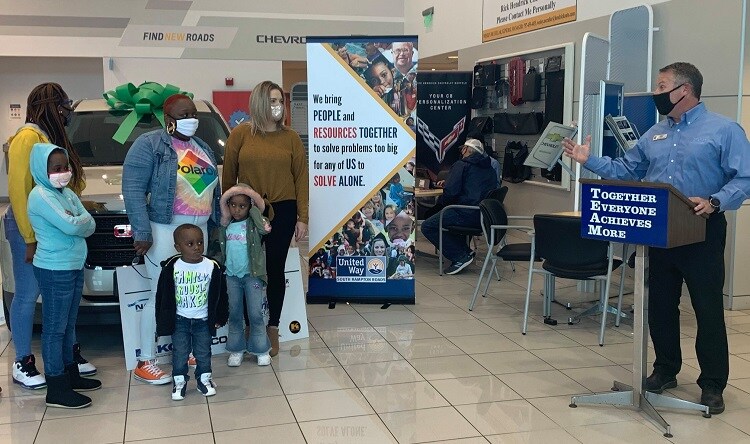 Rick Hendrick Chevrolet Collision Center in Norfolk, Virginia, GEICO, Enterprise Holdings and United Way of South Hampton Roads presented Deanna Bell and her family with a 2013 GMC Terrain through the Recycled Rides™ program. In addition, GEICO provided donations to fill the trunk with gifts, gas cards, groceries and more. The car will mean a new level of independence and stability for her family, which struggles to make ends meet.
Bell is a single mom of five children, three with health conditions that require regular doctor's appointments. Bell, who grew up in foster care from age 12 to 18, works tirelessly to provide a better life for her family and give them the opportunities she did not have access to. She works as a support professional for adults with developmental disabilities but makes less than $14,000 a year – not enough to cover the basic costs of living.
Bell is part of a growing number of people who are Asset Limited, Income Constrained, Employed (ALICE®). This hidden population makes "too much" money to qualify for many government services, but not enough to cover the basic costs of living, trapping them in the gap between assistance and self-sufficiency. These families,
one in three families
in South Hampton Roads, are often in crisis or one step away from it.
For the past year, Bell has been a participant in Aspire, an economic mobility program created by United Way of South Hampton Roads, Catholic Charities of Eastern Virginia and ForKids and funded by Women United, to help ALICE women move toward self-sufficiency. Working closely with her coach, Erika, Bell is setting and achieving goals toward managing her budget and paying off debts.
For Bell, a car is critical to her ability to manage her household budget and transport her children to school and medical appointments. However, in June of this year, her 15-year-old vehicle was totaled in a no-fault accident. She was forced to completely revamp her already tight budget to account for transportation costs and quit one of her jobs due to the distance and time commitment.
Through a program called
Recycled Rides™
, in partnership with
GEICO
, Hendrick Collision and Enterprise Holdings, Deanna and her family will get the reliable transportation they need to maintain their household stability.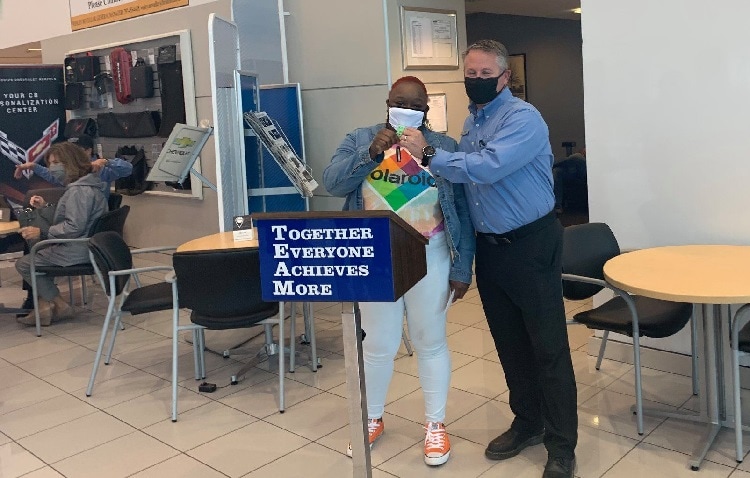 "One of our core values at Hendrick is servant leadership, consciously putting the needs of others before your own," said Brad Walser, Regional Collision Manager at Hendrick Automotive Group. "With Recycled Rides, we are able to display this value and support someone in their time of need by gifting them a reliable car for their family. We appreciate our partnerships that share our commitment to giving back to our community and we are proud to able to help."
Lack of access to reliable transportation is a major concern for many. In fact, 6.7 percent of households in the South Hampton Roads community do not have a vehicle. This limits their access to essential local services such as supermarkets, post offices, doctors' offices and hospitals – tasks many of us take for granted. Most households with above-average incomes have a car while only half of low-income households do.