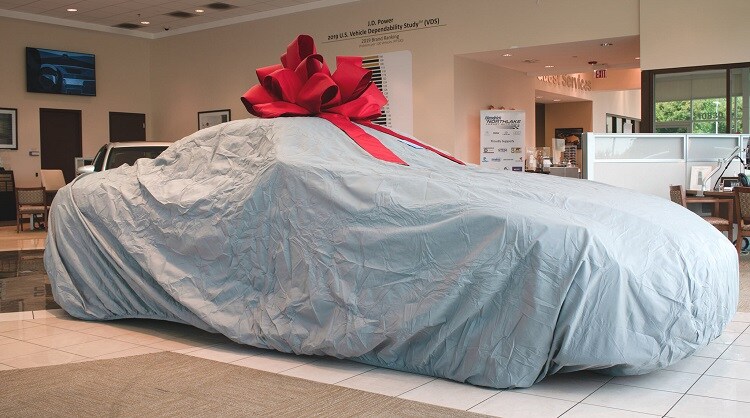 We've all seen the commercials where someone is surprised with the gift of a new car in the driveway. The scenes are filled with shock, smiles and, yes, big red bows. While it may seem like the ultimate holiday fantasy, we in the automotive industry get to turn these magical moments into reality for some very lucky customers. Customers like the longtime couple and Lexus fans Greg and Lisa.
Greg and Lisa have owned several Lexus vehicles, but have been looking forward to the release of the LC convertible model for eight years. When they found out it was starting production, they were the first on the waiting list. Lisa had her heart set on the Structural Blue color, and it's easy to see why.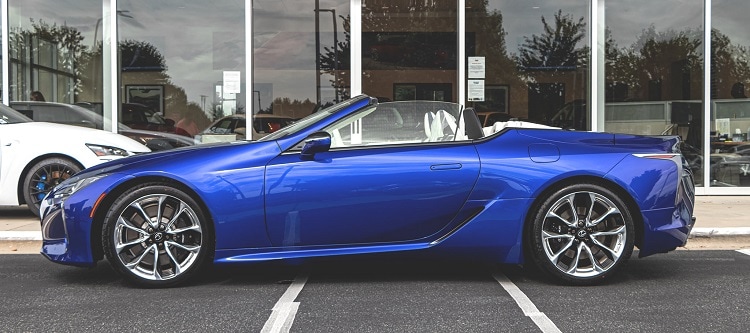 The Lexus Structural Blue color blends beauty with cutting edge technology. The deep hue is inspired by the vivid, shimmering blue on the wings of the Morpho butterfly. The intense color of the butterfly is an optical effect, though, and the wings are actually colorless. The blue we see is created by light interference on their microscopic lattice surface structure. It's no surprise that it took more than 15 years to perfect a similar technology for this special effect color, which is actually seven different layers of luminance and pigment. It's also no surprise that it is very exclusive.
When Lisa found out that the model and color combination would be a limited edition with only 100 Structural Blue Inspirations Series LC 500 Convertibles produced, she settled on a classic black model. The limited edition blue might take years to be available, but the classic black convertible might be ready in time for her birthday in December 2019.
Unfortunately, no convertible would be available before December. But Greg enlisted the help of a local jeweler to make a custom necklace featuring the Lexus logo as a promise of what was to come.
These die hard Lexus fans were never far out of mind for the team at Hendrick Lexus Northlake, who pride themselves on going above and beyond for their customers. So when the sales director at the dealership, Ed McCreery, saw that one of limited edition Structural Blue convertibles was being made available to Hendrick Automotive Group this summer, he knew exactly who it should go to. When the store got approval to offer it to Greg and Lisa, the real fun started.
"Our team was elated, but nothing compared to Greg's excitement. Once he heard the news that not only did we have an LC Convertible on its way, but on top of that, it was the exact color she dreamed of, Greg went into full surprise planning mode. Weeks of preparation and 'story development' led to the ultimate surprise," said Brooke Ballard, community and events director for Hendrick Northlake Luxury Auto Mall.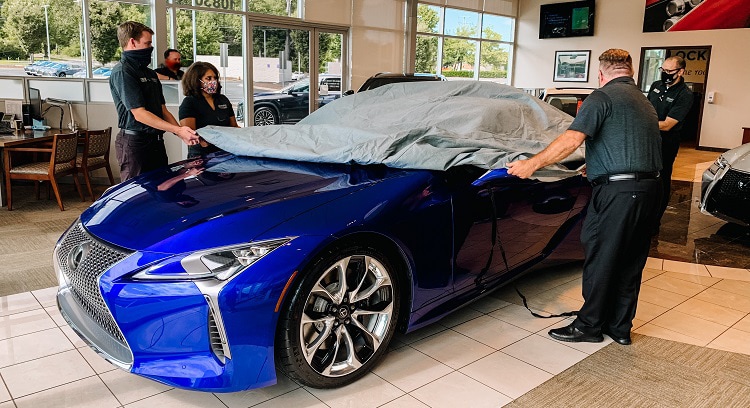 Ed and the team helped Greg plan the big unveiling and keep it a secret from Lisa, well in advance of her next birthday. While she was out of town, Greg created a backstory for dropping his car off at the service center and needing Lisa to bring him to the dealership when she got back.
The dealership had the new car ready in the showroom, disguised by an oversized car cover complete with a big red bow. Lisa was ecstatic when thought she was being surprised with her classic black convertible, but nothing compared to her shock and smile when she saw it was the car of her dreams, the Structural Blue Inspirations Series LC 500. So if you see one of these on the road, there's a one in 100 chance that it's Lisa's, and that it was part of the surprise of a lifetime!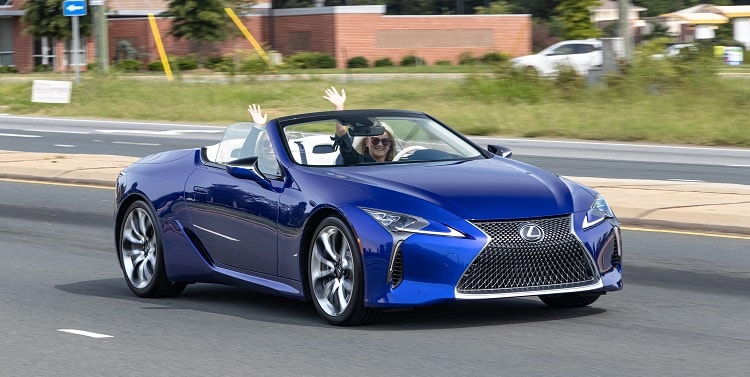 Hendrick Automotive Group and Hendrick Lexus of Northlake are committed to going above and beyond for our customers, but being part of moments like these is extra special.