Hendrick Automotive Group hosts an annual company-wide Thanksgiving Meal Drive to fight hunger in our communities. This year amid the global pandemic, we knew the logistics of the project would have to change, but we also knew that the need would be greater than ever. Our food bank partners were projecting an average increase of 50% more support requests.
Instead of our traditional meal drive where teammates collected, packed and distributed tens of thousands of holiday meal boxes, we took our drive online to raise money for the food banks we've supported in the past. By prioritizing the health and safety of everyone involved, and the needs of our nonprofit partners, we were able to make our biggest impact yet.
Teammates donated online to the 2020 Virtual Thanksgiving Drive, with funds staying in the employees' local communities to serve neighbors in need. In only five weeks, teammates raised more than $270,000 for our 27 partner food banks. With a corporate match, the total amount distributed was more than $600,000 – a gift that has the potential to feed 2 million people thanks to the bulk purchasing power of these organizations.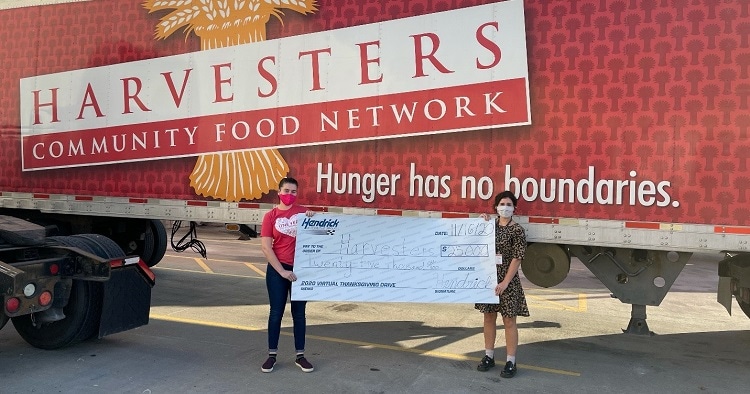 Hendrick Automotive Group had the pleasure to surprise our friends at the food banks with socially distant check presentations just in time for Thanksgiving.
We are so thankful for our teammates' commitment to giving back, especially during a year when so many organizations have seen a decrease in financial support when they needed it the most.