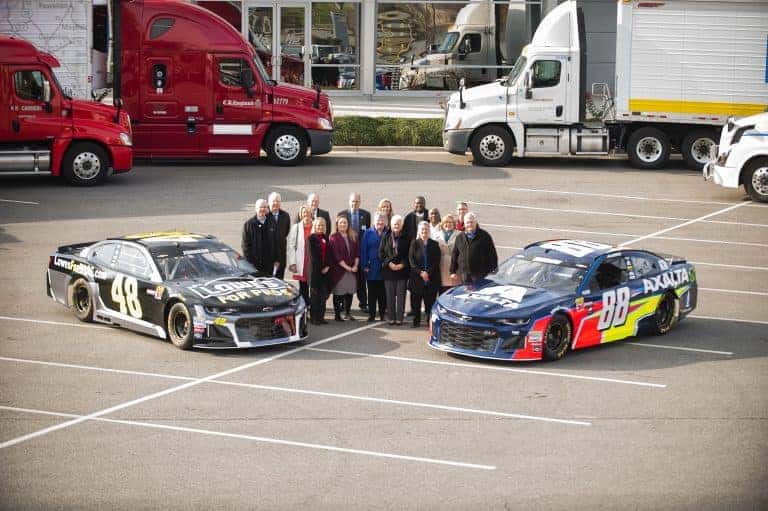 Rick Hendrick and Ed Brown joined Feeding the Carolinas food bank alliance members in front of the Hendrick Heritage Center in Concord, North Carolina. The semi trucks were loaded with food from the alliances food partners, ready to make their first deliveries as a part of this new project.
By working together, you can accomplish some amazing things. It's a core value at Hendrick Automotive Group and a driving force behind an incredible new food bank alliance called, Feeding the Carolinas. Recently, this newly formed North Carolina and South Carolina Food Bank alliance kicked things off by holding a media conference at Hendrick Motorsports in Concord, North Carolina.
?Rick Hendrick spoke at this event, highlighting the incredible ways local food banks across both states worked together to help our company deliver 5,100 traditional Thanksgiving meals to families in need during the holiday season. Host Kay Carter, who's also the CEO at Charlotte's Second Harvest Food Bank of Metrolina, relayed the great news in front of its many partners, supporters and members of the local Charlotte media in attendance.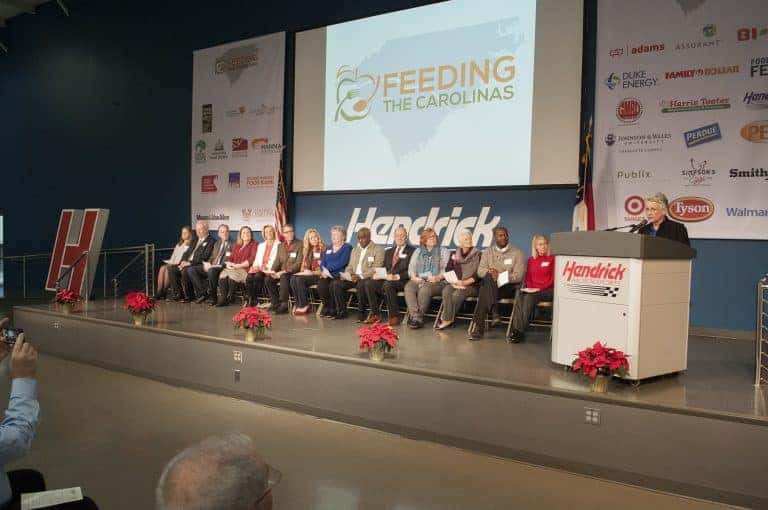 Second Harvest Food Bank CEO Kay Carter and food bank alliance leadership reveal their partnership in the Team Center at Hendrick Motorsports in Concord, North Carolina. From identifying those families in the most need to securing healthy foods and delivering it, these local food banks will be working together to better serve the community.
Anyone in attendance could just see the optimism in everyone's face as it was evident that by sharing information, pooling resources and assisting each other, each alliance food bank had just received a tremendous boost. It's ideas like this that will actually make a difference. Charlotte's WSOC-TV was present to capture the announcement.
The alliance consists of:
Food Bank of Albemarle
(Elizabeth City, NC),
MANNA Food Bank
(Asheville, NC),
Food Bank of Northwest NC
(Winston-Salem, NC),
Food Bank of Central & Eastern NC
(Raleigh, NC),
Food Bank of Southeastern NC
(Fayetteville, NC),
Interfaith Food Shuttle
(Raleigh),
Second Harvest Food Bank of Metrolina
(Charlotte),
Lowcountry Food Bank
(Charleston),
Harvest Hope Food Bank
(Columbia, SC) and
Golden Harvest Food Bank
(Augusta, GA).