Anderson posts quarterfinals finish at Route 66 Nationals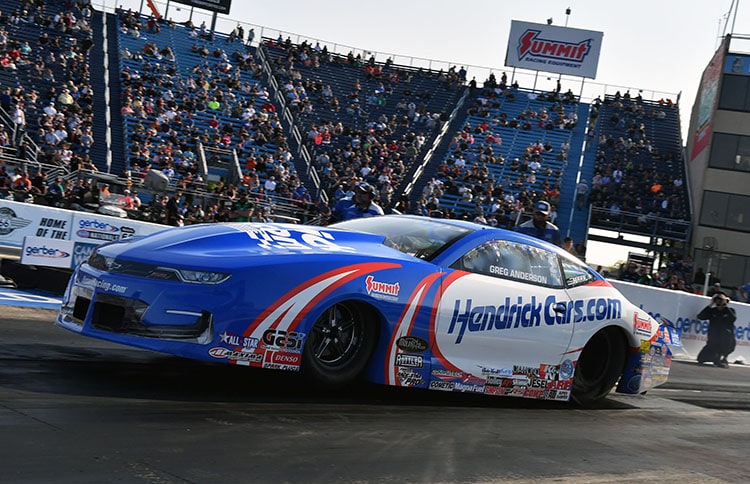 By the conclusion of the Route 66 NHRA Nationals in Chicago, there was no doubt that Greg Anderson's KB Titan Racing team had power and knew how to apply it. Anderson, driver of the HendrickCars.com Chevrolet Camaro, made the quickest pass in the Pro Stock quarterfinals. Unfortunately for Anderson, his teammate had equal power and was a bit quicker to the punch.

Qualifying results:
Q1: 6.542-second at 209.79 mph (No. 6)
Q2: 6.533, 210.50 (No. 7)
Q3: 6.557, 210.64 (No. 9)
"That's the trouble with having a team with drivers as capable as we have," said Anderson, whose progress on raceday was halted by teammate Dallas Glenn. "Sometimes, you have to race them on Sunday, and it doesn't always go your way. The good news is that not only did a KB Titan driver advance, he went ahead and won the race. That's something we should be able to do, and plan to do, with this HendrickCars.com Chevy."

Anderson's match with Glenn followed a first-round meeting with another KBT driver, Matt Hartford. No. 2 in the points entering the event, Hartford has been a legitimate threat to the class this year, particularly in the most recent two races where he was the low qualifier and able to go rounds on Sunday, and Anderson was well aware going into the first round of eliminations at Route 66 Raceway.

The two were just .008 apart as they left the starting line, but Hartford overpowered the racetrack, shook the tires, and had to push the clutch back in. Anderson sailed straight down the quarter-mile to a 6.559-second pass at 209.92 mph.

That set the most winning driver in Pro Stock up against the incoming points leader, Glenn. In their quarterfinals meeting, Glenn was a quick .023 on the tree to a .060, and it mattered at the final stripe as Anderson's low-of-the-round 6.554, 210.11 was ousted by his opponent's 6.576, 210.57.

Race day results:
R1: Greg Anderson defeated Matt Hartford, (.048-second reaction time) 6.559-second at 209.92 mph to (.040) 7.745, 169.49
R2: Dallas Glenn def. Anderson, (.023) 6.576, 210.57 to (.060) 6.554, 210.11

Currently No. 7 in the Pro Stock points, Anderson is eager to get back to his winning ways and make up ground in next month at Bristol Dragway's Thunder Valley Nationals.

"This hasn't yet been the season that I've wanted with the HendrickCars.com Chevrolet," said Anderson. "I'm glad we have a little bit of time before Bristol – that is always one of my favorite places to race; it holds such good memories for me. We'll spend a lot of time between now and then working in the engine shop, on the dyno, and picking apart what we need to do to get this car to the victory lane."

The next Pro Stock event on the 2023 NHRA Camping World Drag Racing Series tour will be the 22nd annual NHRA Thunder Valley Nationals at Bristol Dragway in Bristol, Tenn., June 9-11.