Negative equity? Here are a few tips to help you overcome it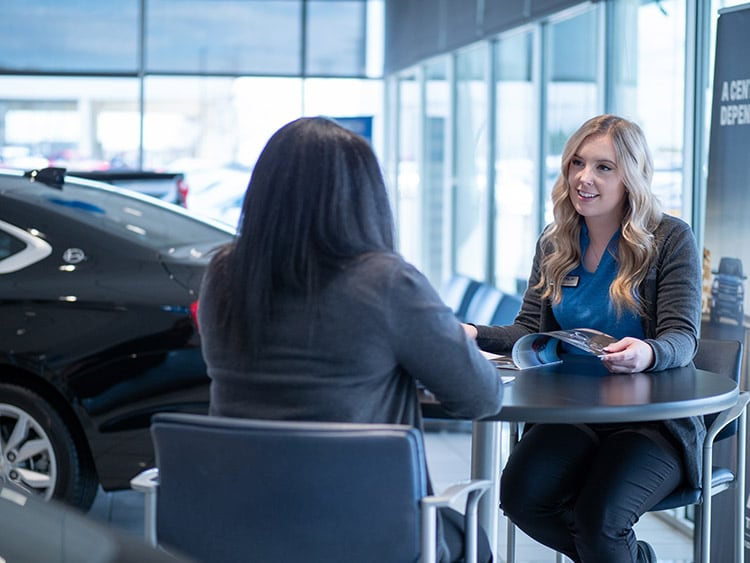 Financing a new vehicle can be stressful. For many, it is the second largest investment they will make, and the decision to purchase a new vehicle is massive for a family.
That is where Brandon Davis comes in, the financial services manager for Rick Hendrick City Chevrolet in Charlotte, North Carolina. Yes,
that
City Chevrolet. Cole Trickle. Days of Thunder. Ahem.
As a Hendrick Automotive Group teammate and professional, Brandon is in the business of serving others and working to get them in the vehicle they desire.
"There are people who can just go buy a car -- it's no big deal," Brandon said. "Then there are people whom are (in) a little bit more (of) a sensitive situation, so it's fun to be able to help people. (It's) trying to get someone into what they want, not just what they need. Being able to get them a car they are excited about – I enjoy that a lot."
HENDRICKCARS.COM
I
RICK HENDRICK CITY CHEVROLET
I
CHEVROLET INVENTORY
What is Negative Equity?
A topic of recent discussion has been the impact of negative equity on the car buying process. It does affect many people. Quite simply, negative equity means that you owe more on your car loan than what your vehicle is actually worth.
"If you have a loan for $50,000, but your car is worth $40,000 – you have $10,000 in negative equity," Brandon said. "There are different factors as far as negative equity goes. You can be negative on a lease or on your financing. You can also have positive equity and your vehicle be worth more than what you owe on your loan."
HENDRICKCARS.COM
I
RICK HENDRICK CITY CHEVROLET
I
CHEVROLET INVENTORY
When thinking about trading in a vehicle, it is a good idea to check and see if you are "underwater" on your loan. Remember, what you owe on that vehicle rolls into the price of the vehicle purchased. For example, if you have $10,000 of negative equity in your trade in, that $25,000 car you are looking can become a $35,000 loan.
"The rule of thumb is that $1,000 roughly finances $20 of your payment," Brandon said. "If you (have) $10,000 in negative equity, you have $200 a month in negative equity that (you) would have to pay on your car payment alone. That means your payments can jump into the $600 range (on a $25,000 vehicle). That can change the ability for the person to (be able to) buy the car – especially with budgeting and how strict some families need to be with it."
How Do I Overcome Negative Equity?
While those were words of caution, do not let it get you down. Brandon also had a few tips to help get your vehicle's equity back on track.
HENDRICKCARS.COM
I
RICK HENDRICK CITY CHEVROLET
I
CHEVROLET INVENTORY
PAY A LITTLE EXTRA:
"The first would be to make a little bit extra on every payment. So, if your payment is $500 a month, see if you can squeeze $600, which is adding another $100 towards principal. "
SAVING THE DAY: "
Second, save some money to use as an additional down payment. No matter if its $1,000 or $2,000, every dollar helps you move out of negative equity when you get into your new car. If you have $10,000 (in) negative equity and can put $2,000 down -- it helps. Even though it may not sound like a lot, every dollar helps."
LOOK AT LEASING:
"Another thing (you can do) with negative equity would be to do a lease. With a lease, you only own the car for 2-3 years, but you are done with negative equity at that time rather than a full six years of car payments."
Having negative equity in your vehicle can be very personal in nature. Those who use their vehicle on a daily basis or have longer commutes, they will experience greater depreciation. According to Brandon, take steps to mitigate your drive load can be important.
"If you are driving a lot, you are going to want to chip away at it a little (more) than maybe someone who doesn't drive as much," he said. "We have people in Charlotte who are driving 16-17,000 miles per year -- that's a lot of miles. We have people who are driving from Monroe every day, racking up the miles."
No matter your circumstances, be aware of where you stand with your vehicle's equity. If you have any questions, dial up Brandon and he'll be able to assist.
HENDRICKCARS.COM
I
RICK HENDRICK CITY CHEVROLET
I
CHEVROLET INVENTORY