Semifinals finish for Anderson and HendrickCars.com at NHRA Gatornationals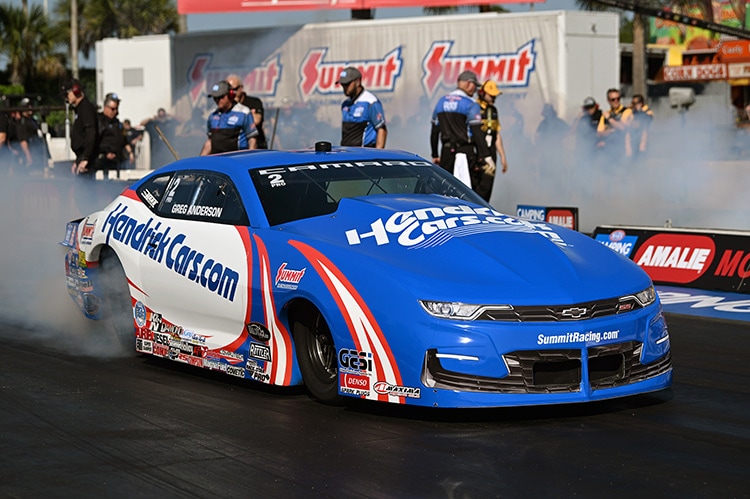 The 2023 rendition of the Amalie Motor Oil NHRA Gatornationals was a curious assortment of highs and lows for Greg Anderson, driver of the HendrickCars.com Chevrolet Camaro. After a somewhat disheartening qualifying outcome, Anderson came into race day with a car that he knew could go rounds. He also knew that the still-gelling KB Titan Racing team wasn't yet running at full volume. At the conclusion of Sunday's racing action, though, the five-time world champion had a pair of round-wins on his scorecard to start the season, and five of the six KB Titan cars had lodged into the Top 10.

"I had a lot of luck to get to the semifinals," said Anderson, who advanced past red-lighting opponents in rounds one and two. "I couldn't quite find the tune-up on my hot rod, but thankfully, we were able to get a couple of round wins – and now we get to go back home and get back on the dyno. We've got some work to do, but it's there. We just have to figure it out."

Anderson came into eliminations starting from the No. 10 position – unfamiliar territory for the most winning driver in Pro Stock – but, in testament to the adage that timing is everything, his HendrickCars.com Chevrolet Camaro had been one of the quickest in two of four qualifying rounds. KB Titan Racing teammate Dallas Glenn was also one of the quickest cars in qualifying, and on Sunday at Gainesville Raceway, Glenn had low e.t. in three of four rounds with the quickest time of the entire day (6.529-second) clocked in the first round.

Qualifying Results:
Q1: 6.554-second at 210.01 mph (No. 2, +2 bonus points)
Q2: 6.556, 209.46 (No. 4)
Q3: 9.307, 101.47 (No. 11)
Q4: 6.542, 210.28 (No. 10, +2)

On Sunday, Anderson advanced on a 6.575 as Cristian Cuadra fouled out by -.005 in round one, then got a pass with a 6.625 when rookie Jerry Tucker had trouble at the tree and left too soon by -.267. Anderson's Gatornationals trophy-hopes were dashed in the semis as Mason McGaha went 6.607 to a 6.661.

"We've got two of our six cars to run really, really well this weekend, and that is not acceptable," said Anderson. "We have to get them all to run fast. We have a week to work before the Phoenix race, and we're going to figure it out. The good news is that yes, it showed signs that the power and the combination are there. We just have to get it to work in every car. The bottom line for the HendrickCars.com Chevy is that I probably got farther than I should have today, but that will not be the case as the season progresses."

Race day Results:
R1: Greg Anderson defeated Cristian Cuadra, (.025-second reaction time) 6.575-second at 209.10 mph) to (-.005 red light) 6.577, 209.10
R2: Anderson def. Jerry Tucker, (.036) 6.625, 208.65 to (-.267) 16.286, 94.35
R3: Mason McGaha def. Anderson, (.019) 6.607, 209.72 to 6.610, 208.52

The next stop for the Pro Stock cars will be the final event to be held at Wild Horse Pass Motorsports Park in Phoenix. Anderson is a two-time winner there.

"We've been going there a lot of years, and we certainly have the data for it, so there are no excuses," said Anderson. "It will be another chance to get our stuff right. We've got a week to work, so by the time we get there, we should be perfectly capable of getting the first win of the season for KB Titan Racing. I'd absolutely love to get it done with my HendrickCars.com Chevrolet."

Leaving Gainesville, Anderson sits fourth in the NHRA Pro Stock standings, 45 points behind current leader Troy Coughlin, Jr.

The next race on the 2023 NHRA Camping World Drag Racing Series tour will be the 38th annual NHRA Arizona Nationals at Wild Horse Pass Motorsports Park in Phoenix and take place March 24-26.