Kyle Larson Enters 2024 Indianapolis 500 with HendrickCars.com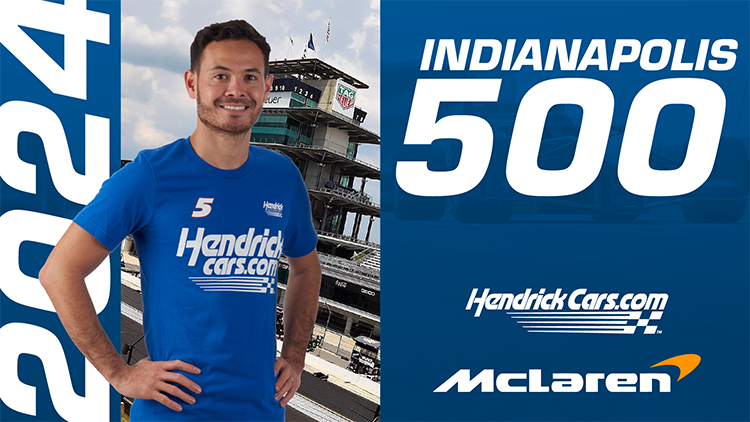 Kyle Larson will realize a lifelong dream by competing in the 2024 Indianapolis 500 with sponsorship from HendrickCars.com and powered by Chevrolet.
Pending additional 2023 entries, Larson would become just the fifth driver to run "The Double" on Memorial Day weekend by racing in the Indy 500 at Indianapolis Motor Speedway and NASCAR's Coca-Cola 600 at North Carolina's Charlotte Motor Speedway on the same day. His double would be the first since Kurt Busch raced in both events in 2014.
Larson's Chevrolet will be co-owned by NASCAR Hall of Famer Rick Hendrick in partnership with the McLaren Racing Indy Car program. Mr. Hendrick is the chairman and CEO of Hendrick Automotive Group and the owner of 14-time NASCAR Cup Series champions Hendrick Motorsports, which Larson has driven for since 2021.
Larson, 30, has proven success at the elite NASCAR Cup Series level where he won the 2021 series title, 19 points-paying races, the 2019 and 2021 NASCAR All-Star Race, and the 2014 Sunoco Rookie of the Year award. In his 2021 championship campaign, the Elk Grove, California, native won 10 points races and led more laps in a single season (2,581) than any driver since 1995. Entering his 12th season in the NASCAR Cup Series and third with Hendrick Motorsports in the No. 5 HendrickCars.com Chevrolet Camaro ZL1, Larson has consistently expressed interest to race the Indy 500 with Team Chevy.
"I'm super excited,' Larson said. "Competing at the Indianapolis 500 is a dream of mine and something I've wanted to do for a very long time – since I was a child before I ever began competing in sprint cars. To do it with McLaren and Mr. Hendrick especially is a dream come true. I'm grateful for the opportunity and am really looking forward to it even though it's still about a year-and-a-half away. I'm really looking forward to competing in both the Indianapolis 500 and the Coca-Cola 600 and maybe even get a win or two that day."
The 108th Running of the "Greatest Spectacle in Racing" will mark the first event as an NTT INDYCAR Series owner for Mr. Hendrick, whose stock-car teams have won an all-time record 291 points-paying Cup Series races. He is also NASCAR's winningest owner at Indianapolis Motor Speedway with 10 Cup victories on the storied 2.5-mile oval. It is also an opportunity for Hendrick Automotive Group to position HendrickCars.com in front of a new and different audience.
"Having the opportunity to support Kyle, partner with an elite team like Arrow McLaren and promote HendrickCars.com in one of the world's great auto racing events is truly unique," said Mr. Hendrick, who is working closely with McLaren Racing CEO Zak Brown on the single-entry investment. "All of us are competitors. Putting Kyle in top-level equipment and allowing ample time for him to prepare for such a difficult challenge was important. It's going to be very, very special to field a Chevrolet in the Indy 500 as a car owner. A collaboration like this was what we needed to make it happen, and fortunately the stars aligned. We're 100% committed to doing it right and look forward to working with Zak and his organization."
Widely regarded as a world-class talent, Larson has a broad resume of auto racing success with more than 400 career wins in a variety of disciplines and types of vehicles on dirt and pavement. His versatility and experience complements McLaren Racing's investment, strategy and competition in different racing series.
"Adding Kyle Larson with a HendrickCars.com partnership to the Indy 500 lineup in 2024 is exciting for our Arrow McLaren team as well as for race fans," Brown said. "He's a complete driver, known for racing anything on wheels, so I'm looking forward to seeing what Kyle can do in an NTT INDYCAR Series car. It's been great working with Rick Hendrick and (Hendrick Motorsports vice chairman) Jeff Gordon to pull this together, so a big thank you to them for what's to come in May 2024."
Additional details, including car number and livery for the HendrickCars.com Arrow McLaren Chevrolet, will be announced at a later date.
Entering the Indianapolis 500 is another "bucket list" event for Mr. Hendrick, as Hendrick Motorsports is currently working alongside NASCAR to run a "Garage 56" Cup Series-based development entry in this June's Le Man's 24 Hour race – the world's most prestigious endurance race. For updates on that project, visit HendrickMotorsports.com.