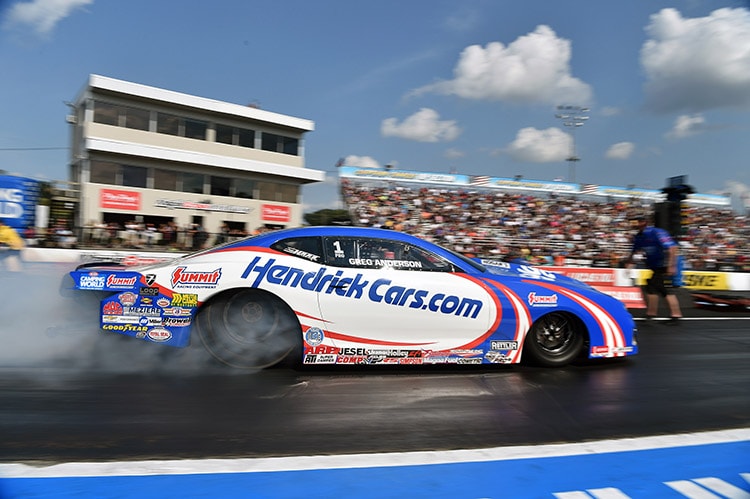 Greg Anderson is coming home to Charlotte after a semifinals conclusion to the Pep Boys NHRA Nationals at Maple Grove Raceway, and he and his HendrickCars.com crew are fired up to tap back into proven KB Racing power and make their mark on home turf.
"I like back-to-back-to-back weekends, I enjoy the heck out of it when I see them on the schedule because it gives us the opportunity to build momentum, and that's exactly what you want to do – what you need to do – at this point in the season," said Anderson, who left Maple Grove Raceway No. 2 in the Pro Stock points.
In Reading, Anderson and the KB Racing group didn't see the runs they were looking for in qualifying, and he started from the No. 5 position. But on Sunday at 'the Grove,' Anderson's racecar was in fine shape as he defeated Fernando Cuadra Jr. in the opening act with a 6.572, 207.69 to a 6.602, 207.27.
A victory over teammate Dallas Glenn in the following round set up a semifinals meeting with Troy Coughlin Jr., whom Anderson defeated in Indy two weeks ago en route to victory. Anderson, who was 7-3 against Coughlin coming into the round, was dialed in for more of the same, but his car slowed as it neared the final stripe, allowing Coughlin to take the win, 6.601, 209.46 to 6.714, 188.02.
"We've got some work to do when we get back to the shop tomorrow," he said. "This is no time to rest, and we've got all the right parts and pieces and people, it's just a matter of getting them into place before next weekend and then coming out strong. We want to show up at zMAX Dragway and show Rick Hendrick and the team at HendrickCars.com what we can do, especially in the playoffs when these trophies mean so much."
As the reigning and five-time Pro Stock world champion, Anderson – the most winning driver in the category and the second-most winning professional driver in NHRA history – has a target on his back. His competitors know what he's capable of, and as evidenced by their raucous cheer on the starting line when Coughlin's win light came on in the semis, they revel in his defeat. To Anderson, though, none of that matters. His focus is on winning.
"It's good for the class to have rivalries, and historically, that's always been the case in Pro Stock," said Anderson, who has accumulated a monstrous 100 Pro Stock wins for team owners Ken and Judy Black. "But all I'm thinking about, all that I'm concerned with is doing the best we can, from the engine shop to the driver, to put the HendrickCars.com Chevrolet Camaro in the winner's circle. We didn't do that this weekend, but that's why I'm so excited to get back on the horse. We get another shot in just a few days."
Anderson left Maple Grove second in the NHRA Pro Stock championship standings, only 81 markers behind leader Erica Enders, with five races remaining in the season.
The second race of the 2022 NHRA Camping World Drag Racing Series Countdown to the Championship will take place at zMAX Dragway in Concord, N.C., September 23-25.
Qualifying results:
Q1: 6.602-second, 209.85 mph (No. 13)
Q2: 6.544, 209.88 (No. 5)
Q3: 6.584, 207.72 (No. 5)
Race day results:
R1: Greg Anderson defeated Fernando Cuadra Jr., (.020-second reaction time) 6.572-second at 207.69 mph to (.020) 6.602, 207.27
R2: Anderson def. Dallas Glenn, (.020) 6.612, 207.21 to (.052) 6.668, 206.67
R3: Troy Coughlin Jr. def. Anderson, (.020) 6.601, 209.46 to (.070) 6.714, 188.02