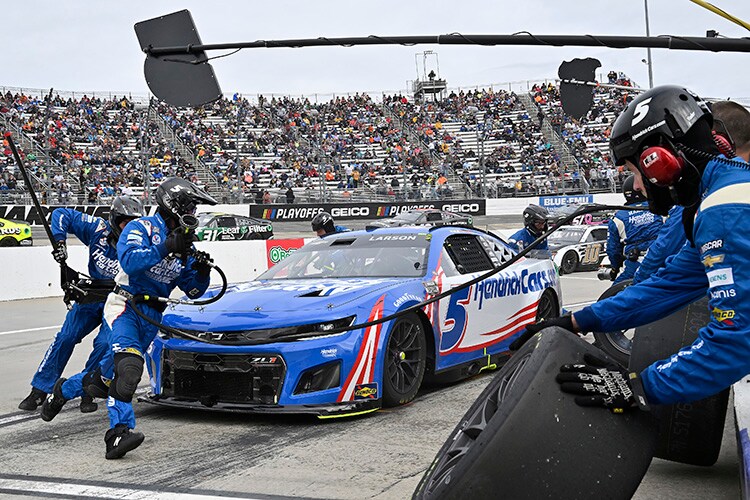 Kyle Larson, who started first on Sunday at Martinsville Speedway, led the first 68 laps on the 0.526-mile short track before Hendrick Motorsports teammate Chase Elliott bypassed him for the lead. Larson lost two more spots before stage one ended at lap 130.
During the stage break, Larson explained the No. 5 HendrickCars.com entry was "loose." After stopping for tires, fuel and a chassis adjustment, quick work allowed Larson to gain a spot in the race off pit road. The 2021 NASCAR Cup Series champion restarted third and remained there through the end of stage two at lap 260.
With Larson still battling a "loose" condition on the HendrickCars.com Chevrolet, crew chief Cliff Daniels called for more adjustments during a lap-264 caution pit stop. Fast work by the No. 5 crew gained Larson another position on pit road, but he began losing positions when the green flag waved at lap 271. By lap 285, Larson was scored sixth while battling a "tight" condition. Daniels called for more changes during a lap-322 pit stop, and Larson maneuvered up to fourth before the day's final caution waved on lap 466. This time, Daniels called for a change of right-side tires only with Larson winning the race off pit road. The Elk Grove, California, native restarted third on lap 476 behind two drivers that did not pit. Larson was able to battle hard over the closing laps but came up one spot short when the checkered flag waved at lap 500.
QUOTING KYLE LARSON:
"There is a lot on the line for us and our team next weekend at Phoenix (Raceway). We have two opportunities (one in owner and one in driver standings) to bring Mr. Hendrick a championship and we would love to do that.
"We were decent at Phoenix earlier this year, but I'm sure we'll be a lot better than we were the last time."
NEXT RACE:
Larson and the No. 5 HendrickCars.com Chevrolet head to Phoenix Raceway for the final race of the 2022 NASCAR Cup Series season. The championship race takes place Sunday, Nov. 6 at 3 p.m. ET and will be broadcast live on NBC.