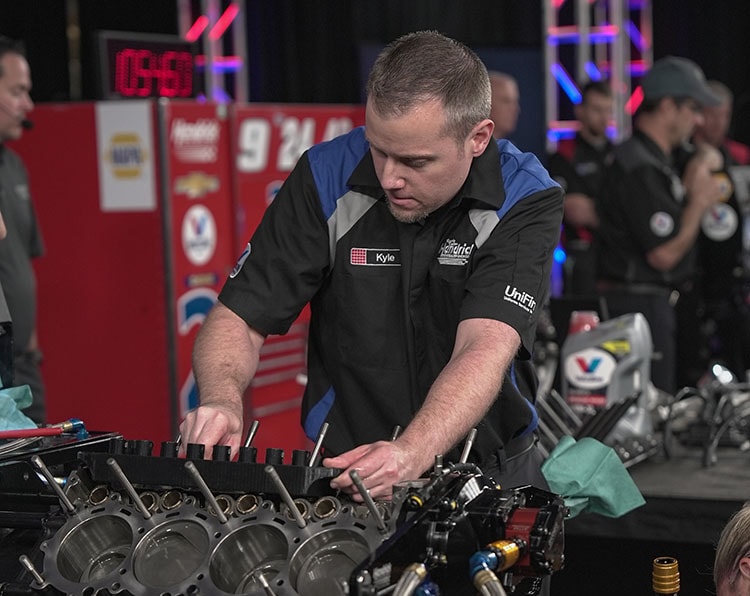 The competition was fierce. Engines cranked.
And the first day of the 21st Randy Dorton Hendrick Engine Builder Showdown did not disappoint.
Eight teams featuring pairs of a Hendrick Automotive Group certified master technician and a Hendrick Motorsports race engine builder took to the stage to work hard and fast assembling a 358-cubic-inch Chevrolet engine, which contains 243 parts, that is similar to the fuel-injected engines that run every NASCAR Cup Series weekend.
Hendrick Collision Center of Kansas City's Stephen Moore and partner Scott Vester of Hendrick Motorsports control the leaderboard with a fast time of 22:14.02 while Hendrick BMW Certified Pre-Owned South Charlotte's Ryan Thor and Hendrick Motorports partner Sam Vernatter rank second.
The full leaderboard can be found on HendrickEBS.com.
The second day of the competition kicks off at 9:15 a.m. ET on Thursday, Nov. 10 with the final two qualifying builds. Once qualifying is complete, the top-two fastest teams will square off in the championship build, which is scheduled to commence at 2 p.m. ET.
All the action from the Hendrick Motorsports campus can be seen live on RacingAmerica.com and HendrickEBS.com.
Take a look at some of the best photos from today's qualifying engine builds below.