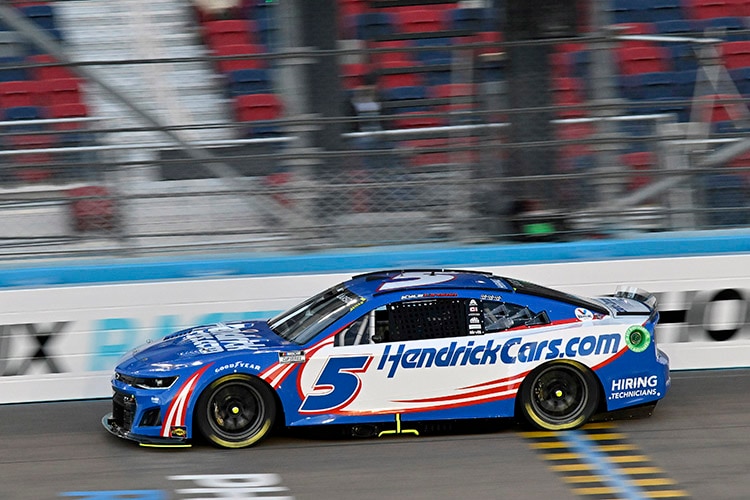 The No. 5 HendrickCars.com Chevrolet Camaro ZL1 team was foiled in its bid to win back-to-back owner's championships and three straight owner's crowns for team owner Rick Hendrick.
Kyle Larson and the HendrickCars.com team finished third in the final owner standings.
Larson and the No. 5 team ran in the top four for all of the opening stage. Over the first half of stage two, he held down a spot in the top three. The 125-lap stage turned into one where drivers were trying to save fuel and complete the stage on just one stop that came about 25 laps into the segment. In an effort to conserve fuel, Larson would fall back to eighth at the end of stage two. From there, the No. 5 got mired in traffic around the back of the top 10 and finished the race in ninth.
The 30-year-old Elk Grove, California, native was eliminated in the Round of 12 of the driver's portion of playoffs. However, the HendrickCars.com team remained in contention for the owner's championship because one of the teams that advanced to the Round of 8 in the driver's championship had not won a race this season at the time. That meant that team – the No. 12 Team Penske squad - was not part of the owner's championship battle since there were 16 regular-season winners and that saw the No. 5 advance in the owner's bracket.
Despite being unable to defend his driver's championship, Larson and the No. 5 team had a solid season. Led by crew chief Cliff Daniels, the squad scored three victories: Auto Club Speedway (in February), Watkins Glen International (in August) and Homestead-Miami Speedway (in October). The win at Homestead came after Larson's elimination from the driver's championship but advanced the team to owner's Championship 4.