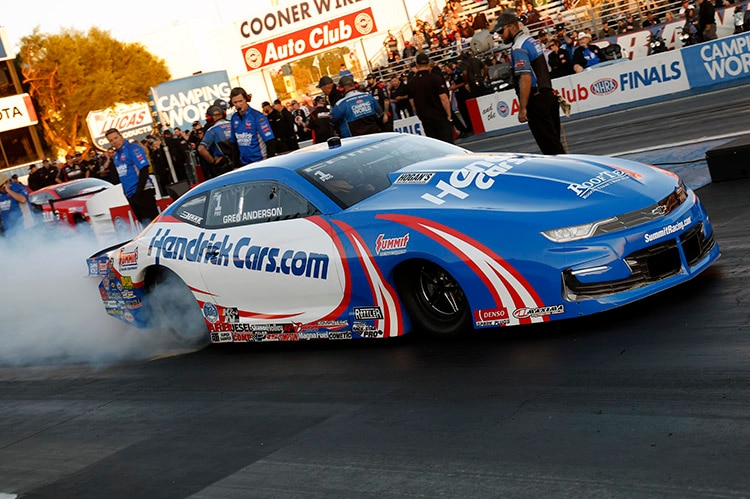 All Greg Anderson wanted coming into the last race of the 2022 season of NHRA's Camping World Drag Racing Series was to win it for Ken Black. The longtime leader of KB Racing had scheduled his retirement for just after the Auto Club NHRA Finals, and Anderson wanted to send the patriarch of the team and the man who had set the tone for his entire career off on a high note.
On Sunday at Auto Club Raceway at Pomona, Anderson accomplished what he set out to do as he defeated Erica Enders on a holeshot in the final round of eliminations. For Anderson, who was already the most winning driver in Pro Stock, his 101st win was one of the most meaningful of his career.
"This was an emotional weekend for me," said Anderson. "It's been 20 years of glory and a hell of a ride with Ken and Judy and the entire Black family. They've done everything for me, made all my hopes and dreams come true. I never in my life dreamt I could achieve anything like this, and I couldn't have without Ken Black.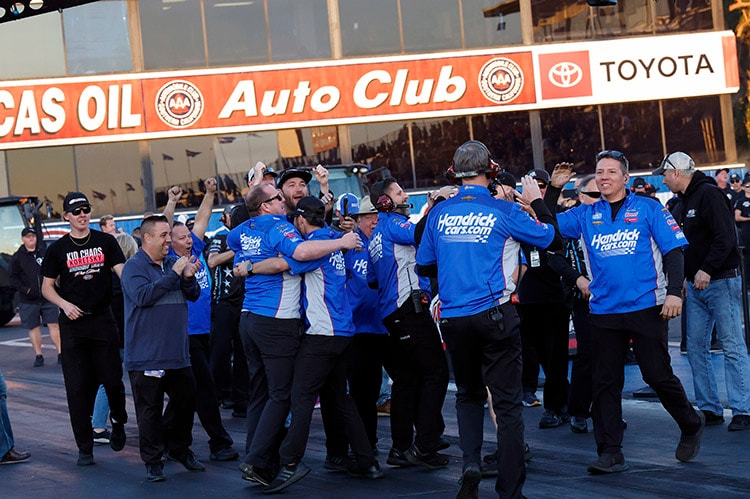 "We didn't win the championship this year, so the only way I could truly thank him was to win this last race for him. Everything fell right. I felt great as a driver and my HendrickCars.com Chevy was fast. I couldn't have written a better story."
In the opening act in Pomona, Anderson defeated Chris McGaha with a 6.523-second pass at 210.18 to a 6.566, 209.56. Round two brought a head-to-head match with former KB Racing teammate Bo Butner, and there, Anderson was off the starting line with a swift .016-second reaction time and 6.537, 209.95 to defeat a .050 and 6.539, 210.44.
Semifinal opponent Fernando Cuadra left the starting line -.090 too soon, and Anderson's win light was immediately illuminated. The five-time world champion finished the job with a strong 6.546, 210.21 and moved ahead to the final round, where he met newly crowned series titlist Erica Enders, a driver he had met eight times before in a final.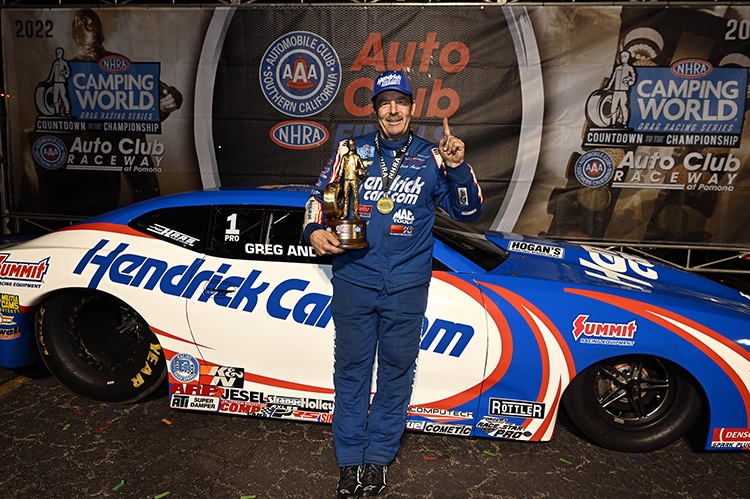 Anderson earned national event win No. 101 by way of a better reaction time than his challenger, clocking a .020 light and 6.516, 210.31 to a quicker but losing .061 paired with a 6.515, 210.01.
"The two biggest wins of my career happened this year," said Anderson. "Winning Indy to get my 100th win and then winning this one right here to give to Ken Black. We didn't win the championship, but I had two fantastic wins this year. I'm going to leave this place happy tonight."
Anderson closed out the 2022 season fifth in the NHRA Camping World Drag Racing Series Pro Stock Standings.
Qualifying results:
Q1: 6.525-second, 210.64 mph (No. 1, +4 bonus points)
Q2: 6.509, 211.00 (No. 1, +4)
Q3: 6.519, 210.67 (No. 2, +2)
Q4: 8.101, 121.04 (No. 2)
Race day results:
R1: Greg Anderson defeated Chris McGaha, (.057-second reaction time) 6.523, 210.18 to (.042) 6.566, 209.56
R2: Anderson def. Bo Butner, (.016) 6.537, 209.95 to (.050) 6.539, 210.44
R3: Anderson def. Fernando Cuadra, (.057) 6.546, 210.21 to (-.090) 8.556, 112.18
R4: Anderson def. Erica Enders (.020) 6.516, 210.31 to (.061) 6.515, 210.01