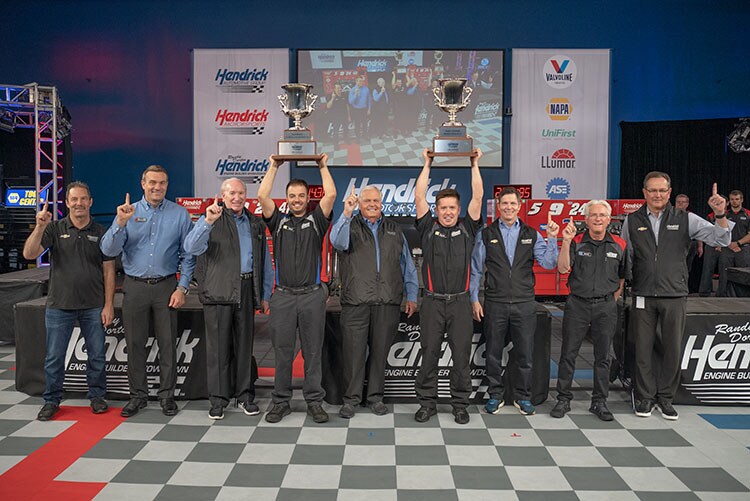 Watch out Kansas City, the Randy Dorton Hendrick Engine Builder Showdown trophy is headed to Sunflower State.
The 2022 engine competition that pairs Hendrick Automotive Group certified master technicians and Hendrick Motorsports race engine builders in an engine build off came to a fierce end today.
The top-two fastest teams in qualifying – Hendrick Collision Center Kansas City's Stephen Moore and Hendrick Motorsports partner Scott Vester and Hendrick Lexus Kansas City's Brad Huston and building partner Danny Emerick – competed in the championship build.
Both teams faced off and assembled a 358-cubic-inch Chevrolet engine, which contains 243 parts, that is similar to the fuel-injected engines that run every NASCAR Cup Series weekend.
Huston and Emerick were the first to fire their engine with a build time of 22:01.82 with Vester and Moore cranking their horsepower 13 seconds later.
After builder officials inspected both engine builds, both teams were assessed 30-second penalties for different infractions, deeming Huston and Emerick champions of this year's showdown.
This is Huston's first Engine Builder Showdown win and Emerick's fifth.
The full leaderboard can be found on HendrickEBS.com.
Take a look at some of the best photos from today's qualifying engine builds below.