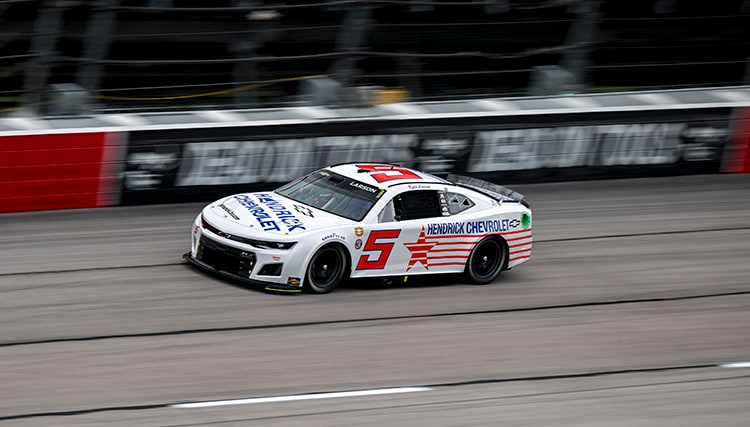 Kyle Larson, who qualified second on Saturday, took over the top spot on lap 1 and paced the field for 29 of the next 30 laps before a caution waved at lap 30. After stopping for four tires and fuel, the driver of the No.5 HendrickCars.com Throwback Chevrolet Camaro ZL1 restarted second and was battling for that position on lap 55 when he spun in turn four. Larson did not make contact with the wall, and he pitted during the caution period for four new tires and fuel.
After restarting 31st, the Elk Grove, California, native charged through the field. On lap 67, Larson was scored 24th and, on lap 73, he was back inside the top 20. When stage one ended at lap 90, Larson was up to 13th.
Crew chief Cliff Daniels called Larson to pit road during the stage break for four new tires and fuel, and a fast stop allowed Larson to gain two positions for the lap 96 restart. The reigning NASCAR Cup Series champion gained another position and was running 10th before reporting an issue with the engine. Larson's day ended after 112 laps.
Larson fell one position in the point standings, to ninth, and now sits 117 markers behind points leader and Hendrick Motorsports teammate Chase Elliott.
QUOTING KYLE LARSON:
"That was a bummer. Our No. 5 HendrickCars.com Chevrolet was super good today, so that's promising. I feel like maybe we hit on something here this weekend. I hate that we're not going to get the finish that we deserve, but I'm proud of my team for the car they brought today."

NEXT RACE:
Larson and the No. 5 HendrickCars.com Chevrolet team will head to the Midwest for a 400 miler at Kansas Speedway on Sunday, May 15 at 3 p.m. ET. With three dealerships in close proximity to the track, Sunday's race will be a Home race for us and the No. 5 HendrickCars.com team will sport their white uniforms. The race will be broadcast live on FS1.