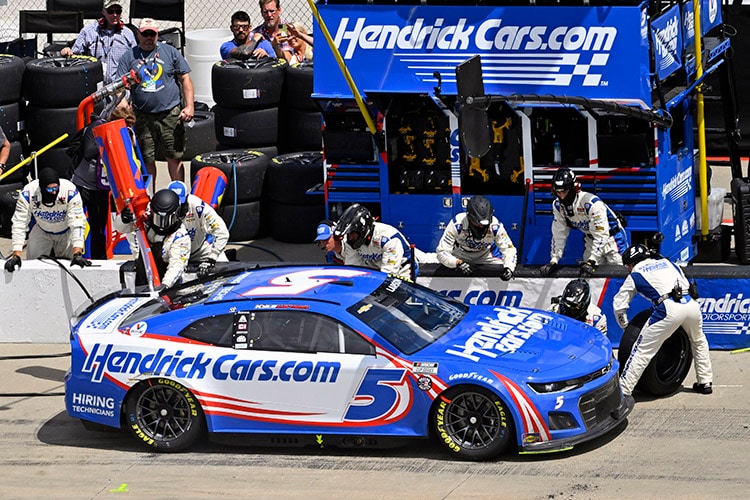 Kyle Larson, who qualified third on Saturday, moved into the lead on lap 34 just as a caution waved over the speedway. But trouble loosening the left-rear wheel nut during the ensuing four-tire stop dropped Larson down to 10th for the restart. Once the green flag waved again, Larson made contact with another car – damaging the front fender on the No. 5 HendrickCars.com Chevrolet Camaro ZL1. When a caution waved on lap 61, Larson had dropped a few spots and was scored 13th. Crew chief Cliff Daniels called Larson to pit road, and extra time was used to repair the damage. Larson restarted 24th on lap 67 and charged his way to 15th before stage one ended at lap 80.
Quick pit work by the No. 5 team allowed Larson to gain five positions during the break and restart 10th on lap 87. But contact with the turn 4 wall three laps later slowed his progress up the leaderboard. The Elk Grove, California, native did catch a break in the middle of green-flag pit stops on lap 125. The team had just completed a four-tire pit stop when a caution waved. Ahead of the leader when the caution waved, Larson remained on the lead lap and cycled up to sixth for the restart once the leaders made their pit stops under caution. When stage two ended at lap 165, he was running sixth.
Another fast stop by the No. 5 pit crew moved Larson up to third for the start of stage three. The 29-year-old driver moved into second on lap 176 then passed Kurt Busch for the lead on lap 181. But the lead was short lived as Larson's Chevrolet Camaro got loose and tagged the turn 2 wall. With slight damage to the rear quarter panel of the No. 5 entry, he fell to third before a caution waved at lap 196.
Larson's crew again gained him spots on pit road, this time moving Larson up to second for the restart. But the reigning NASCAR Cup Series champion again touched the wall during the green-flag run – in turn 4 on lap 203 and turn 2 five laps later. When the day's final caution waved on lap 229, Larson was scored third.
Quick work again by the pit crew gained a position during the caution-flag pit stop sequence, and Larson wasted no time on the restart as he passed leader Kyle Busch on lap 235 of 267 laps. But Larson was unable to hold off a hard-charging Kurt Busch, who slipped by Larson with eight laps to go.
Larson maintains his ninth-place position in the standings, sitting 99 markers behind points leader and Hendrick Motorsports teammate Chase Elliott.
QUOTING KYLE LARSON:
"We were racing for the win there. [Kurt Busch] never got into me, so I'm trying to squeeze throttle to get position on him and the car just got tight. That was fun racing with Kurt. You know, the last half of the race I was trying hard the whole time. I about spun out in front of him there at some point in the third stage and then we just kept fighting through it.
"Thanks to my team for building me a war machine. I hit the wall a lot today and just struggled, like people could put air on me and get me really tight and I'd hit the wall. We'll work on that and figure it out, but happy with my car. It was hard to hold off Kyle (Busch) and then I knew when Kurt got by him, I knew it was going to be really hard to hold him off. I did my best but came up one spot short.
NEXT RACE:
Larson and the No. 5 HendrickCars.com Chevrolet team head to the Lone Star State and compete for a $1 million payout in the annual All-Star Race at Texas Motor Speedway. The 100-lap feature takes place this Sunday, May 22 at 8 p.m. ET and will be broadcast live on FS1. With two dealerships in close proximity to the track, Sunday's race will be a Home race for us and the No. 5 HendrickCars.com team will sport their white uniforms.