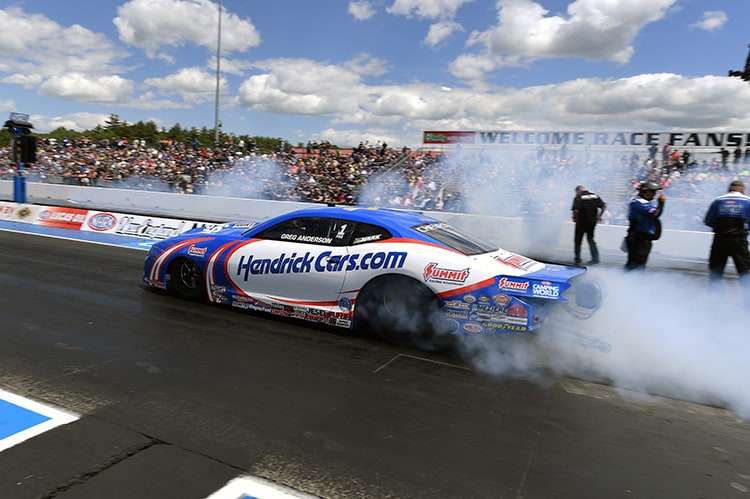 Greg Anderson and his HendrickCars.com Chevrolet Camaro are leaving New England Dragway without the shiny hardware that the KB Racing team intended to acquire at a track where the reigning Pro Stock world champion has twice before been victorious. After a tough battle in qualifying negated solid footing for raceday, Anderson was ousted in the second round. The 99-time national event winner is setting his sights on the next race – where he plans a return to form.
The 9th annual New England Nationals took an unusual tone when two-time Epping winner Anderson overpowered the racetrack as he accelerated from the starting line in the first two qualifying sessions. With one round of qualifying remaining, Anderson and company were forced to make a safe pass to secure their position in the field, thereby forfeiting any advantage a more powerful pass might have gained heading into Sunday.
"We really haven't struggled with the starting line with this car for two years, so we're a little shocked," said Anderson at the conclusion of qualifying. "We have to do a little bit of searching tonight, because this car has not liked this racetrack so far."
Starting from the No. 11 position, Anderson drew rookie of the year contender Camrie Caruso for round one. He was out of the gate with an efficient .027-second reaction time to his opponent's .066, and he finished the job with a 6.535-second pass at 210.37 mph to her 6.537, 211.06.
In the second round, the strange occurrences continued as the timing block malfunctioned in his lane and left him without an official time and speed. The clocks showed a 6.515 at an impossible 227.15. His challenger, Erica Enders, recorded a 6.536, 211.53, and the margin of victory was calculated in her favor by .00007.
The speed on Anderson's pass was clearly incorrect, and so NHRA reviewed the video and determined that Enders was indeed the winner.
"We didn't really go .51, it was more like a high .52 or .53, but it wasn't enough to overcome the difference at the starting line (Enders was .009 to Anderson's .030)," said Anderson. "Ultimately, what bit us was getting behind in qualifying. You just can't do that. You need every run you can get through the weekend to progress and get faster. We were getting better every run this weekend, and if we had one or two more rounds, I might have had a chance. But that's not how it went."
After Race No. 6 of 18, Anderson slid to sixth in the NHRA Camping World Drag Racing Series Pro Stock standings and sits 249 markers behind current leader Erica Enders.
The next stop on the tour is one that means a lot to Anderson. Bristol Dragway is where Anderson claimed his first Pro Stock win in 2001. It also falls on Father's Day weekend.
"I love racing there, and I love racing on Father's Day," said Anderson, who also won there in 2004. "This is a race I always look forward to, and we're so close to putting a race win together that I'm really looking forward to getting there. I feel it. It's coming."
The NHRA Thunder Valley Nationals at Bristol Dragway take place June 17 – 19.
Qualifying results:
Q1: 18.535, 55.76 mph (No. 16)
Q2: 7.814, 200.83 (No. 16)
Q3: 6.590, 209.79 (No. 11)
Raceday results:
R1: Greg Anderson defeated Camrie Caruso, (.027 reaction time) 6.535-second at 210.37 mph to (.066) 6.537, 211.06
R2: Erica Enders def. Anderson, (.009) 6.536, 211.53 to no time, no speed