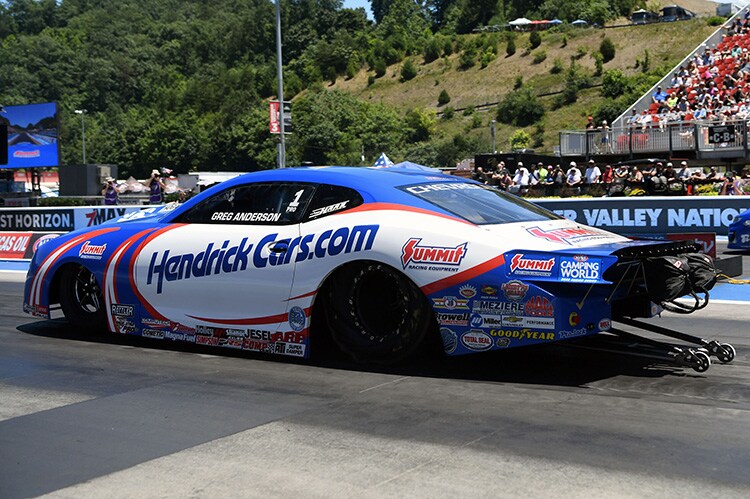 It would have been an extraordinary story, Greg Anderson winning his 100th NHRA Pro Stock trophy at the same facility where he claimed his first win at the 2001 NHRA Thunder Valley Nationals. Unfortunately, the reigning and five-time world champ will have to wait another week as victory was not to be had Bristol Dragway.
"It's disappointing, and you want that story," said Anderson, who reached the second round on Sunday. "But it just wasn't meant to be today. We'll lift our chins and be grateful that we only have to wait a few days before it's time to try again."
After Anderson powered to a bright 6.686-second pass at 202.21 mph to put his HendickCars.com Chevrolet Camaro into the No. 1 spot on the first day of qualifying on Friday, the Duluth, Minnesota native qualified in the No. 5 position, clocking a best time of 6.663-second at 204.88 mph and claiming a total of four bonus points as one of the quickest in two of three sessions during Saturday's time trials.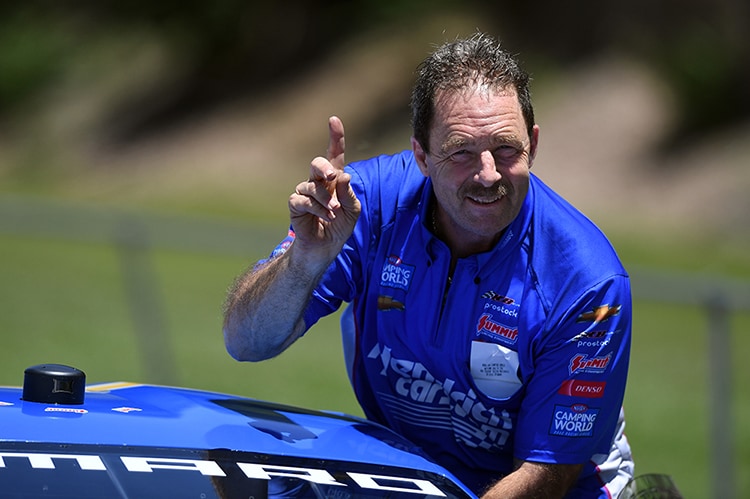 Lining up next to Kenny Delco on Sunday, Anderson had the car to beat as he laid down a 6.6143, 206.51 to top his opponent's 6.682, 206.29. The elapsed time would stand as quickest of the event, and it gave him lane choice over KB Racing teammate Kyle Koretsky in the second round.
There, however, Anderson's fate was locked when he left the starting line with a .050-second reaction time to a .014. Anderson had the quicker car, but Koretsky got the win as he left the starting line first. The margin of victory in Koretsky's favor was .011.
"That's a tough one, but you just have to try to put behind you, learn from it, and do better next time," said Anderson, who is currently occupying the No. 5 position in the Pro Stock points. "The Summit Racing Equipment event is in just a few days at one of the nicest tracks we go to, and I'm looking forward to getting there. That's been a good race for us, a good race for me, personally, and I would really like to have a get-well weekend there for this HendrickCars.com team."
The next race on the 2022 NHRA Camping World Drag Racing Series schedule will take place June 23 – 26 at Summer Motorsports Park in Norwalk, Ohio for the Summit Racing Equipment NHRA Nationals.
Anderson advanced one spot to fifth in the NHRA Camping World Drag Racing Series Pro Stock standings and sits 289 markers behind After Race No. 7 of 18, Anderson slid to sixth in the NHRA Camping World Drag Racing Series Pro Stock standings and sits 249 markers behind Erica Enders after Race No. 7 of 18.
Qualifying results:
Q1: 6.686-second at 202.21 mph (No. 1, +3 bonus points)
Q2: 6.663, 204.88 (No. 3, +1)
Q3: 6.669, 205.47 (No. 5)
Race day results:
R1: Greg Anderson defeated Kenny Delco, (.042-second reaction time) 6.613-second at 206.51 mph to (.097) 6.682, 206.29
R2: Kyle Koretsky def. Anderson, (.014) 6.678, 206.16 to (.050) 6.653, 205.91