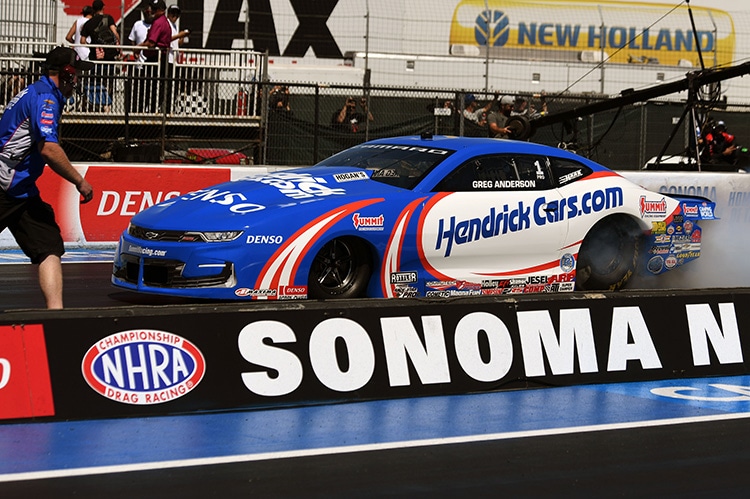 Greg Anderson reached the 168th final round of his long and decorated Pro Stock career at this weekend's DENSO NHRA Sonoma Nationals. The five-time world champion could only be stopped by the incoming points leader – but is elevated in his quest to earn the 100th victory of his career as the NHRA tour leaves California Wine Country.
"It was a great feeling to have a car like I had this weekend," said Anderson, who has seen progressive moves toward a so-far elusive win in the first 10 races of the season. "We're absolutely getting closer. We proved that today, and this was a race we could have won."
Anderson defeated Steve Graham in the first round of eliminations and then used a stunning .003-second reaction time in his triumph over Bo Butner in round two. In the semifinals, he left the starting line ahead of KB Racing teammate Kyle Koretsky with a .038 light to a .044, and when Koretsky broke soon after launch, Anderson was able to advance to the final round uncontested, clocking a 6.557, 208.94.
On the other side of the ladder, Erica Enders' semifinal opponent broke as well, and the driver who finished No. 2 in the Pro Stock standings just behind Anderson last year met him in the final at Sonoma Raceway.
There in the last round of the day, Enders nabbed a starting line advantage and was able to stay ahead of a charging Anderson. Her .018 at the tree, coupled with a 6.574, was enough to claim the trophy. Anderson recorded a 6.565, 208.01.
"I could have snuck one there, if I'd had a better light," said Anderson, noting that Enders slowed at the stripe with problems of her own. "We weren't going to dominate today, but we could have won, and that's a step forward. We'll keep working at it, but we raced well today. That's what it takes, you have to race well and drive well, and until the final, I was able to hold up my end of the bargain.
"The positive is that KB Racing won last week and we were in the final here with the HendrickCars.com Chevrolet. We're coming back. I feel good about it, and we have another chance next weekend to finish the Western Swing with a win. I'm going to keep digging and build on this momentum."
The HendrickCars.com Chevrolet and driver will wrap up the series' west coast swing next weekend at Pacific Raceways in Kent, Washington. The Flav-R-Pac Northwest Nationals take place July 29 – 31.
With his strong run, Anderson advanced one spot in the in the NHRA Camping World Drag Racing Series Pro Stock standings and now ranks fourth, 386 markers behind points leaders Erica Enders after Race No. 10 of 19 of the 2022 season.
Qualifying results:
Q1: 6.571-second, 208.71 mph (No. 9)
Q2: 6.518, 209.43 (No. 2, +2 bonus points)
Q3: 6.542, 209.07 (No. 2)
Race results:
R1: Greg Anderson defeated Steve Graham, (.033-second reaction time) 6.540-second at 208.33 mph to (.037) 8.441, 113.84
R2: Anderson def. Bo Butner, (.003) 6.572, 206.04 to (.052) 6.579, 210.14
R3: Anderson def. Kyle Koretsky, (.038) 6.557, 208.94 to (.044) no time
R4: Erica Enders def. Anderson, (.018) 6.574, 196.62 to (.049) 6.565, 208.01