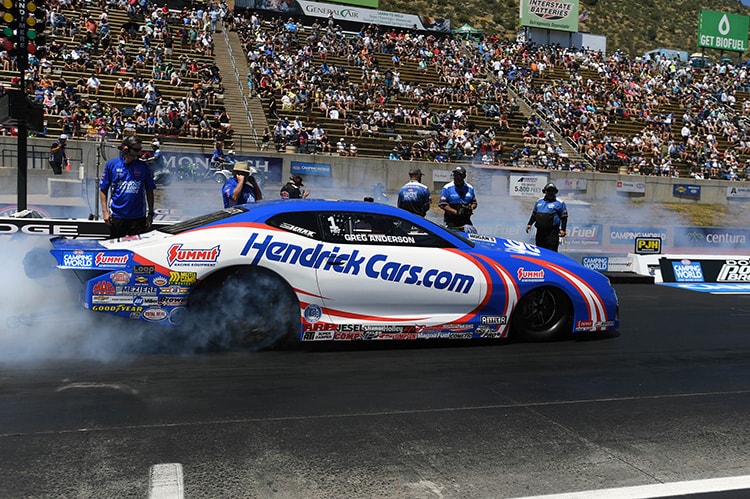 Greg Anderson and his HendrickCars.com Chevrolet Camaro are leaving Bandimere Speedway with a fire beneath them as they head to the next event on the three-race Western Swing, the NHRA Sonoma Nationals. Anderson remains No. 5 in the Pro Stock standings leaving the Dodge Power Brokers NHRA Mile-High Nationals and will look to go rounds next weekend and make up ground.
"This isn't a race where you can learn a lot that will apply later in the season, because the conditions here are just so unique – but that doesn't take away the importance of it," said Anderson. "We want to win every race we go to, and this one was no exception. But we'll have to set our sights on the next one. Luckily, that's just a few days away."
Qualifying in the No. 9 position relegated Anderson to an early raceday debut in the first pair of Pro Stockers to take to the racetrack at the Mile-High Nationals. The unenviable position does not allow for any last-minute adjustments as crew chiefs do not have the luxury of seeing how other cars in the category react to the conditions. With the experience of KB Racing on his side, Anderson knew it was absolutely a surmountable task, but what he did not anticipate was a mechanical malfunction under the hood that would end his day in the first round.
As he left the starting line with a respectable .034-second reaction time to Bo Butner's .027, Anderson's HendrickCars.com Chevrolet slowed, and he could only watch as his opponent raced ahead for the win light, 7.015, 195.87 to 7.847, 133.59.
"We had a chance, but really, at that point there just isn't anything you can do," he said. "We're disappointed, of course, but there isn't any time to hang our heads. We've got to get to Sonoma and get back on track."
The HendrickCars.com Chevrolet and driver will head straight to Sonoma Raceway, where Anderson has six previous wins: 2004, 2005, 2007, 2011, 2016, and 2019. The NHRA Sonoma Nationals take place at Sonoma Raceway July 22 – 24.
Anderson holds onto the fifth spot in the NHRA Camping World Drag Racing Series Pro Stock standings and sits 362 markers behind points leaders Erica Enders after Race No. 9 of 18 of the 2022 season.
Qualifying results:
Q1: 6.987-second at 194.72 mph (No. 4)
Q2: 6.965, 194.58 (No. 7)
Q3: 6.994, 194.77 (No. 7)
Q4: 6.976, 194.49 (No. 9)
Race day results:
R1: Bo Butner defeated Greg Anderson, (.027-second reaction time) 7.015-second at 195.87 mph to (.034) 7.847, 133.59