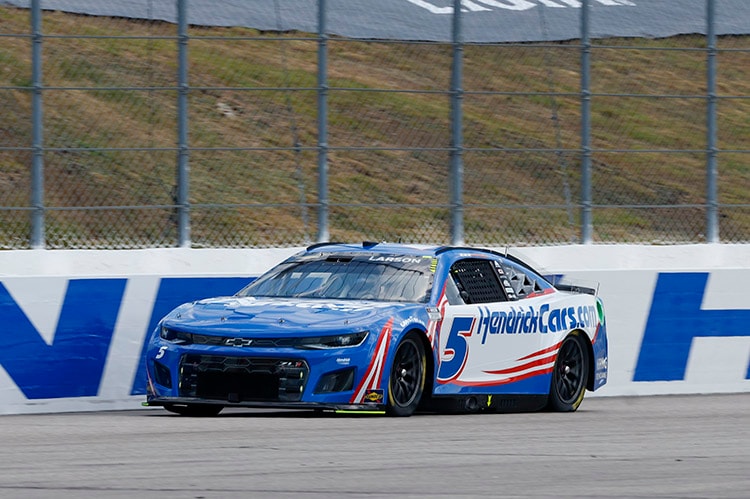 Larson, who started eighth in Sunday's 301-lap race at New Hampshire Motor Speedway, quickly moved up the scoring pylon. The driver of the HendrickCars.com Chevrolet was scored fifth on lap 3 and, on lap 35, he bypassed Hendrick Motorsports teammate Chase Elliott to move up to third – a position he would hold until stage one ended at lap 70.
After stopping for four tires and fuel during the stage break, the Elk Grove, California, native restarted third before moving up to the runner-up spot. When a caution waved on lap 88, acting crew chief Kevin Meendering called Larson to pit road for a change of right-side tires and fuel. Several teams elected to stay out or pit for fuel only, so Larson restarted ninth at lap 100. He maneuvered his way up to third on lap 132 but ultimately finished stage two at lap 185 in fifth, explaining that his No. 5 Camaro ZL1 "was not as good on exit as it was earlier in the race."
Larson again stopped for four new tires and fuel during the caution period and restarted ninth on lap 192 behind some drivers that did not pit. When a caution waved on lap 204, the team elected to stop for fuel only to gain track position. Larson restarted fifth with 92 laps to go and quickly moved up to fourth. But he began losing positions to drivers with newer tires. By lap 229, Larson had fallen to 10th and, by lap 271, Larson was scored 13th. With the race running caution-free to the end, Larson managed to hang on to the car that "had no grip" and finished 14th.
QUOTING KYLE LARSON:
"The strategy didn't work out like we had hoped. I think we were all expecting some cautions in that final run and we could have pitted for new tires. But that didn't happen so I just had to hold on as best I could."
NEXT RACE:
With six races remaining until the playoffs commence, Larson and the No. 5 HendrickCars.com Chevrolet team head to Pocono Raceway for 400 miles of racing at the three-turn venue. The 160-lap race takes place Sunday, July 24 at 3 p.m. ET and will be broadcast live on USA.