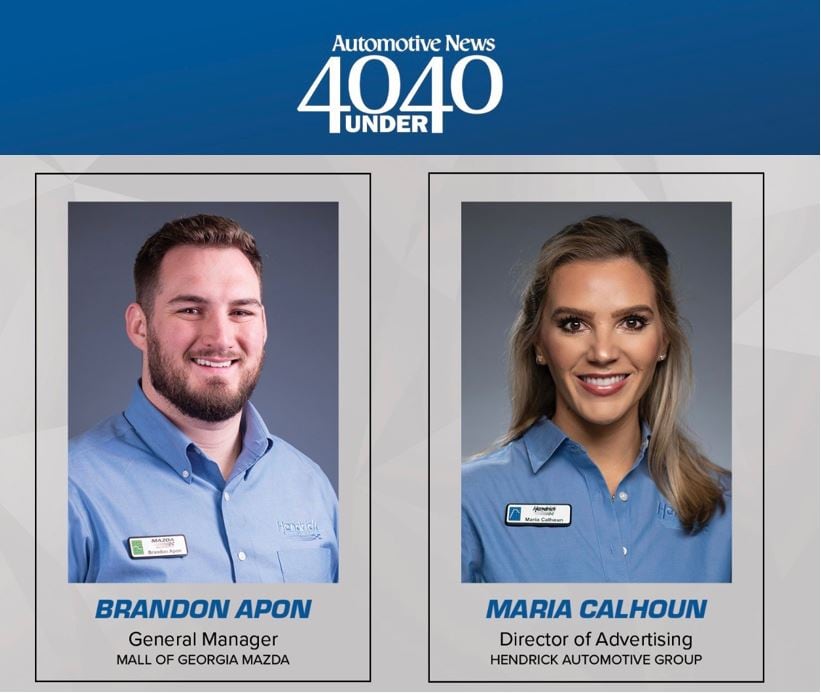 Automotive News' 11th 40 Under 40 class has been announced.

And two Hendrick Automotive Group teammates – Maria Calhoun, Director of Advertising and Brandon Apon, General Manager of Mall of Georgia Mazda -- have been recognized by the leading news source for the global automotive industry as it enters its second decade of recognizing young dealership leaders.

The annual program honors 40 high achievers who display exceptional leadership skills and are top performers under 40 years old.

This year's stars have led digital retailing transformations, found new ways to stock vehicles during an inventory crisis and chipped away at recruiting challenges.

Over the last two years, dealerships were required to be nimble with their marketing messaging and during the pandemic, Hendrick Automotive Group focused on vehicle service rather than the traditional sales pitches.

Calhoun, who developed a love for the car business while working at Momentum Marketing in Charleston, S.C. before joining Hendrick Automotive Group in 2019, said the marketing unit had to be "audible ready," borrowing a phrase from CEO Rick Hendrick.

"Gone were the days of my experience of heavy retail marketing, and all of the things that we were so used to from an automotive space," Calhoun said. "We had to figure out: What is our new marketing message? We really had to shift. We aren't just doing this heavy retail. What is it that consumers want? How do we communicate with them and how do we continue to stay relevant?"

When the pandemic began, Calhoun had to gauge the evolving priorities of consumers while educating the Hendrick executive team on how best to go to market. Calhoun and her marketing team had to change ad campaigns "at the drop of a hat — all while coaching our nearly 100 stores across 27 markets on how to do the same."

From producing more than 2,000 unique pieces of video content that updated customers on store openings and closings, new online shopping tools, and the group's commitment to safety and convenience to confronting a microchip shortage that left dealer lots with little inventory, Calhoun said stores had to turn the marketing lens to the used-vehicle side as demand for those models went up. Having less inventory led to the creation of vehicle acquisition campaigns to bring in more.

An example of a store that shifted its marketing lens well was Mall of Georgia Mazda, ran by Apon. And as a result, the Buford, Georgia dealership thrived, with all departments posting improved sales and profits and, most importantly, holding on to its employees.

Apon, who is instrumental in carrying out the company's culture, made sure his employees' well-being and growth was a main focus.

"Mr. Hendrick has built an incredible empire both in automotive and in motorsports. And he's done it by taking care of his people. He's done it by servant leadership, and I have tried to model that in my store. If you take care of your people and surround yourself with quality people, you can build this culture fortress of sorts that can withstand anything, any turbulence, any adversity, because you have resilient people, and everyone loves each other and you have teamwork," says Apon, who earned a business marketing degree from Liberty University and was recruited by Hendrick as he was graduating college.

Of the store's 60 employees, Apon hired roughly half. So, while the company's culture filters down from corporate leadership, it's on his shoulders to turn those words and policies into action.

He's passionate about recruiting and hiring employees who want to change the dealership experience for customers.

"We don't look at hiring as 'We need three salespeople or whatever. We look at who is going to believe in our mission and our vision and who is going to become an advocate for what we are trying to do, which is change the way people perceive the dealership experience.

"The quote I live by is take care of your people and your people will take care of your customers, so for me it is making sure the team is fulfilled, engaged and happy. And those happy people will make happy customers," Apon says.

Because Apon has worked in nearly all of the store's departments, he understands each person's role and can empathize with their concerns.

"When you have spent time side-by-side with somebody changing oil, washing a car, taking an Internet lead, you just develop a natural respect for what someone goes through. You know where to be empathetic. And you also can differentiate between what is inexcusable, sloppiness or whatever."

Combined, efforts from Calhoun and Apon's groups paid off.

As a result, when new-vehicle inventories dwindled in 2021, new users on the company's national website, HendrickCars.com, grew by 1.1 million.

"It was a group effort," Calhoun said. "The team that we have here, the operators at our stores, they truly just did an incredible job having a vision for how to care for each other and ... our customers."