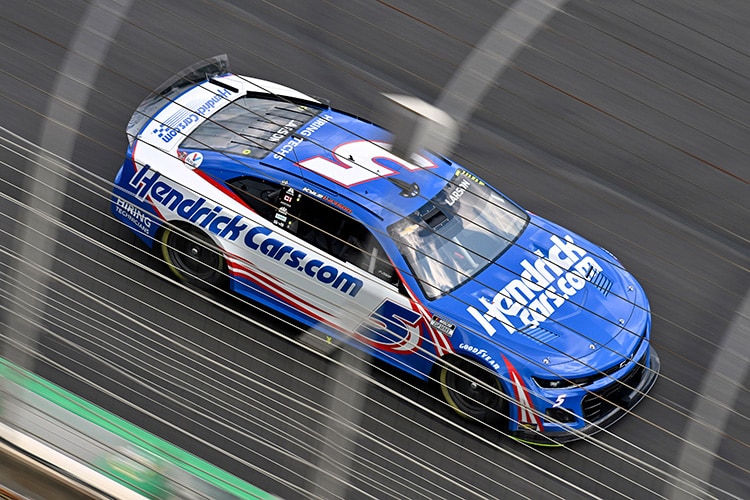 Kyle Larson, who started third after Saturday's qualifying session was canceled due to inclement weather, dropped to 12th early after reporting steering issues. When the first caution of the race waved on lap 27, Larson drove the No. 5 HendrickCars.com Chevy to pit road for four tires and adjustments. At lap 46, the Elk Grove, California, native was scored 15th before he finished the stage on lap 60 in ninth.
At the stage break, the No. 5 team made chassis adjustments during the four-tire stop. After restarting outside the top 10, the 29-year-old driver battled his way up to sixth before being involved in an on-track incident at lap 92. After lengthy work by the No. 5 crew to repair the damage, Larson restarted one lap down. A caution on lap 108 gave him the free pass back onto the lead lap, and Larson was able to work his way back up to 21st before stage two ended at lap 160.
After stopping for four tires and fuel, Larson restarted 16th on lap 166 of the 260-lap race. The event settled into single-file racing with the reigning NASCAR Cup Series champion running 13th. The race's 12th caution waved with two laps to go, and Larson narrowly missed another multi-car accident during the final green-white-checkered flag finish to post a 13th-place result.
Teammate and Georgia native Chase Elliott went on to score the win at the 1.5-mile race track. The victory was his first at the Hampton, Georgia venue and third of the 2022 season.
QUOTING KYLE LARSON:
"I never seem to be in the right position in superspeedway-style events. The HendrickCars.com Chevy was fast after we made some adjustments after that first stop and we worked our way from the back to the front. I thought I had missed the early wreck but then I got hit and turned. The crew did a great job to get us back out there and continually work on the car the rest of the race to salvage a decent finish."
NEXT RACE:
With seven races remaining until the playoffs commence, Larson and the No. 5 HendrickCars.com Chevrolet team head to the northeast for 301 laps or racing at New Hampshire Motor Speedway. The race takes place Sunday, July, 17 at 3 p.m. ET and will be broadcast live on USA.