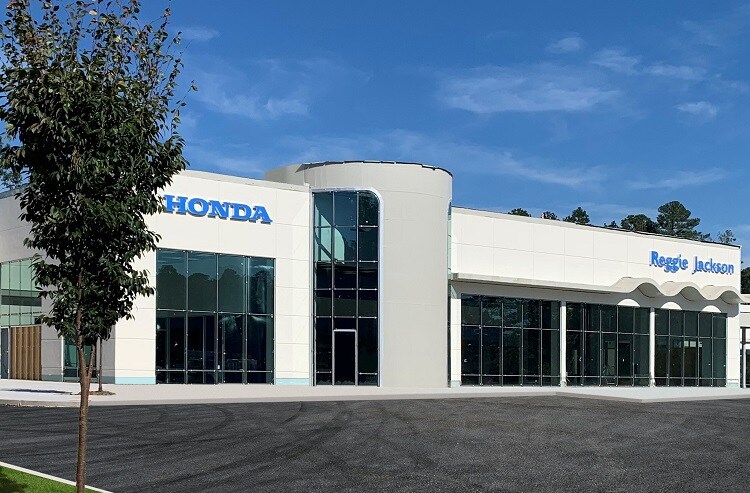 Major League Baseball Hall of Famer Reggie Jackson, in partnership with Hendrick Automotive Group, today opened the new Reggie Jackson Airport Honda at 9530 Lumley Road in Raleigh, North Carolina.
Situated on more than 19 acres of land, the 75,000-square-foot dealership features indoor showrooms for new and pre-owned vehicles and a unique game room for customer entertainment. The two-story facility includes 48 bays for service and detail, a large lounge area and amenities such as free Wi-Fi, individual workstations, a coffee bar and a snack bar. There are also numerous entertainment, retail and dining options located nearby, such as the Angus Barn, one of Raleigh's most recognizable restaurants.
Known as "Mr. October," Jackson was inducted into the National Baseball Hall of Fame in 1993 following a career that included five World Series championships and the 1973 American League Most Valuable Player award. In 21 Major League seasons, he amassed 2,548 hits, 563 home runs and 1,702 runs batted in for the Kansas City/Oakland Athletics, Baltimore Orioles, New York Yankees and California Angels. Jackson was named World Series MVP in both 1973 and 1977. Outside of his playing career, the baseball legend has served as a special advisor to late Yankees owner George Steinbrenner and current Houston Astros owner Jim Crane, winning an additional five World Series titles. Including 2021, Jackson has participated in 14 overall World Series and captured 10 championship rings.
"Rick (Hendrick) has been an incredibly supportive friend for nearly 30 years," Jackson said. "We've worked together on community service events and long shared a deep love of classic cars, so I could not be more grateful to partner with him to help operate this new dealership. Raleigh is a growing area with a tremendous customer base loyal to the Honda brand. The dealership has the best of everything facility-wise, and it is centrally located to a lot of economic activity. It's a home run!
"This venture also gives me the chance to do something I have always wanted to do, which is help foster a more diverse workforce in the automotive industry. Rick and Honda have been committed to this effort as well. The opportunity to introduce more people from different backgrounds to careers in the car business truly piqued my interest."
Hendrick Automotive Group has a history with Jackson. He has owned an interest in Rick Hendrick Chevrolet Naples (Florida) since 2015 and served as an advisor to the company's Hendrick Leadership Academy, which prioritizes growing management diversity through an internal development program that provides candidates with training to broaden leadership and managerial skills. Reggie Jackson Airport Honda will be overseen by general manager and Hendrick Leadership Academy graduate Shaye Johnson, who previously served as GM of Rick Hendrick Toyota of Fayetteville.
"I've known Reggie for a long time. He's a dear friend with a passion for the car business and for expanding diversity and inclusion efforts in the industry," said Rick Hendrick, chairman and CEO of Hendrick Automotive Group. "We've had great success working together, and this opportunity with Honda was a perfect opportunity to build on our relationship. Reggie is a champion in everything he does, and I couldn't be more thrilled about being part of his team. He will be a tremendous dealer."
With a retail offering that includes nearly 300 new and pre-owned vehicles, Reggie Jackson Airport Honda features the brand's award-winning Honda Civic and Accord sedans, the popular Honda Ridgeline truck and the reliable CR-V compact sport utility vehicle. Hendrick Automotive Group now operates 17 Honda locations nationally – including six in North Carolina – and 131 total franchises across its automotive retail portfolio. The company employs nearly 1,200 people in the Triangle area, which encompasses dealerships in Durham, Cary and Apex, along with its Capital Area Parts and Accessories distribution facility and other support offices. Reggie Jackson Airport Honda has added 70 jobs to the Raleigh economy.
For employment opportunities,
click here
. Reggie Jackson Airport Honda is currently hiring client advisors, service technicians, service advisors and other positions. To learn more about Reggie Jackson Airport Honda, please visit
ReggieJacksonAirportHonda.com
.