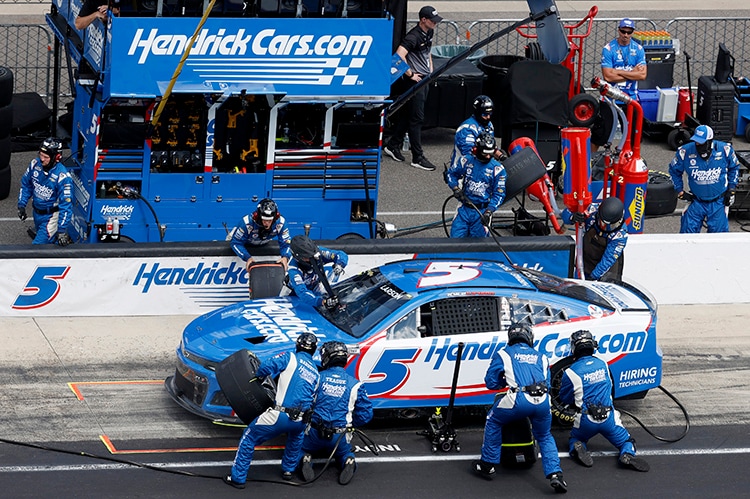 Kyle Larson, who turned 30 on Sunday, started the road course event at Indianapolis Motor Speedway in 22nd. The 2021 NASCAR Cup Series champion steadily worked his way up the leaderboard, moving into 15th by lap 6. When stage one ended at lap 15, Larson was scored seventh.
Crew chief Cliff Daniels called Larson to pit road for service, and the driver of the No. 5 HendrickCars.com Chevrolet Camaro ZL1 returned to the track in 30th – behind several drivers that did not pit or that pitted prior to the end of stage one. Again, Larson made quick work of his competitors, bypassing 10 cars in four laps before contact with another car sent the No. 5 entry for a spin. Larson slowly worked his way back to the pits, but he lost three laps while repairs were completed by the team, ending stage two in 35th.
The Elk Grove, California native returned to the track and gained one more position before the lap-60 accident where he collided with a competitor ended his day prematurely.
QUOTING KYLE LARSON:
"I think the 10 (car driven by Aric Almirola) may have wheel-hopped, and I guess that contact bent the toe link. We lost laps fixing that and it's just so difficult making those laps up on a road course. The last wreck was a tough hit, but I'm okay."
NEXT RACE:
With four races remaining until the playoffs commence, Larson and the No. 5 HendrickCars.com Chevrolet team head to Michigan International Speedway. The 400-mile race takes place Sunday, Aug. 7 at 3 p.m. ET and will be broadcast live on USA.