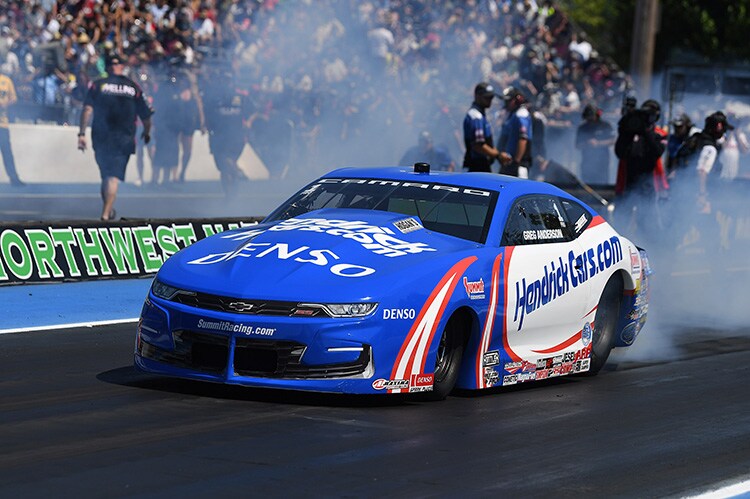 Greg Anderson has been waiting all year for a car like he had this weekend in Seattle, and the reigning and five-time NHRA Pro Stock champion made a series of excellent moves that utilized newly uncovered power and speed. Anderson earned his first No. 1 of the season and kept the momentum rolling all the way to the semifinals at the Flav-R-Pac NHRA Northwest Nationals.
"There were a lot of positives this weekend, no question," said Anderson, who earned the 119th No. 1 qualifier award of his career. "We definitely picked up our performance, we got ourselves back in the fight with the HendrickCars.com Chevrolet, and now we can contend for wins again. That's a huge positive."
In exchange for earning his first No. 1 qualifier of the year in his well-performing HendrickCars.com Chevrolet Camaro, Anderson scored a bye run in the first round of eliminations. On his solo pass, the 99-time national event winner made a pleasing 6.599-second journey down the quarter-mile at 207.78 mph.
Well-prepared for his second-round meeting with young Fernando Cuadra Jr., Anderson recorded a .038-second reaction time and made his quickest pass of the weekend on a 130-degree Fahrenheit racetrack, a 6.598, 207.72, next to his red-lighting opponent. Cuadra was .012-second too quick and went 6.673.
In the semifinals, Anderson's car started to shimmy and shake on the boiling hot racing surface, and the experienced Pro Stock pilot made every effort to get the run back in his hands, but it was too far gone. Troy Coughlin Jr. surged ahead for a 6.659, 208.36 win over an 8.796, 208.36.
"We overestimated the starting line and shook the tires, and it's disappointing, but there were a lot more positives than negatives here this weekend for the HendrickCars.com Chevy Camaro," said Anderson. "This is the best racecar we've had all year, and obviously it shows we're going in the right direction. I'm looking forward to the future and a chance to win again."
With two races remaining before the six-race Countdown to the Championship commences, Anderson maintains his fourth-place ranking in the NHRA Camping World Drag Racing Series Pro Stock standings and is 402 markers behind points leaders Erica Enders after Race No. 11 of 19 of the 2022 season.
The HendrickCars.com Chevrolet team will enjoy a weekend off before returning to action August 12 – 14 for the Menards NHRA Nationals at Heartland Motorsports Park in Topeka, Kansas.
Qualifying results:
Q1: 6.608-second, 207.11 mph (No. 2, +2 bonus qualifying points)
Q2: 6.604, 208.07 (No. 1, +3)
Q3: 6.612, 207.40 (No. 1, +3)
Race day results:
R1: Greg Anderson defeated (bye), 6.599-second at 207.78 mph
R2: Anderson def. Fernando Cuadra Jr., (.038-second reaction time) 6.598, 207.72 to (-.012 foul) 6.673, 205.88
R3: Troy Coughlin Jr. def. Anderson, (.038) 6.659, 208.36 to (.067) 8.796, 112.18