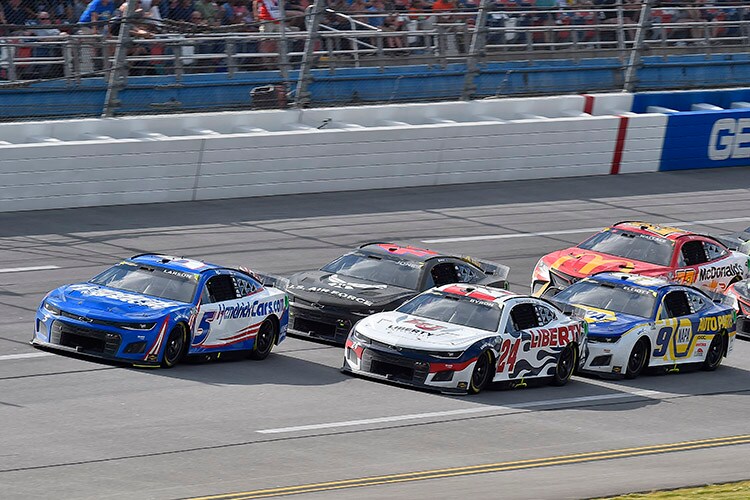 Kyle Larson, who started fifth in the 188-lap race at Talladega Superspeedway on Sunday, fell to ninth before green-flag pit stops began at lap 34. Crew chief Cliff Daniels called Larson to pit road a lap later, and a fast fuel-only stop sent Larson to the lead. While the No. 5 HendrickCars.com Chevrolet Camaro ZL1 led the low lane, Bubba Wallace paced the high lane. The two swapped the top spot numerous times before a caution waved at lap 56 with NASCAR scoring Wallace the leader. The race did not restart before stage one ended at lap 60.
A quick four-tire stop by the No. 5 crew allowed Larson to win the race off pit road and restart as the leader. But he had dropped a spot before another fuel-only pit stop during a caution at lap 82. After restarting fourth, Larson trailed only Hendrick Motorsports teammates William Byron and Chase Elliott when stage two ended at lap 120.
After stopping for four new tires and fuel during the stage break, Larson restarted ninth on lap 125. The race settled into single file with the reigning NASCAR Cup Series champion running eighth. A quick two-tire pit stop by the No. 5 crew gained Larson six positions during the exchange, and he passed Denny Hamlin for the lead with only 17 laps to go. Erik Jones then passed Larson for the top spot on lap 182. Larson made a last-lap effort to secure the win, but his move came up short and he finished fourth, securing his first-ever top-five finish at the Alabama superspeedway.
The reigning NASCAR Cup Series champion moved up another two spots in the standings and now sits seventh after the season's first 10 races.
QUOTING KYLE LARSON:
"I feel like I did a near perfect job for me at a superspeedway until the last lap. I should have faked going high, then went back low. I had that run. (Winner) Ross (Chastain) helped me with that run. It kind of baited me into going to the outside. Just a little inexperience probably there.
"But really proud of my team. We did a great job executing all race long. The car was great.
"Honestly, the first time I've had a legit shot at winning a plate race in the Cup Series. Happy about that. When you're close, I was in the exact position I wanted to be in, I didn't want to be leading. I felt like I did a good job with patience and stuff. Made one small mistake there and it cost me the win."
NEXT RACE:
Larson and the No. 5 HendrickCars.com Chevrolet team head to the concrete oval of Dover Motor Speedway next Sunday, May 1. The 400-mile race begins at 3 p.m. ET and will be broadcast live on FS1.