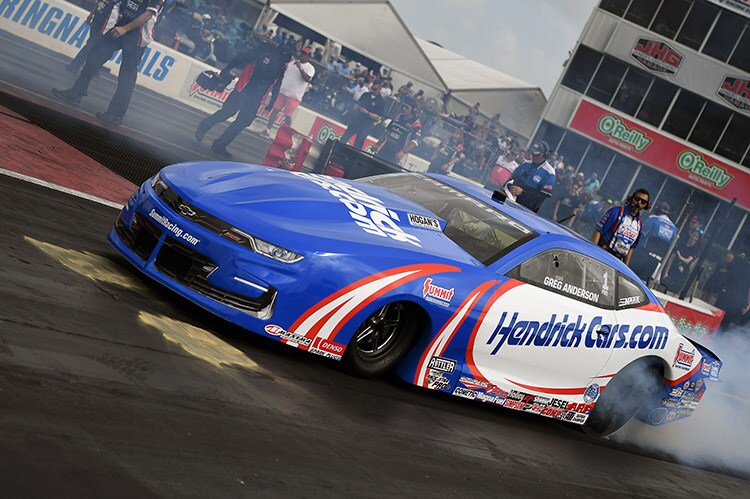 Greg Anderson's HendrickCars.com Chevrolet Camaro was a beast on Sunday at Houston Raceway Park, and the five-time NHRA Pro Stock world champion narrowly missed reaching the final round at the last national event to be held at the Baytown facility.
Anderson kicked off race weekend with a respectable qualifying effort that placed him No. 4 in the line-up that set him up for a first-round meeting with Fernando Cuadra Jr. – the driver he defeated here in the first round last year.
The reigning Pro Stock world champion recorded a best qualifying time of 6.557-second at 209.97 mph and claimed three bonus points to aid his efforts to climb back towards the top in the standings.
In Sunday's first round of eliminations, Anderson was off the starting line with a clean and quick .028-second reaction time next to a red-lighting Fernando Cuadra Jr., and he powered to a 6.585-second pass at 209.07 mph that was second-quickest of the round. With lane choice over KB Racing teammate Rodger Brogdon in the quarterfinals, Anderson launched first on an even quicker low-of-the-round 6.578, 208.84 to get past his opponent's .072 and 6.619, 207.66.
For the first time this year, Anderson was matched in the semifinals with young Camrie Caruso. The five-time world champ and rookie of the year hopeful met in the heat of the day on a typically humid Houston afternoon, and it was Caruso who was out of the gate first, utilizing an .011 light and 6.607, 208.84 to shut out Anderson's .040 and quicker 6.578, 208.62.
"It was not our day today, but there was so much good that came of this weekend with our HendrickCars.com Chevy," said Anderson. "We're certainly on the right track, and we see a lot of promise of what's to come. We only wish we didn't have to wait so long to get back to it. But we'll do our work between now and Epping, and we look forward to being able to try again."
After Race No. 6 of 18, Anderson moved up one spot in the NHRA Camping World Drag Racing Series Pro Stock standings to fifth and now sits 180 markers behind current leader Erica Enders.
The next Pro Stock race on the NHRA Camping World Drag Racing Series tour will be the NHRA New England Nationals at New England Dragway in Epping, New Hampshire. The three-day event takes place June 3 – 5.
Qualifying results:
Q1: 6.565, 210.50 mph (No. 6)
Q2: 6.557, 208.97 (No. 4, +2 bonus qualifying points)
Q3: 6.579, 208.88 (No. 4, +1)

Raceday results:
R1: Greg Anderson defeated Fernando Cuadra Jr., (.028 reaction time) 6.585-second at 209.07 mph to (-.098 foul) 18.604, 51.06
R2: Anderson def. Rodger Brogdon, (.035) 6.578, 208.84 to (.072) 6.619, 207.66
R3: Camrie Caruso def. Anderson, (.011) 6.607, 208.84 to (.040) 6.578, 208.62