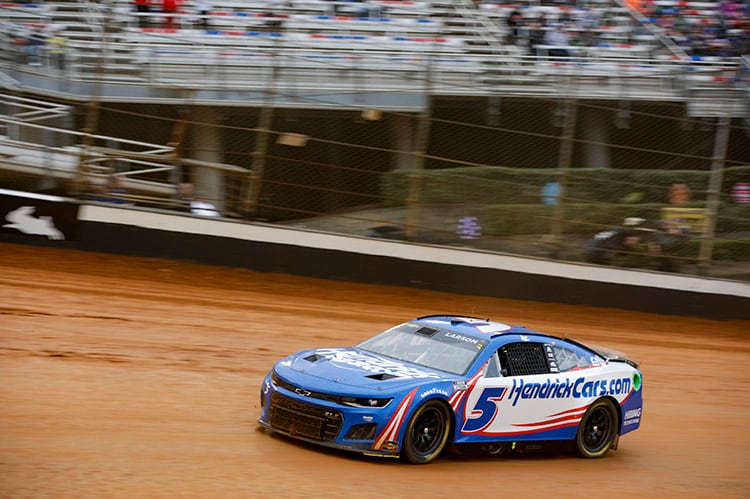 Kyle Larson, who started fifth in the Bristol Dirt Race on Sunday evening, gained a position before the first caution waved at lap 14. That proved beneficial since he restarted in the preferred outside line on lap 25. Larson gained two positions in one lap before taking over the lead on lap 49. When stage one ended at lap 75, the driver of the No. 5 HendrickCars.com Chevrolet had secured his first stage victory of the 2022 NASCAR Cup Series season.
After stopping for four new tires and fuel during the stage break, Larson restarted fourth behind three drivers that did not pit. Restarting in the high line, the 2021 Cup Series champion quickly moved into second. But after a series of cautions and restarts, Larson was running third – and restarting in the low line – with only 19 laps remaining in stage two on the high-banked dirt short track. After the restart, Larson fell to seventh before working his way back into the preferred high line, and then gained a spot back before stage two ended at lap 150.
During the break in the 250-lap race, crew chief Cliff Daniels called Larson to pit road for service while 18 teams elected not to pit. The Elk Grove, California, native restarted 21st and fell to 23rd before maneuvering into the top lane. There, he began picking off spots. By lap 167, he was up to 20th and, on lap 202, Larson was scored 10th. When the race's final caution waved at lap 211, he was up to seventh. Although he restarted in the low line, Larson was able to maintain that position while working his way into the preferred top line. The 29-year-old driver maneuvered into sixth on lap 230 and into fifth with 18 laps to go. When the leaders collided on the final lap, Larson gained another position to cross under the checkered flag in fourth.
The reigning NASCAR Cup Series champion moved up four positions and now sits ninth in the standings after the season's first nine races.
QUOTING KYLE LARSON:
"We had a good No. 5 HendrickCars.com Chevy all night. I feel like we had a car capable of winning if things played out differently. It was a lot of fun. Getting back up there to the top-five was good. I wasn't sure if we could get it done restarting 20-something to start the final stage. I had a lot of fun and hopefully next year, we can get our car a little better and run towards the front even more."
NEXT RACE:
Larson and the No. 5 HendrickCars.com Chevrolet team head to the high banks of Talladega Superspeedway next Sunday, April 24. The 500-mile race begins at 3 p.m. ET and will be broadcast live on FOX.