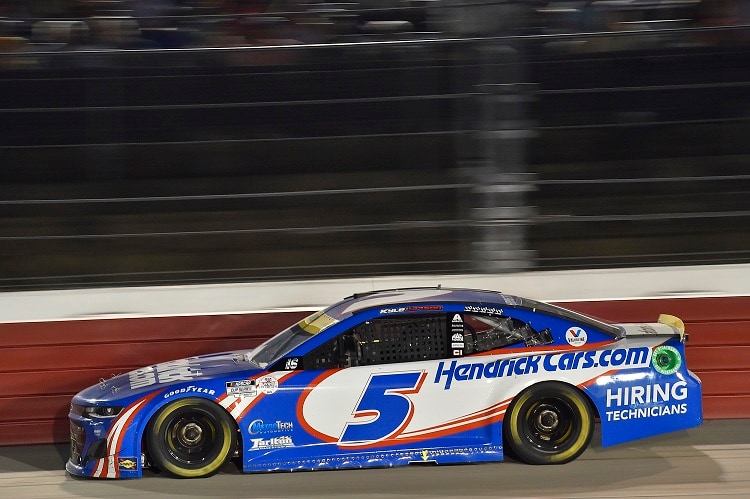 On Sunday night at Darlington Raceway, Kyle Larson took to the 1.366-mile track from sixth in the 500-mile Labor Day weekend event. He was scored in that position before stopping for new tires and fuel during a caution period at lap 47. Fast work by the No. 5 HendrickCars.com pit crew gained several positions for Larson in the race off pit road, and several more were gained by the Elk Grove, California, native on the track to allow him to finish second once stage one ended at lap 115.
Crew chief Cliff Daniels called Larson to the pits at the stage break to get new tires, fuel and a chassis adjustment. Larson restarted second but quickly gained the lead and led 99 laps en route to the victory at the end of the second stage at lap 230.
Larson brought his No. 5 Chevy Camaro back to the pits at the stage break, stopping for fresh rubber and fuel before heading back out to the racetrack. The 29-year-old driver led until his second green-flag stop of the segment when he returned to the track behind those that had not yet pitted. But, before green-flag stops had cycled through, a caution waved at lap 319 of the 367-lap race with Larson scored fourth. He elected to pit again with the field. Another fast stop by the No. 5 pit crew gave Larson a two-position bump, resetting him in second. The race restarted on lap 326 and Larson fought hard – even making an incredible video game-like move in the final corner – but ultimately finished second.
QUOTING KYLE LARSON
"We got to the white (flag) and I was like, well, I haven't been able to gain on him now, so I'm going to try something. Honestly, I got to his bumper too quick. I was hoping he was going to run that diamond (line) to kind of be safe and I could skirt to his outside, but I gave everything I had and just came up short."