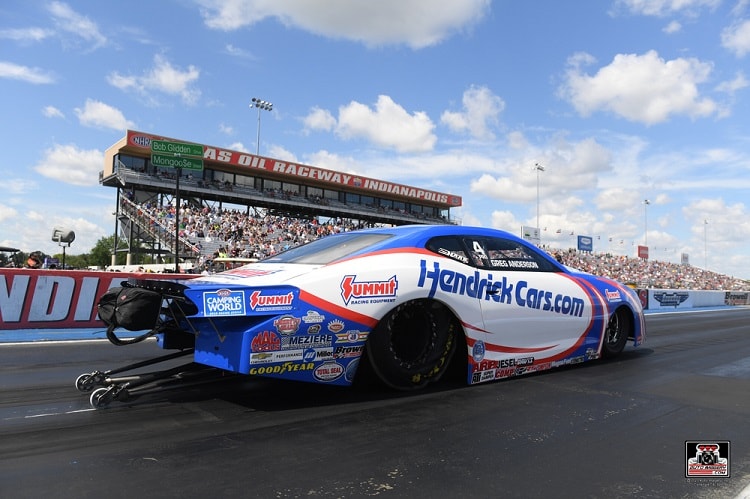 INDIANAPOLIS (September 5, 2021) – Greg Anderson wasn't willing to leave anything on the table at the 67th annual Dodge//SRT NHRA U.S. Nationals, and his skills behind the wheel of his HendrickCars.com Chevrolet Camaro reflected that mission on Sunday at the biggest drag racing on the NHRA Camping World Drag Racing Series tour.
Anderson, who will enter the Countdown to the Championship as the No. 1 seed based on a regular-season performance that included two wins in five final rounds and a monstrous eight low qualifier awards, reached the semifinals this weekend at Lucas Oil Raceway at Indianapolis.
"This is the one you want to win. It's 'The Big Go,' and it's always one we look forward to," said Anderson. "We had hoped to grab one more win in the regular season before the Countdown starts next week, and of course to win here would have been wonderful."
Anderson was hyper focused on doing his best behind the wheel of his KB Racing-powered Chevrolet Camaro, and in the first round he used a .027-second reaction time with a 6.639-second pass at 206.51 mph to defeat Deric Kramer and nab a ticket to the quarterfinals.
There, he was a cool .014 at the tree, the best reaction time of the round, and utilized a 6.638, 206.16 to get past a tire-chattering Cristian Cuadra. In the semifinals, the 96-time Pro Stock winner and four-time world champion continued to show his stellar skills and launched with a .009 that was nicely ahead of Erica Enders' .031.
Enders had clocked a tardy .070 in the previous round, but as expected, she knew she had to be on her game next to a driver who has dominated all season long. Unfortunately, Anderson's Chevrolet spun the tires. Even though he was able to rein it in, he could not make up the ground that he had lost, and Enders advanced.
"I've had a great car all year with my HendrickCars.com Chevrolet, and I was actually pretty pleased that my driving was on par with what we know my car is capable of," said Anderson. "Unfortunately, today we struggled with the car and it cost us. But right now, I'm feeling good about what we're going to be able to do in the Countdown. I'm feeling good in the driver's seat, and that's a big part of the equation."
The next event in the NHRA Camping World Drag Racing Series will be Mopar Express Lane NHRA Nationals presented by Pennzoil at Maple Grove Raceway, September 9-12, 2021.
NHRA Camping World Drag Racing Series Pro Stock Standings (after NHRA Indianapolis)
1. Greg Anderson, 1005
2. Erica Enders, 900
3. Aaron Stanfield, 790
4. Kyle Koretsky, 767
5. Dallas Glenn, 752
6. Matt Hartford, 703
7. Troy Coughlin Jr., 631
8. Mason McGaha, 629
9. Deric Kramer, 567
10. Chris McGaha, 489