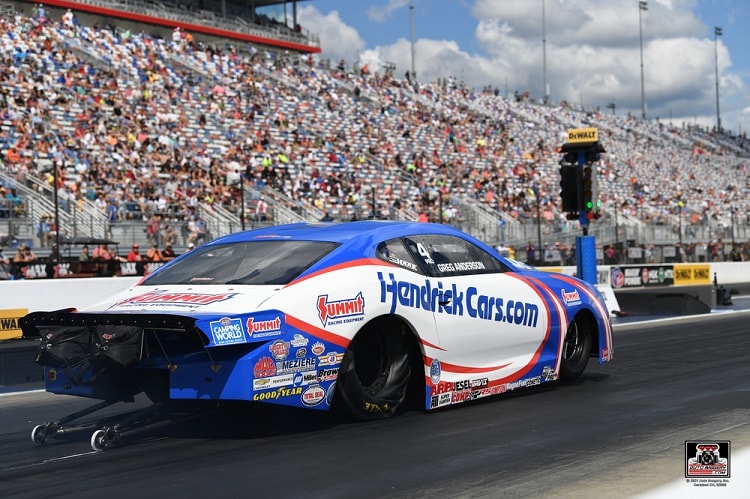 CONCORD, N.C. (Sept. 19, 2021) – The second race of NHRA's Countdown to the Championship playoffs nearly produced a victory for HendrickCars.com Chevrolet Camaro Pro Stock pilot Greg Anderson. Even without a trophy for the driver who is already tied as the most winning in class history, the DEWALT NHRA Carolina Nationals were a fruitful affair, as Anderson retained and extended the points lead that he has not relinquished once all year.
KB Racing mainstay Anderson, who calls nearby Mooresville, North Carolina, home, had the quickest car in two of three qualifying rounds, and he knew he had something spectacular heading into Sunday at zMAX Dragway. As the second-most winning Pro Stock driver at the Charlotte-area facility (Anderson had three wins entering the event to KB Racing teammate Jason Line's four), he knew he and his team had a good understanding of what that particular racetrack may want on any particular day.
He didn't count on two things, though: meeting teammate Kyle Koretsky in the final round and a broken clutch lever that would alter the course of history.
"In all of the years I've been in this sport, I've never had a clutch lever break," said Anderson, shaking his head in exasperation. "To have it happen in the final round today is something none of us could have anticipated. Of course, we wanted to make history today for [Charlotte-based] Rick Hendrick and Hendrick Automotive Group, we wanted to put our HendrickCars.com Chevy Camaro in the winner's circle for them here at their home track.
"But I'm happy as heck for Kyle. He cut a .011 (of a second) light in the final, so you have to give him credit. It was his first Pro Stock win, and he earned it. We try to make our stable of cars as fast as we can, and eventually, that means you're going to have to run against your own best stuff. It was a great day for Kyle Koretsky, and an almost great day for Greg Anderson."
Anderson's hot rod was best in class on Sunday as he rocketed to low elapsed time in every round until the final. He clocked a 6.592-second pass at 207.91 mph to dispose of Fernando Cuadra in round one, dealt Troy Coughlin Jr. a crushing 6.595, 207.88 in round two, and laid down low elapsed time of the event in his decisive defeat of Erica Enders, 6.570, 209.33 to his opponent's tire-spinning 18-second effort.
The 97-time national event winner recorded an impressively efficient .006-second reaction time to Koretsky's .011, but the trouble for Anderson had started before then. As he rolled into the waterbox for the 165th final round of his career, he knew something was awry. Even so, Anderson powered through and crossed the finish line just .005-second behind Koretsky.
"I went to start the car and drive up to the waterbox, and a $5 part broke," Anderson explained. "It cost me. But I can't feel bad. We had a great day, and I can't wait to get to St. Louis next weekend and get another shot."
The next event on the NHRA Camping World Drag Racing Series schedule is the third race of the 2021 Countdown to the Championship, the NHRA Midwest Nationals at World Wide Technology Raceway just outside of St. Louis, September 24-26.
Greg Anderson's Raceday Results:
R1: Greg Anderson defeated Fernando Cuadra, (.041-second reaction time) 6.592-second at 207.91 mph to (.046) 6.657, 207.02
R2: Anderson def. Troy Coughlin Jr., (.077) 6.595, 207.88 to (.034) 6.647, 206.10
R3: Anderson def. Erica Enders, (.050) 6.570, 209.33 to (.063) 18.907, 29.56
R4: Kyle Koretsky def. Anderson, (.011) 6.629, 207.27 to (.006) 6.639, 208.20
NHRA Camping World Drag Racing Series Pro Stock Standings (after NHRA Charlotte, Race 2 of the Countdown to the Championship)
1. Greg Anderson, 2,327
2. Erica Enders, 2,262
3. Kyle Koretsky, 2,236
4. Dallas Glenn, 2,180
5. Aaron Stanfield, 2,170
6. Troy Coughlin Jr., 2,169
7. Matt Hartford, 2,130
8. Mason McGaha, 2,120
9. Deric Kramer, 2,115
10. Chris McGaha, 2,110
11. Kenny Delco, 2,084