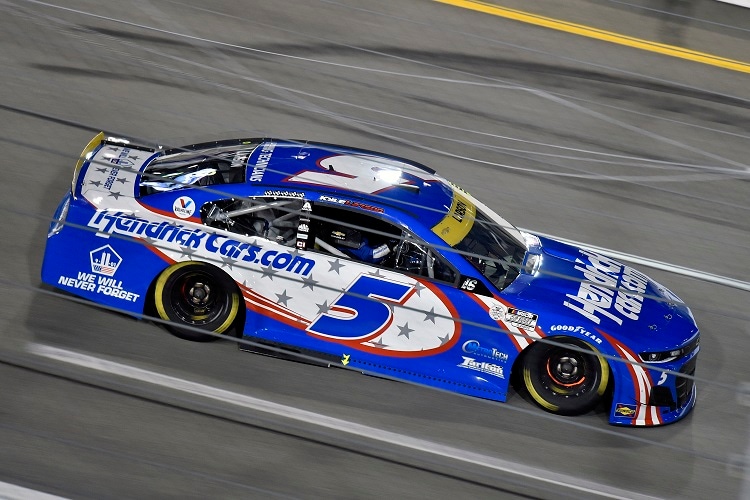 Kyle Larson, who started at the rear of the field due to pre-race inspection issues on the No. 5 Chevrolet, advanced up to 20th before the event's first caution waved at lap 30. After quick work by the pit crew gained Larson five positions in the race off pit road, the driver of the No. 5 HendrickCars.com Chevrolet Camaro ZL1 1LE continued his climb up the leaderboard. By lap 56, Larson was 10th and he cracked into the top five on lap 73. When stage one ended at lap 80, the 2021 NASCAR Cup Series Regular Season Champion was scored fourth.
After stopping for new tires and fuel during the break, Larson restarted fourth but fell to eighth by lap 112 while struggling with a lack 'drive off' of the corners. The 29-year-old driver stopped for new tires and fuel at laps 135 and 185 but was again scored fourth once the stage ended at lap 235. With that pair of fourth-place finishes in the stages, Larson scored enough points to secure his spot in the Round of 12.
Larson restarted the final stage of the 400-lap race from fourth but had fallen to seventh – again struggling with lack of 'drive off' the corners – with just over 100 laps to go. Crew chief Cliff Daniels called Larson to pit road at lap 297 for new tires, fuel and a chassis adjustment with Larson returning to the track in 10th. He maneuvered up to seventh before the final wave of green-flag pit stops began at lap 343. Larson was the last driver to stop, and he returned to the track in ninth with 50 laps to go. On lap 359, the Elk Grove, California, native passed Austin Dillon for eighth before getting past Kevin Harvick for seventh with 20 laps to go on the Virginia short track. Larson's final pass for position was on lap 392 when he bypassed Ross Chastain for sixth before crossing under the checkered flag eight laps later.
QUOTING KYLE LARSON
"It's a lot better than when we were here at Richmond earlier in the year. At the beginning of the race, I thought I was going to have a really good shot to win, but we kind of lost the balance there and got it back a little bit there at the end. Not a bad day. To go to Bristol and know that we're locked in is nice. We'll try to be aggressive and get a win this week."