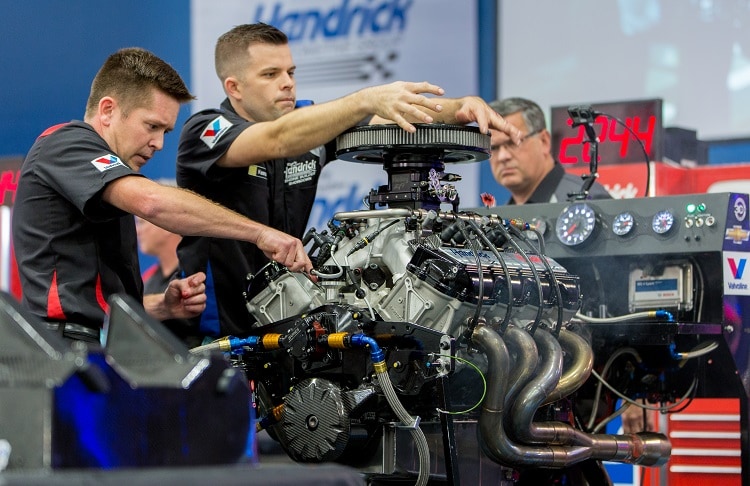 Mark your calendars for the best tech competition OFF the track: the 20th annual Randy Dorton Hendrick Engine Builder Showdown is on Nov. 10-11 and you can watch live on
HendrickEBS.com
. Our top master technicians are paired with teammates from the Hendrick Motorsports engine department to see which duo can build an engine the fastest, and with the fewest penalties!
Named for Dorton, a legendary Hendrick Motorsports engine builder, the competition teams Hendrick Automotive Group master certified technicians with Hendrick Motorsports engine department team members to see which duo can build a full fuel-injected, 358-cubic-inch Chevrolet NASCAR Cup Series engine in the quickest time with the fewest number of penalties. The engine must start and run for a certain length of time to be considered a full build.
With six rounds of competition and 243 parts to assemble, each and every moment matters if a team wants to secure the perfect build.
The entire competition will be streamed live on HendrickEBS.com with coverage beginning at 8:30 a.m. ET on Wednesday, November 10. Presented by Valvoline, the live show also features guest commentary and exciting activations with our partners and HendrickCars.com racing teammates like Kyle Larson, Greg Anderson and Cliff Daniels.
The showdown has continued to grow every year and has become a tremendous way to recognize excellence and teamwork between Hendrick Motorsports and Hendrick Automotive Group. Learn more about this year's builders and previous winners
here
.
"To all our teammates on both sides, this is what makes our company special," said Rick Hendrick, Hendrick Motorsports owner and Hendrick Automotive Group chairman. "It's all about people, and it's all about working together to make it the best it can be. I am so proud of everyone in the Hendrick organization, both sides of the fence."
In addition to being livestreamed to our teammates across HendrickEBS.com, this year's final championship build will also be broadcast on
https://www.speed51.tv/
starting at 1:15 p.m. EST on Thursday, November 11th.