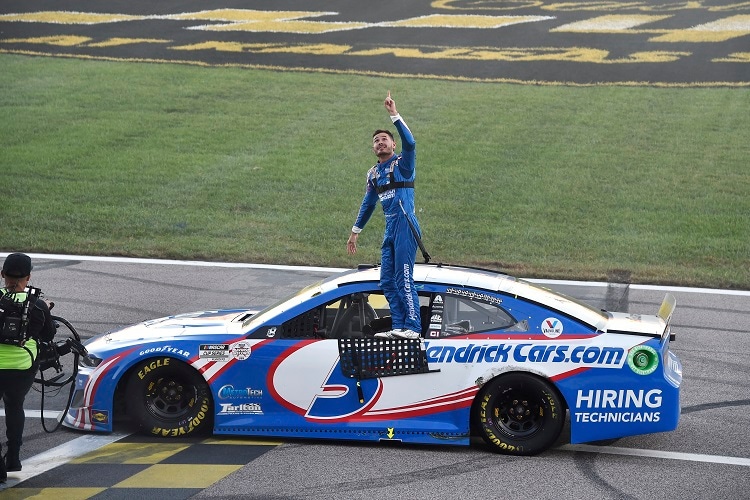 Kyle Larson, who started first in the 267-lap race at Kansas Speedway on Sunday, lost the lead briefly on lap 15 before regaining the position two laps later. He paced the field until a caution waved at lap 22. After stopping for four tires and fuel, Larson restarted third behind two drivers who stopped for fuel only. But the driver of the No. 5 HendrickCars.com Chevrolet battled hard for the lead and wrestled it away on lap 37. Larson led the final 44 laps of stage one to capture the stage victory.
Crew chief Cliff Daniels called Larson onto pit road for service during the break and quick work by the No. 5 team allowed Larson to win the race off pit road and restart as the leader. But he quickly lost two positions to Hendrick Motorsports teammates Chase Elliott and William Byron. Larson explained the balance on the No. 5 entry was good but he just needed to be more aggressive on restarts. Larson trailed his teammates across the line when stage two ended at lap 160.
Another fast stop by the pit crew during the caution allowed Larson to gain two spots on pit road. With 100 laps to go, he restarted as the leader and battled hard – often three-wide – to keep the lead. But he told the crew on lap 182 that he touched the turn 2 wall. By lap 187, Larson had fallen to fifth. Then, on lap 207, Larson reported he 'got the wall pretty good off turn 2' again. Fortunately, a caution waved 10 laps later and he was able to stop for service. The pit crew stepped up again, changing four tires, adding fuel and pulling fenders 'clear' off tires without losing a single position in the process.
Larson showed aggressiveness on the restart, moving up to second in one lap before the day's final caution waved at lap 223. The 2014 rookie-of-the-year quickly bypassed Elliott after the lap-228 restart and led the final 38 laps to secure his ninth win of the season.
QUOTING THE NO. 5 TEAM
Kyle Larson
"It's cool to get three-in-a-row. We were on a stretch like this during the summer I think with four wins there with the All-Star win. So just really cool to be on another streak like this. I feel like we've had to work a lot harder to be on this streak than the other one. So just says a lot about the perseverance in our team at the Roval and then today. Texas went as great as it could have. But these other two wins have been hard work."
Cliff Daniels
"So thankful to Mr. Hendrick and Jeff Andrews for getting our team together and bringing Kyle in. Having the most laps led (in a 36-race season) is awesome. I think to be smart, though, I look back at a lot of the races that we led the laps and didn't win the race because there's a lot to be learned from that – about keeping sharp and executing better. Still a really cool stat to have and we've got two more races to go."