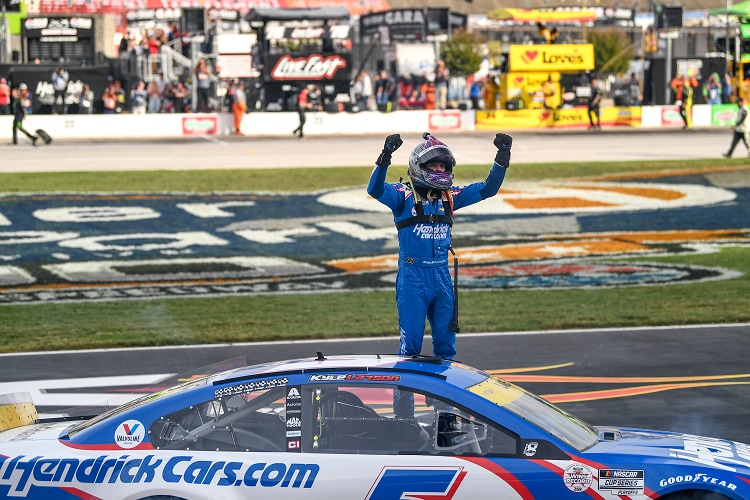 Kyle Larson, who started first in the 334-lap race at Texas Motor Speedway on Sunday, led until a caution waved at lap 25. The driver of the No. 5 HendrickCars.com Chevrolet Camaro ZL1 1LE stopped for four new tires and fuel but restarted eighth behind drivers who stopped for two tires only. Larson began to battle his way through the field, moving up to fourth by lap 56 and into the lead by lap 83. Without enough fuel in the No. 5 entry to make it to the end of the stage, crew chief Cliff Daniels called Larson onto pit road for fuel at lap 94 of the 105-lap stage. After returning to the track in 15th, Larson made up 12 positions in the closing laps but trailed two drivers who conserved enough fuel to finish stage one without the extra stop.
During the break, Larson visited pit road for four new tires and fuel. He restarted second on lap 112 and was leading five laps later. The 29-year-old driver led the remaining 93 laps to capture the victory in stage two at lap 210.
After stopping during the break for new tires and fuel, Larson again led the field to the green flag to begin the final stage. While he paced the field until the checkered flag waved at lap 334, it certainly was filled with drama. There were six cautions in the final 60 laps and Larson had to battle hard after each restart to grab and maintain the lead. But he did so each time to capture his eighth victory of the season.
QUOTING THE NO. 5 TEAM
Kyle Larson
"This is unreal. I knew we had a good shot to win today, and our car was amazing. That's probably the best intermediate (track) car we've had all year. So, thanks to everybody on this No. 5 team, HendrickCars.com, Rick Hendrick – this is so cool and we had a lot of people from Hendrick Automotive Group here. We get to go race for a championship in a few weeks. This is crazy.
"I don't think we're going to lose focus on (the next two races at) Kansas or Martinsville, but I definitely think we can shift a little bit more to our Phoenix car and I really look forward to that. I love the West Coast. I love Phoenix. We've always been fast there – we were really fast there earlier this year. Our team has been so strong all year long and we might as well close it all out."
Cliff Daniels
"Moving forward (through the last three races) we still want to be aggressive to get wins if our car is capable of it. I think as a company now we've got to put our focus on making sure we get the 9 to Phoenix, as well, but our job is to go win races every week if we can and that's our goal."