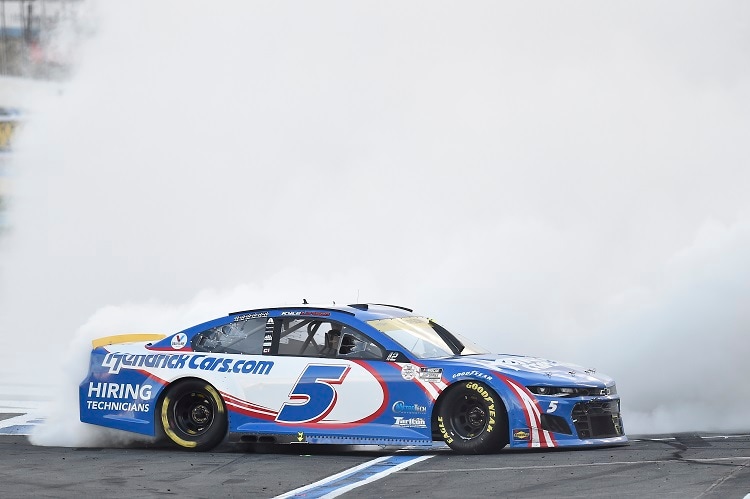 Kyle Larson, who started 10th in the 109-lap race at the Charlotte Motor Speedway ROVAL on Sunday, was up to sixth before the first caution waved at lap 10. But he dropped to 12th before the next caution at lap 19 while battling a "loose" condition in his No. 5 HendrickCars.com Chevrolet Camaro ZL1 1LE. After stopping for four new tires, fuel and a chassis adjustment, Larson restarted 19th and gained eight positions before stage one ended at lap 25.
Following the stage break, Larson worked his way up to third by lap 31. But the Elk Grove, California native reported an electrical issue – low voltage in his Chevrolet – to the team. During a lap 35-caution period, the team replaced the battery in the car and Larson restarted 37th on lap 35. With a fast car and good pit strategy, Larson moved up to sixth before stage two ended at lap 50.
During the ensuing break, the team replaced the alternator belt and Larson restarted 35th – five points below the cutoff line to make it to the next round of the playoffs. But he quickly showed the speed of the No. 5 entry, moving into the top 20 by lap 59 and into the top 10 by lap 77. When a caution waved with just over 20 laps to go, Larson was scored sixth.
After stopping for four new tires and fuel, Larson restarted seventh. When a caution waved four laps later, he was up to second. The 29-year-old driver made the race-winning move on Denny Hamlin with eight laps to go to capture his season-high seventh victory of 2021.
QUOTING THE NO. 5 TEAM
Kyle Larson
"I didn't even feel that good early. I started changing some things and they were doing a good job letting me know what to do inside the cockpit to get better. About that time, I noticed my battery was going low, so I was getting stressed out. Like, man, I'm not going to get knocked out of the playoffs like this. It wasn't looking too good. Thankfully, everybody on our No. 5 car did a great job of staying calm. Cliff, as always, did a great job of communicating with me – what was going on and getting the battery changed and the alternator changed and whatever it takes to get our battery running. But man, my HendrickCars.com Chevy was good.
"I just had to pick my way through traffic and stay calm. We had some good restarts there at the end and I was able to kind of use my tire advantage to get under Denny (Hamlin)."
Cliff Daniels
"The guys did a great job to diagnose the issue, and we had to come up with a plan on what to do to fix it. We had to think pretty fast on our feet. Jesse Saunders, our car chief; Steven Legendre, who's our engine tuner, they hit a home run on getting the car fixed. Our guys had to change the tires at the same time. I'm super proud of them and proud of our team.
"After that we just kind of had to hang tough for the end of the race. Kyle did a heck of a job on restarts and drove a great race. I'm very, very thankful for the way it worked out."